Ganoderenic acid D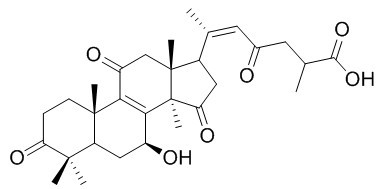 Ganoderenic acid D is most cytotoxic with IC50 values of 0.14 ± 0.01, 0.18 ± 0.02 and 0.26 ± 0.03 mg/mL in Hep G2, Hela and Caco-2 cells, respectively.
Inquire / Order: manager@chemfaces.com
Technical Inquiries: service@chemfaces.com
Tel: +86-27-84237783
Fax: +86-27-84254680

Address:
1 Building, No. 83, CheCheng Rd., Wuhan Economic and Technological Development Zone, Wuhan, Hubei 430056, PRC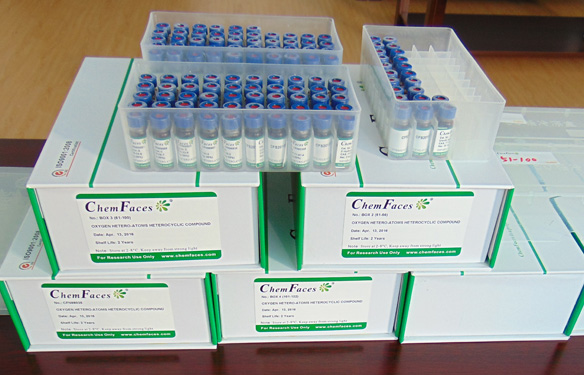 Providing storage is as stated on the product vial and the vial is kept tightly sealed, the product can be stored for up to
24 months(2-8C)
.
Wherever possible, you should prepare and use solutions on the same day. However, if you need to make up stock solutions in advance, we recommend that you store the solution as aliquots in tightly sealed vials at -20C. Generally, these will be useable for up to two weeks. Before use, and prior to opening the vial we recommend that you allow your product to equilibrate to room temperature for at least 1 hour.
Need more advice on solubility, usage and handling? Please email to: service@chemfaces.com
The packaging of the product may have turned upside down during transportation, resulting in the natural compounds adhering to the neck or cap of the vial. take the vial out of its packaging and gently shake to let the compounds fall to the bottom of the vial. for liquid products, centrifuge at 200-500 RPM to gather the liquid at the bottom of the vial. try to avoid loss or contamination during handling.
Polytechnic University of Catalonia2017, 105826
Oncotarget.2017, 8(64):108006-108019
Evid Based Complement Alternat Med.2016, 2016:1739760
Biosci Rep.2018, 38(4)
Semyung University2017, 149407
J Funct Foods2019, 54:449-456
Chemistry of Plant Materials.2016, 33-46
J of Ana. Chem.2019, 74(11):1113-1121
Cytotechnology.2017, 69(5):765-773
Planta Med.2018, 84(15):1101-1109
Natural Product Research, Volume 28, Number 24, 17 December 2014, pp. 2264-2272(9)
Extraction optimisation and isolation of triterpenoids from Ganoderma lucidum and their effect on human carcinoma cell growth[Reference:
WebLink
]
The response surface methodology was used to optimise the extraction conditions of Ganoderma lucidum based on a Box–Behnken design.
METHODS AND RESULTS:
A quadratic model sufficiently simulated the response of ganoderic acid H with a determination coefficient (R 2) of 0.98. The optimal condition for extracting triterpenoids was determined to be 100.00% ethanol at 60.22°C for 6.00 h, under which the yield of the reference triterpenoid ganoderic acid H increased from 0.88 to 2.09 mg/g powder. Following extraction, triterpenoid-enriched fraction was further isolated into 23 fractions, and 7 fractions were identified as ganoderic acids A, B, D, G, H and I and Ganoderenic acid D. Of the seven triterpenoids, Ganoderenic acid D was most cytotoxic with IC50 values of 0.14 ± 0.01, 0.18 ± 0.02 and 0.26 ± 0.03 mg/mL in Hep G2, Hela and Caco-2 cells, respectively. While ganoderic acids A, G and H were relatively non-cytotoxic.
CONCLUSIONS:
The variation of inhibitory effects for these triterpenoids was likely related to their chemical structures.