Emodin 1-O-beta-D-glucoside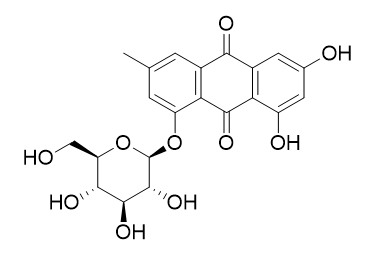 Emodin 1-O-beta-D-glucoside has neuroprotective and uncoupling activities, and that it may be the a new uncoupler of nNOS-PSD-95. It shows inhibitory effects on various tumor cells proliferation.
Inquire / Order: manager@chemfaces.com
Technical Inquiries: service@chemfaces.com
Tel: +86-27-84237783
Fax: +86-27-84254680

Address:
1 Building, No. 83, CheCheng Rd., Wuhan Economic and Technological Development Zone, Wuhan, Hubei 430056, PRC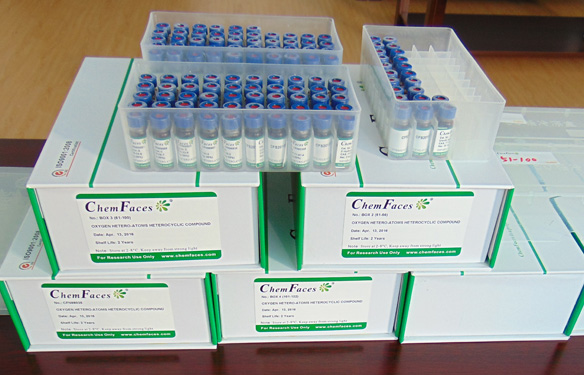 Providing storage is as stated on the product vial and the vial is kept tightly sealed, the product can be stored for up to
24 months(2-8C)
.
Wherever possible, you should prepare and use solutions on the same day. However, if you need to make up stock solutions in advance, we recommend that you store the solution as aliquots in tightly sealed vials at -20C. Generally, these will be useable for up to two weeks. Before use, and prior to opening the vial we recommend that you allow your product to equilibrate to room temperature for at least 1 hour.
Need more advice on solubility, usage and handling? Please email to: service@chemfaces.com
The packaging of the product may have turned upside down during transportation, resulting in the natural compounds adhering to the neck or cap of the vial. take the vial out of its packaging and gently shake to let the compounds fall to the bottom of the vial. for liquid products, centrifuge at 200-500 RPM to gather the liquid at the bottom of the vial. try to avoid loss or contamination during handling.
Chemistry of Natural Compounds2018, 54(3):572¨C576
Jour. of Stored Pro & Postharvest Res.2016, 7(3):32-36
Food Chem.2020, 313:126079
Arch Biochem Biophys.2018, 644:93-99
Pharm Biol.2016, 54(7):1255-62
Nat Prod Sci.2019, 25(3):238
Sci Rep. 2017, 12953(7)
Lab Chip.2018, 18(6):971-978
Plant Physiol Biochem.2019, 144:355-364
J of Ana. Chem.2019, 74(11):1113-1121
J Pharm Biomed Anal. 2018 May 30;154:180-190.
A surface magnetic imprinted polymers as artificial receptors for selective and efficient capturing of new neuronal nitric oxide synthase-post synaptic density protein-95 uncouplers.[Pubmed:
29550707
]

METHODS AND RESULTS:
In this work, surface magnetic molecularly imprinted polymers (SMMIPs) were synthesized and used as artificial receptors in the dispersive magnetic solid phase extraction (DMSPE) for capturing potential neuronal nitric oxide synthase-post synaptic density protein-95 (nNOS-PSD-95) uncouplers, which is known as neuroprotection against stroke. Factors that affected selective separation and adsorption of the artificial receptors, such as the amount of template, the types of functional monomer and porogen solvents, and the molar ratio of template/functional monomer/cross-linker were optimized. The artificial receptors were also characterized using fourier transformed infrared, scanning electron microscope, thermal gravimetric analysis and physical property measurement systems. Multiple interactions between template and SMMIPs led to larger binding capacities, faster binding kinetics, quicker separation abilities and more efficient selectivity than the surface magnetic nonimprinted polymers (SMNIPs). The SMMIPs were successfully applied to capture potential nNOS-PSD-95 uncouplers from complex samples, and eight compounds were seized and confirmed rapidly when combined with HPLC and MS. The detection of the new nNOS-PSD-95 uncouplers ranged from 0.001 to 1.500 mg/mL with correlation coefficients of 0.9990-0.9995. The LOD and LOQ were 0.10-0.68 μg/mL and 0.47-2.11 μg/mL, respectively.
CONCLUSIONS:
The neuroprotective effect and co-immunoprecipitation test in vitro revealed that Emodin 1-O-beta-D-glucoside , Rhaponticin, Gnetol and 2,3,5,4'-Tetrahydroxystilbene-2-O-β-d-glucoside have neuroprotective and uncoupling activities, and that they may be the new uncouplers of nNOS-PSD-95.
Life Sci. 1997;61(23):2335-44.
A tumor cell growth inhibitor from Polygonum hypoleucum Ohwi.[Pubmed:
9408056
]
Polygonum hypoleucum Ohwi (P. hypoleucum Ohwi) has been used as a Chinese medicine for a long time.
METHODS AND RESULTS:
In the present study, four anthraquinones, emodin, Emodin 1-O-beta-D-glucoside (49A), physcion (62A), and physcion 1-O-beta-D-glucoside (50A) were identified from P. hypoleucum Ohwi and their inhibitory effects on various tumor cells proliferation were investigated. On a percentage basis, emodin had the highest suppressing activity on the various tumor cells proliferation. At 10 microg/ml, the percentage inhibition on K562 cells proliferation for emodin, 49A, 62A, and 50A were 97+/-3.4%, 18+7.3%, 24+/-3.6%, and 31+/-8.9%, respectively. However, inhibitory activities of 10 microg/ml of emodin, 49A, 62A, or 50A on Raji cells proliferation were 98+/-5.0%, 25+/-5.0%, 22+/-3.2%, and 28+/-4.3%, respectively. It was also found that the both C1 and C3 positions of emodin were important for antitumor action. The IC50s of emodin, 49A, 62A, and 50A on various tumor cells were also calculated. The IC50 of emodin on K562 cells was significantly lower than on Raji, HeLa, Calu-1, Wish, and Vero cells (1.5+/-0.2 vs. 2.8+/-0.4 microg/ml, P < 0.01 ;1.5+/-0.2 vs. 8.4+/-1.6 microg/ml; 1.5+/-0.2 vs. 8.9+/-1.0 microg/ml; 1.5+/-0.2 vs. 8.7+/-0.5 microg/ml; 1.5/-0.2 vs. 3.5+/-0.12 microg/ml; P < 0.001).
CONCLUSIONS:
The results indicated that K562 and Raji cells were more sensitive to emodin treatment. Cell viability test indicated that inhibitory effect of emodin on various tumor cell lines was not through direct cytotoxicity. It suggested P. hypoleucum Ohwi included a tumor cell growth inhibitor.
J Chem Ecol. 1992 Oct;18(10):1833-40.
Allelochemicals fromPolygonum sachalinense Fr. Schm. (Polygonaceae).[Pubmed:
24254724
]
The root exudates fromPolygonum sachalinense in a recirculating system significantly inhibited lettuce seedling growth. The rhizomes and roots ofP. sachalinense were extracted with 80% acetone.
METHODS AND RESULTS:
Bioassay of the neutral-acidic fraction on the TLC agar plate showed the inhibitory activity corresponded to the two yellow pigment bands. Two orange needles were isolated and identified as anthraquinone compounds: emodin and physcion. Both compounds exhibited inhibitory activities against the seedling growth of several testing plant species. Glucosides were isolated fromP. sachalinense and were identified as emodin-1-O-β-D-glucoside(Emodin 1-O-beta-D-glucoside ) and physcion-1-O-β-D-glucoside, respectively. On plant growth bioassay, these glucosides showed no phytotoxic activity against lettuce seedlings. The concentrations of emodin, physcion, and their glucosides from rhizome with roots, aerial parts, fallen leaves, and soil were determined. The rhizome with roots and fallen leaves contained emodin and physcion at relatively high concentrations. Emodin also occurs in the soil of this plant community with effective concentrations in the fall.
CONCLUSIONS:
The results indicate that these anthraquinones are responsible for the observed interference and are potent allelopathic substances.