Dehydroglyasperin C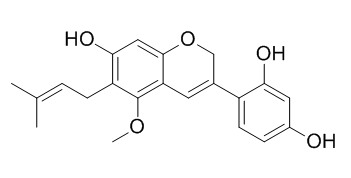 Dehydroglyasperin C is a potent NAD(P)H:oxidoquinone reductase (NQO1) and phase 2 enzyme inducer. Dehydroglyasperin C possesses potent antioxidant, cancer chemopreventive, and neuroprotective activities, it has protective effects against chronic diseases caused by reactive oxygen species as well as potential as an antioxidant food additive. Dehydroglyasperin C protects neuronal cells against glutamate-induced oxidative injury through the induction of HO-1 expression, which is, in turn, activated maybe through Nrf2-Keap1 and PI3K/AKT signaling pathways.
Inquire / Order: manager@chemfaces.com
Technical Inquiries: service@chemfaces.com
Tel: +86-27-84237783
Fax: +86-27-84254680

Address:
1 Building, No. 83, CheCheng Rd., Wuhan Economic and Technological Development Zone, Wuhan, Hubei 430056, PRC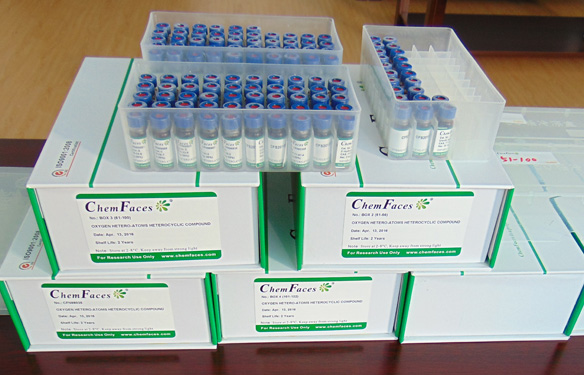 Providing storage is as stated on the product vial and the vial is kept tightly sealed, the product can be stored for up to
24 months(2-8C)
.
Wherever possible, you should prepare and use solutions on the same day. However, if you need to make up stock solutions in advance, we recommend that you store the solution as aliquots in tightly sealed vials at -20C. Generally, these will be useable for up to two weeks. Before use, and prior to opening the vial we recommend that you allow your product to equilibrate to room temperature for at least 1 hour.
Need more advice on solubility, usage and handling? Please email to: service@chemfaces.com
The packaging of the product may have turned upside down during transportation, resulting in the natural compounds adhering to the neck or cap of the vial. take the vial out of its packaging and gently shake to let the compounds fall to the bottom of the vial. for liquid products, centrifuge at 200-500 RPM to gather the liquid at the bottom of the vial. try to avoid loss or contamination during handling.
J Ethnopharmacol.2017, 198:205-213
Plant Foods Hum Nutr.2020, 10.1007
J Funct Foods2019, 54:449-456
J Pharm Biomed Anal.2016, 129:50-59
Sci Rep. 2017, 8207(7)
Mediators Inflamm.2016, 2016:7216912
Korean J. Medicinal Crop Sci.2018, 26(2):148-156
Planta Med.2018, 84(6-07):465-474
Phytomedicine.2015, 22(14):1262-8
Planta Med.2018, 84(15):1101-1109
Neurochem Int. 2013 Dec;63(8):732-40.
Licorice-derived dehydroglyasperin C increases MKP-1 expression and suppresses inflammation-mediated neurodegeneration.[Pubmed:
24083986
]
Recent studies have demonstrated that microglial hyperactivation-mediated neuroinflammation is involved in the pathogenesis of several neurodegenerative diseases. Thus, inhibiting microglial production of the neurotoxic mediator tumor necrosis factor-α (TNF-α) is considered a promising strategy to protect against neurodegeneration.
METHODS AND RESULTS:
Here, we investigated the inhibitory effect of licorice-derived Dehydroglyasperin C (DGC) on lipopolysaccharide (LPS)-induced TNF-α production and inflammation-mediated neurodegeneration. We found that DGC pre-treatment attenuated TNF-α production in response to LPS stimulation of BV-2 microglia. DGC pre-treatment attenuated LPS-induced inhibitor of κB-α (IκB-α) and p65 phosphorylation and decreased the DNA binding activity of nuclear factor-κB (NF-κB). DGC pre-treatment also inhibited LPS-mediated phosphorylation of p38 mitogen-activated protein kinases (MAPKs) and extracellular signal-regulated kinase (ERK). Interestingly, DGC treatment of BV-2 microglia significantly increased MAPK phosphatase 1 (MKP-1) mRNA and protein expression, which is a phosphatase of p38 MAPK and ERK, suggesting that the DGC-mediated increase in MKP-1 expression might inhibit LPS-induced MAPKs and NF-κB activation and further TNF-α production. We also found that LPS-mediated microglial neurotoxicity can be attenuated by DGC. The addition of conditioned media (CM) from DGC- and LPS-treated microglia to neurons helped maintain healthy cell body and neurite morphology and increased the number of microtubule-associated protein 2-positive cells and the level of synaptophysin compared to treatment with CM from LPS-treated microglia.
CONCLUSIONS:
Taken together, these data suggest that DGC isolated from licorice may inhibit microglia hyperactivation by increasing MKP-1 expression and acting as a potent anti-neurodegenerative agent.
Nutr Res Pract. 2012 Dec;6(6):491-8.
Antioxidant activities of licorice-derived prenylflavonoids.[Pubmed:
23346298
]
Glycyrrhiza uralensis (or licorice) is a widely used Oriental herbal medicine from which the phenylflavonoids Dehydroglyasperin C (DGC), dehydroglyasperin D (DGD), and isoangustone A (IsoA) are derived.
METHODS AND RESULTS:
The purpose of the present study was to evaluate the antioxidant properties of DGC, DGD, and IsoA. The three compounds showed strong ferric reducing activities and effectively scavenged DPPH, ABTS(+), and singlet oxygen radicals. Among the three compounds tested, DGC showed the highest free radical scavenging capacity in human hepatoma HepG2 cells as assessed by oxidant-sensitive fluorescent dyes dichlorofluorescein diacetate and dihydroethidium bromide. In addition, all three compounds effectively suppressed lipid peroxidation in rat tissues as well as H(2)O(2)-induced ROS production in hepatoma cells.
CONCLUSIONS:
This study demonstrates that among the three phenylflavonoids isolated from licorice, DGC possesses the most potent antioxidant activity, suggesting it has protective effects against chronic diseases caused by reactive oxygen species as well as potential as an antioxidant food additive.
Br J Nutr. 2013 Aug 28;110(3):391-400.
Dehydroglyasperin C, a component of liquorice, attenuates proliferation and migration induced by platelet-derived growth factor in human arterial smooth muscle cells.[Pubmed:
23298457
]
Liquorice is one of the botanicals used frequently as a traditional medicine in the West and in the East. Platelet-derived growth factor (PDGF)-BB is involved in the development of CVD by inducing abnormal proliferation and migration of vascular smooth muscle cells. In our preliminary study, Dehydroglyasperin C (DGC), an active compound of liquorice, showed strong antioxidant activity. Since phytochemicals with antioxidant activities showed beneficial effects on chronic inflammatory diseases, the present study aimed to investigate the effects of DGC on PDGF-induced proliferation and migration of human aortic smooth muscle cells (HASMC).
METHODS AND RESULTS:
Treatment of HASMC with DGC for 24 h significantly decreased PDGF-induced cell number and DNA synthesis in a dose-dependent manner without any cytotoxicity, as demonstrated by the 3-(4,5-dimethyl-thiazol-2-yl)-2,5-diphenyltetrazolium bromide test and thymidine incorporation. Upon cell cycle analysis, DGC blocked the PDGF-induced progression through the G0/G1 to S phase of the cell cycle, and down-regulated the expression of cyclin-dependent kinase (CDK); 2, cyclin E, CDK4 and cyclin D1. Furthermore, DGC significantly attenuated PDGF-stimulated phosphorylation of PDGF receptor-b, phospholipase C-g1, AKT and extracellular-regulated kinase 1/2, and DGC inhibited cell migration and the dissociation of actin filaments by PDGF. In a rat vascular balloon injury model, DGC suppressed an excessive reduction in luminal diameters and neointimal formation compared with the control group.
CONCLUSIONS:
These results demonstrate the mechanistic basis for the prevention of CVD and the potential therapeutic properties of DGC.
Mol Carcinog. 2016 May;55(5):552-62.
Dehydroglyasperin C suppresses TPA-induced cell transformation through direct inhibition of MKK4 and PI3K.[Pubmed:
25787879
]
Bioactive natural compounds from plant-derived sources have received substantial interest due to their potential therapeutic and preventive effects toward various human diseases. Licorice (Glycyrrhiza), a frequently-used component in traditional oriental medicines, has been incorporated into recipes not only to enhance taste, but also to treat various conditions including inflammation, chronic fatigue syndrome, and even cancer. Dehydroglyasperin C (DGC) is a major isoflavone found in the root of licorice.
METHODS AND RESULTS:
In the present study, we investigated the cancer chemopreventive effect of DGC and the underlying molecular mechanisms involved, by analyzing its effects on 12-O-tetradecanoylphorbol-13-acetate (TPA)-induced neoplastic cell transformation and cyclooxygenase (COX)-2 expression in JB6 P+ mouse epidermal cells. DGC treatment attenuated TPA-induced activator protein-1 (AP-1) and nuclear factor-κB (NF-κB) transcriptional activation, two major regulators of TPA-induced cell transformation, and COX-2 expression. TPA-induced phosphorylation of p38, JNK1/2 and Akt was also suppressed by DGC. Kinase assay data revealed that DGC inhibited the kinase activity of MKK4 and PI3K and this outcome was due to direct physical binding with DGC. Notably, DGC bound directly to MKK4 and PI3K in an ATP-competitive manner.
CONCLUSIONS:
Taken together, these results suggest that DGC exhibits cancer chemopreventive potential via its inhibitory effect on TPA-induced neoplastic cell transformation and COX-2 modulation through regulation of the MKK4 and PI3K pathways.
J Agric Food Chem. 2012 Jun 6;60(22):5583-9.
Neuroprotective effects of dehydroglyasperin C through activation of heme oxygenase-1 in mouse hippocampal cells.[Pubmed:
22578244
]
Licorice, the root of the Glycyrrhiza species ( Glycyrrhiza uralensis Fisher), is known to have antioxidant, anti-inflammatory, antiviral, and antitumor properties. The objective of this study is to explore the neuroprotective effect of Dehydroglyasperin C (DGC) against glutamate-induced oxidative stress in mouse hippocampal HT22 cells.
METHODS AND RESULTS:
DGC significantly reduced cytotoxicity and reactive oxygen species (ROS) generation induced by glutamate in HT22 cells, whereas DGC did not restore glutathione depletion caused by glutamate. In addition, it was further investigated whether DGC affected the expression of heme oxygenase (HO)-1, one of the major cellular antioxidant defense systems, and it was found that DGC dose-dependently increased HO-1 expression. DGC-mediated cytoprotection of HT22 neuronal cells from glutamate insult was abrogated by either HO-1 inhibitor (Tin protoporphyrin, SnPP) or AKT inhibitor (LY294002).
CONCLUSIONS:
In conclusion, the present results demonstrate for the first time that DGC protects neuronal cells against glutamate-induced oxidative injury through the induction of HO-1 expression, which is, in turn, activated maybe through Nrf2-Keap1 and PI3K/AKT signaling pathways.
J Agric Food Chem. 2010 Feb 10;58(3):1603-8.
Dehydroglyasperin C isolated from licorice caused Nrf2-mediated induction of detoxifying enzymes.[Pubmed:
20088509
]

METHODS AND RESULTS:
Our preliminary experiment demonstrated that a n-hexane/EtOH (9:1, volume) extract of Glycyrrhiza uralensis (licorice) caused a significant induction of NAD(P)H:oxidoquinone reductase (NQO1), one of the well-known phase 2 detoxifying enzymes. We isolated Dehydroglyasperin C (DGC) as a potent phase 2 enzyme inducer from licorice. DGC induced NQO1 both in wild-type murine hepatoma Hepa1c1c7 and ARNT-lacking BPRc1 cells, indicating that the compound is a monofunctional inducer.
CONCLUSIONS:
The compound induced not only NQO1 but also some other phase 2 detoxifying/antioxidant enzymes, such as glutathione S-transferase, gamma-glutamylcysteine synthase, glutathione reductase, and heme oxygenase 1. Similar to most monofunctional inducers, DGC caused the accumulation of Nrf2 in the nucleus in dose- and time-dependent manners and thereby activated expression of phase 2 detoxifying enzymes. It also resulted in a dose-dependent increase in the luciferase activity in the reporter assay, in which HepG2-C8 cells transfected with antioxidant response element (ARE)-luciferase construct were used, suggesting that the induction of phase 2 detoxifying and antioxidant enzymes could be achieved through the interaction of Nrf2 with the ARE sequence in the promoter region of their genes.