Isomucronulatol 7-O-glucoside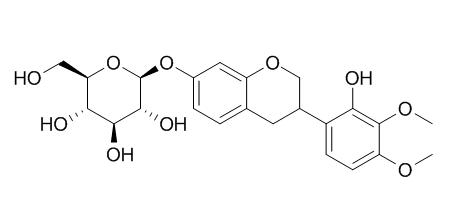 Isomucronulatol 7-O-β-D-glucoside shows anti-osteoarthritic effects, it reduced the expression of all OA-related molecules.
Inquire / Order: manager@chemfaces.com
Technical Inquiries: service@chemfaces.com
Tel: +86-27-84237783
Fax: +86-27-84254680

Address:
1 Building, No. 83, CheCheng Rd., Wuhan Economic and Technological Development Zone, Wuhan, Hubei 430056, PRC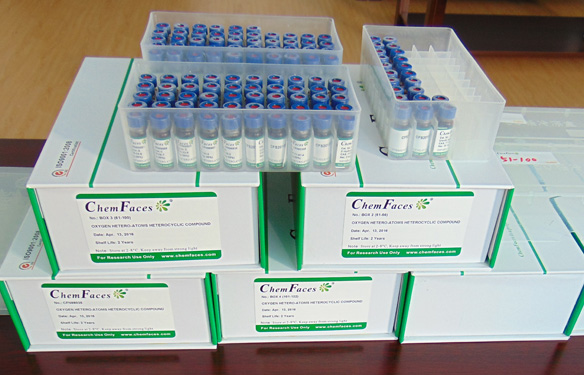 Providing storage is as stated on the product vial and the vial is kept tightly sealed, the product can be stored for up to
24 months(2-8C)
.
Wherever possible, you should prepare and use solutions on the same day. However, if you need to make up stock solutions in advance, we recommend that you store the solution as aliquots in tightly sealed vials at -20C. Generally, these will be useable for up to two weeks. Before use, and prior to opening the vial we recommend that you allow your product to equilibrate to room temperature for at least 1 hour.
Need more advice on solubility, usage and handling? Please email to: service@chemfaces.com
The packaging of the product may have turned upside down during transportation, resulting in the natural compounds adhering to the neck or cap of the vial. take the vial out of its packaging and gently shake to let the compounds fall to the bottom of the vial. for liquid products, centrifuge at 200-500 RPM to gather the liquid at the bottom of the vial. try to avoid loss or contamination during handling.
Food and Bioprocess Technology2017, 10(6):1074-1092
Turkish Journal of Pharmaceutical Sciences2022, DOI: 10.4274
Pharm Biol.2016, 54(7):1255-62
Evid Based Complement Alternat Med.2017, 2017:9764843
J Pharmacol Sci.2021, 147(2):184-191.
Anat Rec (Hoboken).2021, 304(2):323-332.
BMC Cancer. 2021, 21(1):91.
Biosci. Rep.2020, 10.1024
Front Pharmacol.2018, 9:236
Cell Physiol Biochem.2019, 52(6):1255-1266
Molecules, 2018, 23(11).
Inhibition of Osteoarthritis-Related Molecules by Isomucronulatol 7-O-β-d-glucoside and Ecliptasaponin A in IL-1β-Stimulated Chondrosarcoma Cell Model.[Reference:
WebLink
]
Osteoarthritis (OA) is the common form of arthritis and is characterized by disability and cartilage degradation. Although natural product extracts have been reported to have anti-osteoarthritic effects, the potential bioactivity of Ryupunghwan (RPH), a traditional Korean medicinal botanical formula that contains Astragalus membranaceus, Turnera diffusa, Achyranthes bidentata, Angelica gigas, Eclipta prostrata, Eucommia ulmoides, and Ilex paraguariensis, is not known well. Therefore, the inhibitory effects of single compounds isolated from RPH on the OA-related molecules were investigated using IL-1β-stimulated chondrosarcoma SW1353 (SW1353) cell model.
METHODS AND RESULTS:
Two bioactive compounds, isomucronulatol 7-O-β-D-glucoside (Isomucronulatol 7-O-glucoside, IMG) and ecliptasaponin A (ES) were isolated and purified from RPH using column chromatography, and then the structures were analyzed using ESI-MS, 1H-NMR, and 13C-NMR spectrum. The expression or amount of matrix metalloproteinase 13 (MMP13), COX1/2, TNF-α, IL-1β or p65 was determined by RT-PCR, Western blot, and enzyme-linked immunosorbent assay (ELISA). RPH pretreatment reduced the expression and amounts of MMP13, and the expression of collagen II, COX1/2, TNF-α, IL-1β or p65, which were increased in IL-1β-stimulated SW1353 cells. IMG reduced the expression of all OA-related molecules, but the observed inhibitory effect was less than that of RPH extract. The other single compound ES showed the reduced expression of all OA-related molecules, and the effect was stronger than that in IMG (approximately 100 fold). Combination pretreatment of both single components remarkably reduced the expression of MMP13, compared to each single component.
CONCLUSIONS:
These synergic effects may provide potential molecular modes of action for the anti-osteoarthritic effects of RPH observed in clinical and animal studies.