Curzerenone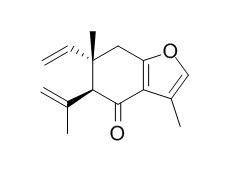 Curzerenone holds great promise for use in chemopreventive and chemotherapeutic strategies, it has slightly effective against E. coli (IZ = 10.8 ± 0.52).
Inquire / Order: manager@chemfaces.com
Technical Inquiries: service@chemfaces.com
Tel: +86-27-84237783
Fax: +86-27-84254680

Address:
1 Building, No. 83, CheCheng Rd., Wuhan Economic and Technological Development Zone, Wuhan, Hubei 430056, PRC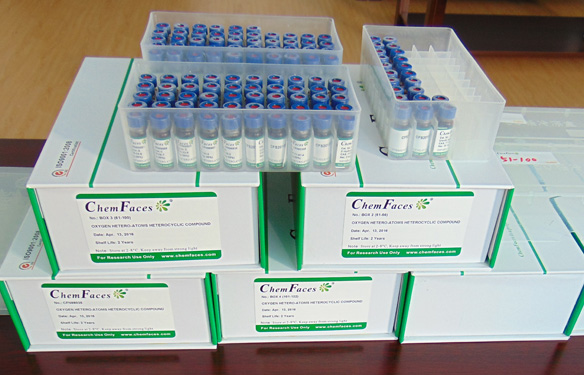 Providing storage is as stated on the product vial and the vial is kept tightly sealed, the product can be stored for up to
24 months(2-8C)
.
Wherever possible, you should prepare and use solutions on the same day. However, if you need to make up stock solutions in advance, we recommend that you store the solution as aliquots in tightly sealed vials at -20C. Generally, these will be useable for up to two weeks. Before use, and prior to opening the vial we recommend that you allow your product to equilibrate to room temperature for at least 1 hour.
Need more advice on solubility, usage and handling? Please email to: service@chemfaces.com
The packaging of the product may have turned upside down during transportation, resulting in the natural compounds adhering to the neck or cap of the vial. take the vial out of its packaging and gently shake to let the compounds fall to the bottom of the vial. for liquid products, centrifuge at 200-500 RPM to gather the liquid at the bottom of the vial. try to avoid loss or contamination during handling.
Biosci Rep.2018, 38(4)
Int J Mol Sci.2018, 19(9):E2825
Sci Rep.2019, 9:12132
J Pharm Biomed Anal.2016, 129:50-59
Biomedicines.2020, 8(11):486.
Molecules.2019, 24(4):E709
Anal Bioanal Chem.2020, 412(12):3005-3015.
Aquaculture2019, 510:392-399
Auburn University2015, 1-58
Environ Toxicol.2019, 34(12):1354-1362
Pharmacognosy Res. 2012 Apr;4(2):80-4.
Antioxidant and antibacterial activities of the leaf essential oil and its constituents furanodienone and curzerenone from Lindera pulcherrima (Nees.) Benth. ex hook. f.[Pubmed:
22518079
]
Lindera pulcherrima (Nees.) Benth. ex Hook. f. (Family: Lauraceae), an evergreen shrub, is an important medicinal plant distributed in temperate Himalayan regions. The leaves and bark are used as spice in cold, fever, and cough.
METHODS AND RESULTS:
In this study, the terpenoid composition, antioxidant, and antibacterial activities of the leaf essential oil and its major constituents are being analyzed.
CONCLUSIONS:
The in vitro antioxidant activity showed a potent free radical scavenging activity for the essential oil as evidenced by a low IC(50) value for DPPH radical followed by furanodienone (0.087 ± 0.03 and 1.164 ± 0.58 mg/ml respectively) and the inhibition of lipid peroxidation for the oil and furanodienone also followed the same order (IC(50) 0.74 ± 0.13 and 2.12 ± 0.49 mg/ml, respectively). The oil and the constituents were also tested against three Gram negative (Escherichia coli, Salmonella enterica enterica, and (Pasturella multocida) and one Gram positive (Staphylococcus aureus) bacteria. The essential oil was effective against S. aureus (IZ = 19.0 ± 0.34; MIC 3.90 μl/ml) while furanodienone showed potent activity against E. coli and S. enterica enterica (IZ = 18.0 ± 0.14 and 16.0 ± 0.10 respectively). On the other hand, Curzerenone was found to be slightly effective against E. coli (IZ = 10.8 ± 0.52). The MIC value of the essential oil was least against S. aureus (MIC = 3.90 μl/ml) and that of furanodienone against E. coli (MIC = 3.90 μl/ml).
Evid Based Complement Alternat Med. 2013;2013:257108.
In Vitro Morphological Assessment of Apoptosis Induced by Antiproliferative Constituents from the Rhizomes of Curcuma zedoaria.[Pubmed:
23762112
]
Bioassay-guided isolation of the active hexane fractions of Curcuma zedoaria led to the identification of five pure compounds, namely, Curzerenone (1), neocurdione (2), curdione (3), alismol (4), and zederone (5) and a mixture of sterols, namely, campesterol (6), stigmasterol (7), and β -sitosterol (8). Alismol has never been reported to be present in Curcuma zedoaria.
METHODS AND RESULTS:
All isolated compounds except (3) were evaluated for their cytotoxic activity against MCF-7, Ca Ski, and HCT-116 cancer cell lines and noncancer human fibroblast cell line (MRC-5) using neutral red cytotoxicity assay. Curzerenone and alismol significantly inhibited cell proliferation in human cancer cell lines MCF-7, Ca Ski, and HCT-116 in a dose-dependent manner. Cytological observations by an inverted phase contrast microscope and Hoechst 33342/PI dual-staining assay showed typical apoptotic morphology of cancer cells upon treatment with Curzerenone and alismol. Both compounds induce apoptosis through the activation of caspase-3. It can thus be suggested that Curzerenone and alismol are modulated by apoptosis via caspase-3 signalling pathway. The findings of the present study support the use of Curcuma zedoaria rhizomes in traditional medicine for the treatment of cancer-related diseases.
CONCLUSIONS:
Thus, two naturally occurring sesquiterpenoids, Curzerenone and alismol, hold great promise for use in chemopreventive and chemotherapeutic strategies.