Strychnistenolide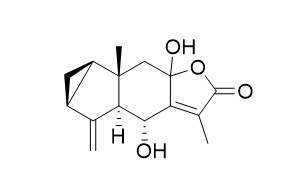 Reference standards.
Inquire / Order: manager@chemfaces.com
Technical Inquiries: service@chemfaces.com
Tel: +86-27-84237783
Fax: +86-27-84254680

Address:
1 Building, No. 83, CheCheng Rd., Wuhan Economic and Technological Development Zone, Wuhan, Hubei 430056, PRC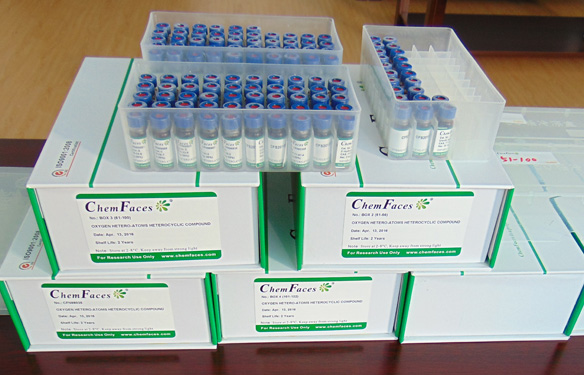 Providing storage is as stated on the product vial and the vial is kept tightly sealed, the product can be stored for up to
24 months(2-8C)
.
Wherever possible, you should prepare and use solutions on the same day. However, if you need to make up stock solutions in advance, we recommend that you store the solution as aliquots in tightly sealed vials at -20C. Generally, these will be useable for up to two weeks. Before use, and prior to opening the vial we recommend that you allow your product to equilibrate to room temperature for at least 1 hour.
Need more advice on solubility, usage and handling? Please email to: service@chemfaces.com
The packaging of the product may have turned upside down during transportation, resulting in the natural compounds adhering to the neck or cap of the vial. take the vial out of its packaging and gently shake to let the compounds fall to the bottom of the vial. for liquid products, centrifuge at 200-500 RPM to gather the liquid at the bottom of the vial. try to avoid loss or contamination during handling.
Molecules.2018, 23(2)
Phytother Res.2015, 29(7):1088-96
J-STAGE2015, 249-255
Phytochemistry.2017, 141:162-170
Saf Health Work.2019, 10(2):196-204
Fitoterapia.2018, 124:92-102
Process Biochemistry2019, 85:106-115
Molecules.2019, 25(1):E103
Molecules.2019, 24(9):E1719
Universidade Estadual Paulista2017, 11449
J Nat Prod. 2009 Aug;72(8):1497-501.
Sesquiterpene lactones from the root tubers of Lindera aggregata.[Pubmed:
19639966
]

METHODS AND RESULTS:
Phytochemical investigation of the root tubers of Lindera aggregata resulted in the isolation of five new sesquiterpene lactones, linderagalactones A-E (1-5), along with eight known sesquiterpenoids, 3-eudesmene-1beta,11-diol, hydroxylindestenolide, Strychnistenolide, hydroxyisogermafurenolide, atractylenolide III, linderane, neolinderalactone, and linderalactone. The structures and relative configurations of 1-5 were determined by spectroscopic methods, especially HRESIMS and 2D NMR techniques. The absolute configurations of 1-4 were defined by comparison of quantum chemical TDDFT calculated and experimental ECD spectra.
CONCLUSIONS:
Linderagalactone A (1) is a halogenated sesquiterpene lactone possessing a unique rearranged carbon skeleton. Linderagalactone E (5), linderane, hydroxylindestenolide, and linderalactone showed hepatoprotective activity against H2O2-induced oxidative damages on HepG2 cells with EC(50) values of 67.5, 167.0, 42.4, and 98.0 microM, respectively.
J Nat Prod. 2001 Mar;64(3):286-8.
New eudesmane sesquiterpenes from the root of Lindera strychnifolia.[Pubmed:
11277740
]

METHODS AND RESULTS:
Strychnistenolide (1) and its acetate 2 were isolated from the root of Lindera strychnifolia, along with a novel rearranged type of secoeudesmane, strychnilactone (3). Their structures were elucidated by extensive analysis of their NMR spectra, including 2D NMR techniques, together with an X-ray analysis for 3.
CONCLUSIONS:
Strychnistenolide exists as a single stereoisomer in CHCl(3), but in pyridine is epimerized.