Cryptochlorogenic acid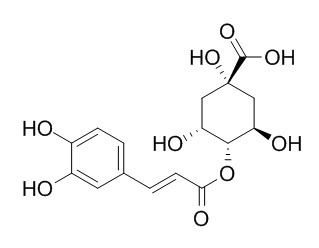 Cryptochlorogenic acid has antioxidant activity.

Inquire / Order: manager@chemfaces.com
Technical Inquiries: service@chemfaces.com
Tel: +86-27-84237783
Fax: +86-27-84254680

Address:
1 Building, No. 83, CheCheng Rd., Wuhan Economic and Technological Development Zone, Wuhan, Hubei 430056, PRC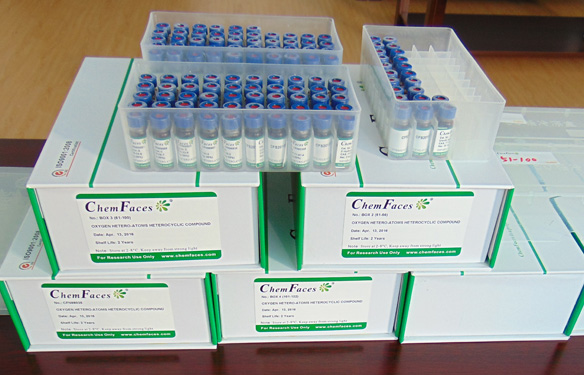 Providing storage is as stated on the product vial and the vial is kept tightly sealed, the product can be stored for up to
24 months(2-8C)
.
Wherever possible, you should prepare and use solutions on the same day. However, if you need to make up stock solutions in advance, we recommend that you store the solution as aliquots in tightly sealed vials at -20C. Generally, these will be useable for up to two weeks. Before use, and prior to opening the vial we recommend that you allow your product to equilibrate to room temperature for at least 1 hour.
Need more advice on solubility, usage and handling? Please email to: service@chemfaces.com
The packaging of the product may have turned upside down during transportation, resulting in the natural compounds adhering to the neck or cap of the vial. take the vial out of its packaging and gently shake to let the compounds fall to the bottom of the vial. for liquid products, centrifuge at 200-500 RPM to gather the liquid at the bottom of the vial. try to avoid loss or contamination during handling.
Aquaculture2019, 510:392-399
Naunyn Schmiedebergs Arch Pharmacol.2021, 394(1):107-115.
Antioxidants (Basel).2022, 11(12):2327.
Life Sci.2021, 270:119074.
Journal of functional foods2018, 171-182
J Am Soc Mass Spectrom.2021, 32(9):2451-2462.
Molecules.2022, 27(2):451.
The Pharmaceutical Society of Japan2018, 138(4):571-579
Molecules.2020, 25(18):4283.
Viruses.2021, 13(11):2118.
Biomed Chromatogr. 2015 Jan;29(1):68-74.
Simultaneous determination of neochlorogenic acid, chlorogenic acid, cryptochlorogenic acid and geniposide in rat plasma by UPLC-MS/MS and its application to a pharmacokinetic study after administration of Reduning injection.[Pubmed:
24842397
]
A simple, specific and sensitive ultra-performance liquid chromatography tandem mass spectrometry (UPLC-MS/MS) method was established and validated for simultaneous determination of neochlorogenic acid, chlorogenic acid, Cryptochlorogenic acid and geniposide in rat plasma using puerarin as an internal standard (IS).
METHODS AND RESULTS:
Plasma samples were pretreated by a one-step direct protein precipitation procedure with acetonitrile after acidified using as little as 50 μL plasma. Chromatographic separation was performed on an Acquity BEH C18 column (100 × 2.1 mm, 1.7 μm) at a flow rate of 0.2 mL/min by a gradient elution, using 0.2% acetic acid-methanol as mobile phase. The detection was performed on a triple quadrupole tandem mass spectrometer by multiple reaction monitoring via electrospray ionization source with negative ion mode. Calibration curves showed good linearity (r > 0.995) over wide concentration ranges. The intra- and inter-day precisions were <15%, and the accuracy was within ±8.0%.
CONCLUSIONS:
The validated method was successfully applied to a pharmacokinetic study of the four bioactive components in rats after intravenous administration of Reduning injection.
J Agric Food Chem. 2000 Nov;48(11):5512-6.
Identification, quantitative determination, and antioxidative activities of chlorogenic acid isomers in prune (Prunus domestica L. ).[Pubmed:
11087511
]
Neochlorogenic acid (3-CQA) and Cryptochlorogenic acid (4-CQA), isolated from prune (Prunus domestica L.), were identified by NMR and MS analyses. In addition, the quantity of chlorogenic acid isomers in prune were measured by HPLC. These isomers, 3-CQA, 4-CQA, and chlorogenic acid (5-CQA), were contained in the ratio 78.7:18. 4:3.9, respectively. 4-CQA was identified and quantified in prune for the first time, and relatively high amounts of this isomer were characteristic. Antioxidative activities of the chlorogenic acid isomers, such as scavenging activity on superoxide anion radicals and inhibitory effect against oxidation of methyl linoleate, were also evaluated. Each isomer showed antioxidative activities which were almost the same.