Coumarin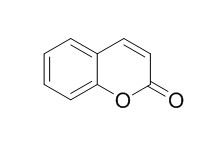 Coumarin is an anticoagulant and photoprotective drug; it also has antiulcerogenic activity, which may influence the secretion control mediated by the parasympathetic system. Coumarin is a potent inducer of aflatoxin B1-aldehyde reductase, has chemoprevention of aflatoxin B1 hepatocarcinogenesis.
Inquire / Order: manager@chemfaces.com
Technical Inquiries: service@chemfaces.com
Tel: +86-27-84237783
Fax: +86-27-84254680

Address:
1 Building, No. 83, CheCheng Rd., Wuhan Economic and Technological Development Zone, Wuhan, Hubei 430056, PRC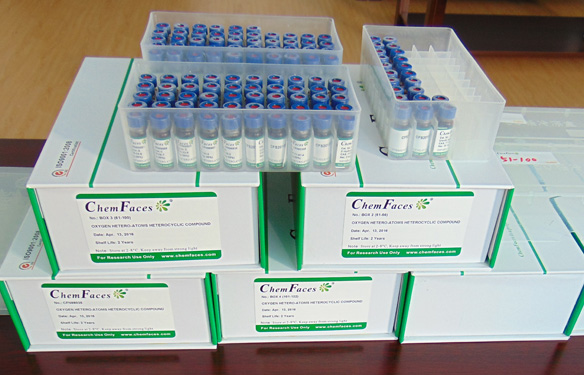 Providing storage is as stated on the product vial and the vial is kept tightly sealed, the product can be stored for up to
24 months(2-8C)
.
Wherever possible, you should prepare and use solutions on the same day. However, if you need to make up stock solutions in advance, we recommend that you store the solution as aliquots in tightly sealed vials at -20C. Generally, these will be useable for up to two weeks. Before use, and prior to opening the vial we recommend that you allow your product to equilibrate to room temperature for at least 1 hour.
Need more advice on solubility, usage and handling? Please email to: service@chemfaces.com
The packaging of the product may have turned upside down during transportation, resulting in the natural compounds adhering to the neck or cap of the vial. take the vial out of its packaging and gently shake to let the compounds fall to the bottom of the vial. for liquid products, centrifuge at 200-500 RPM to gather the liquid at the bottom of the vial. try to avoid loss or contamination during handling.
J Agric Food Chem.2015, 63(44):9869-78
Fitoterapia.2018, 124:92-102
Phys Chem Chem Phys.2018, 20(23):15986-15994
Auburn University2015, 1-58
J Food Biochem.2019, 43(9):e12970
Journal of Third Military Medical University2018, 40(12):1073-1078
Br J Pharmacol.2016, 173(2):396-410
Oxid Med Cell Longev2019, 9056845:13
J Ethnopharmacol.2017, 198:205-213
Phytother Res.2019, 33(4):1104-1113
J Photochem Photobiol B. 2015 May;146:44-51.
Photoprotective effect of coumarin and 3-hydroxycoumarin in sea urchin gametes and embryonic cells.[Pubmed:
25795999
]
Ultraviolet radiation B (UVB) represents 5% of all solar UV radiation and chronic exposure can induce harmful biological responses, including skin cancer. Prospection of new drugs with photoprotective properties and less toxic effects is constant and natural products have been the main options in this field. Coumarins are a group of natural phenolic compounds that shows several pharmacological activities.
METHODS AND RESULTS:
The aim of present work was to investigate the effect of Coumarin and six derivatives in sea urchin gametes and zygotes exposed to UVB. Embryonic development assay was used to monitor UVB embryotoxicity. Firstly, we demonstrated that Coumarin inhibited first embryonic cell division from 5 μM (EC50 = 52.9 μM) and its derivatives showed an embryotoxic effect ten times higher. Then, gametes or zygotes were treated with Coumarin compounds before or after UVB exposure (UVB doses ranged from 0.056 to 0.9 kJm(-2)). Pretreatment of gametes or zygotes with Coumarin or 3-hydroxyCoumarin (1 μM, both) decreased UVB embryotoxic effect. Protective effect of the compounds was observed only when cells were treated previous to UVB exposure. Coumarin derivatives 4-hydroxyCoumarin, 6-hydroxyCoumarin, 7-hydroxyCoumarin, 6,7-dihydroxyCoumarin and 6-methoxy-7-hydroxyCoumarin did not exhibit photoprotective activity.
CONCLUSIONS:
Our data provides evidences that Coumarin and 3-hydroxyCoumarin can be a promising class of photoprotective drugs.
Cancer Res. 2000 Feb 15;60(4):957-69.
Chemoprevention of aflatoxin B1 hepatocarcinogenesis by coumarin, a natural benzopyrone that is a potent inducer of aflatoxin B1-aldehyde reductase, the glutathione S-transferase A5 and P1 subunits, and NAD(P)H:quinone oxidoreductase in rat liver.[Pubmed:
10706111
]
Structurally diverse compounds can confer resistance to aflatoxin B1 (AFB1) hepatocarcinogenesis in the rat.
METHODS AND RESULTS:
Treatment with either phytochemicals [benzyl isothiocyanate, Coumarin (CMRN), or indole-3-carbinol] or synthetic antioxidants and other drugs (butylated hydroxyanisole, diethyl maleate, ethoxyquin, beta-naphthoflavone, oltipraz, phenobarbital, or trans-stilbene oxide) has been found to increase hepatic aldo-keto reductase activity toward AFB1-dialdehyde and glutathione S-transferase (GST) activity toward AFB1-8,9-epoxide in both male and female rats. Under the conditions used, the natural benzopyrone CMRN was a major inducer of the AFB1 aldehyde reductase (AFAR) and the aflatoxin-conjugating class-alpha GST A5 subunit in rat liver, causing elevations of between 25- and 35-fold in hepatic levels of these proteins. Induction was not limited to AFAR and GSTA5: treatment with CMRN caused similar increases in the amount of the class-pi GST P1 subunit and NAD(P)H: quinone oxidoreductase in rat liver. Immunohistochemistry demonstrated that the overexpression of AFAR, GSTA5, GSTP1, and NAD(P)H:quinone oxidoreductase affected by CMRN is restricted to the centrilobular (periacinar) zone of the lobule, sometimes extending almost as far as the portal tract. This pattern of induction was also observed with ethoxyquin, oltipraz, and trans-stilbene oxide. By contrast, induction of these proteins by beta-naphthoflavone and diethyl maleate was predominantly periportal. Northern blotting showed that induction of these phase II drug-metabolizing enzymes by CMRN was accompanied by similar increases in the levels of their mRNAs. To assess the biological significance of enzyme induction by dietary CMRN, two intervention studies were performed in which the ability of the benzopyrone to inhibit either AFB1-initiated preneoplastic nodules (at 13 weeks) or AFB1-initiated liver tumors (at 50 weeks) was investigated. Animals pretreated with CMRN for 2 weeks prior to administration of AFB1, and with continued treatment during exposure to the carcinogen for a further 11 weeks, were protected completely from development of hepatic preneoplastic lesions by 13 weeks. In the longer-term dietary intervention, treatment with CMRN before and during exposure to AFB1 for a total of 24 weeks was found to significantly inhibit the number and size of tumors that subsequently developed by 50 weeks.
CONCLUSIONS:
These data suggest that consumption of a CMRN-containing diet provides substantial protection against the initiation of AFB1 hepatocarcinogenesis in the rat.
Stroke. 2014 Nov;45(11):3436-9.
Use of coumarin anticoagulants and cerebral microbleeds in the general population.[Pubmed:
25316276
]
It remains undetermined whether the use of Coumarin anticoagulants associates with cerebral microbleeds in the general population. We investigated whether (1) Coumarin use relates to higher prevalence and incidence of microbleeds, (2) microbleeds are more frequent in people with higher maximum international normalized ratios (INRs), and (3) among Coumarin users, variability in INR associates with microbleed presence.
METHODS AND RESULTS:
From the population-based Rotterdam Study, 4945 participants aged ≥45 years were included in the cross-sectional analysis, and 3069 participants had follow-up brain MRI. Information on Coumarin use was obtained from automated pharmacy records. Coumarin users were monitored, and INR values were measured in consecutive visits. Presence and location of microbleeds were rated on brain MRI. We investigated the association of Coumarin use with microbleeds using multivariable logistic regression. Overall, 8.6% had used Coumarin anticoagulants before the first MRI and 5.9% before follow-up MRI. The prevalence of microbleeds was 19.4%, and the incidence was 6.9% during a mean follow-up of 3.9 years (SD, 0.5). Compared with never users, Coumarin users had a higher prevalence of deep or infratentorial microbleeds and a higher incidence of any microbleeds, although statistical significance was not reached in the latter. A higher maximum INR was associated with deep or infratentorial microbleeds. Among Coumarin users, a greater variability in INR was associated with a higher prevalence of microbleeds.
CONCLUSIONS:
Coumarin use is associated with microbleeds. Associations were strongest for people with greater variability in INR.
Phytomedicine. 2005 Jan;12(1-2):72-7.
Antiulcerogenic activity of a crude hydroalcoholic extract and coumarin isolated from Mikania laevigata Schultz Bip.[Pubmed:
15693711
]
The leaves of Mikania (Asteraceae) species are used in folk medicine as antispasmodic, antiulcerogenic and antirheumatic agents. Phytochemical screening of the crude hydroalcoholic 70% extract (CHE) of Mikania laevigata Shultz Bip. revealed Coumarins, terpenes and organic acids. Antiulcerogenic activity of CHE was evaluated, employing different experimental models in rats, to discern the pharmacological mechanism of action. Both the antisecretory and the cytoprotection hypothesis were evaluated.
METHODS AND RESULTS:
The crude hydroalcoholic extract (1000 mg/kg body wt., vo) decreased the ulcerative lesion index produced by indomethacin, ethanol, stress and reserpine in rats by 85%, 93%, 82% and 50%, respectively. In the pyloric ligation model, a decrease of hydrogenionic concentration (53%) was observed, suggesting that the pharmacological mechanism has a relationship to antisecretory activity. The antisecretory mechanisms of CHE and the Coumarin isolated from M. laevigata were confirmed by acid hypersecretion induced by histamine, pentagastrin and bethanechol. Duodenal administration of CHE (1000 mg/kg body wt.) and Coumarin (100 mg/kg body wt.) inhibited only the gastric acid secretion produced by bethanecol.
CONCLUSIONS:
These results suggest that both CHE and Coumarin may influence the secretion control mediated by the parasympathetic system.
J Cardiovasc Pharmacol Ther. 2015 Jan 8.
Genotype-Guided Dosing of Coumarin Anticoagulants: A Meta-analysis of Randomized Controlled Trials.[Pubmed:
25575537
]
Coumarin anticoagulants (acenocoumarol, phenprocoumon, and warfarin) are generally used for the prevention of stroke in patients with atrial fibrillation or for the therapy and prevention of venous thromboembolism. However, the safe use of Coumarin anticoagulants is restricted by a narrow therapeutic window and large interindividual dosing variations. Some studies found that the effectiveness and safety of Coumarin anticoagulants therapy were increased by pharmacogenetic-guided dosing algorithms, while others found no significant effect of genotype-guided therapy.
METHODS AND RESULTS:
Four electronic databases were searched from January 1, 2000, to March 1, 2014, for randomized controlled trials of patients who received Coumarin anticoagulants according to genotype-guided dosing algorithms. The primary outcome was the percentage of time that the international normalized ratio (INR) was within the normal range (2.0-3.0). Secondary outcomes included major bleeding events, thromboembolic events, and INR ≥4 events. Eight studies satisfied the inclusion and exclusion criteria. Genotype-guided dosing of Coumarin anticoagulants improved the percentage of time within the therapeutic INR range (95% confidence interval [CI], 0.02-0.28; P = .02; I(2) = 70%). Subgroup analysis was performed after dividing the nongenotype-guided group into a standard-dose group (95% CI, 0.14-0.49; P = .0004; I(2) = 50%) and a clinical variables-guided dosing algorithm group (95% CI, -0.07-0.15; P = .48; I(2) = 34%). There is a statistically significant reduction in numbers of secondary outcomes (INR ≥4 events, major bleeding events, and thromboembolic events; 95% CI, 0.79-1.00; P = .04). Subgroup analysis of secondary outcomes showed no significant difference between genotype-guided dosing and clinical variables-guided dosing (95% CI, 0.84-1.10; P = .57; I(2) = 11%), but genotype-guided dosing reduced secondary outcomes compared with standard dosing (95% CI, 0.62-0.92; P = .006; I(2) = 0%).
CONCLUSIONS:
This meta-analysis showed that genotype-guided dosing increased the effectiveness and safety of Coumarin therapy compared with standard dosing but did not have advantages compared with clinical variables-guided dosing.