(+)-Camphor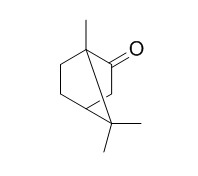 Camphor is a waxy, flammable, white or transparent solid with a strong aroma, often used to relieve pain, reduce itching and treat fungal infections. It can activate TRPV1 and TRPV3. Camphor is highly repellent to the beetles with overall repellency in the range of 80 - 100%.
Inquire / Order: manager@chemfaces.com
Technical Inquiries: service@chemfaces.com
Tel: +86-27-84237783
Fax: +86-27-84254680

Address:
1 Building, No. 83, CheCheng Rd., Wuhan Economic and Technological Development Zone, Wuhan, Hubei 430056, PRC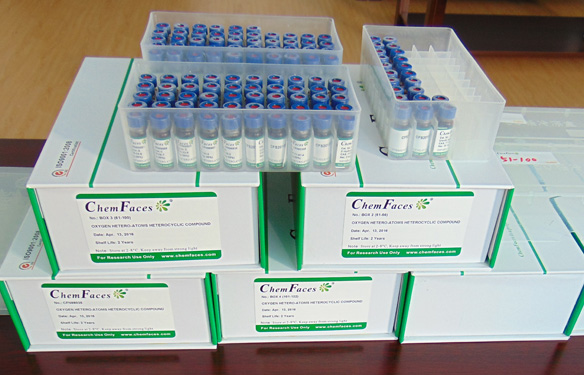 Providing storage is as stated on the product vial and the vial is kept tightly sealed, the product can be stored for up to
24 months(2-8C)
.
Wherever possible, you should prepare and use solutions on the same day. However, if you need to make up stock solutions in advance, we recommend that you store the solution as aliquots in tightly sealed vials at -20C. Generally, these will be useable for up to two weeks. Before use, and prior to opening the vial we recommend that you allow your product to equilibrate to room temperature for at least 1 hour.
Need more advice on solubility, usage and handling? Please email to: service@chemfaces.com
The packaging of the product may have turned upside down during transportation, resulting in the natural compounds adhering to the neck or cap of the vial. take the vial out of its packaging and gently shake to let the compounds fall to the bottom of the vial. for liquid products, centrifuge at 200-500 RPM to gather the liquid at the bottom of the vial. try to avoid loss or contamination during handling.
Sci. Rep.2015, 14-23
Nutr Res Pract.2020, 14(5):478-489.
Nat Commun.2019, 10(1):2745
Evid Based Complement Alternat Med.2018, 2018:3610494
Exp Parasitol.2015, 153:160-4
Front Pharmacol.2017, 8:205
The Japan Society for Analytical Chemistry2018, 67(4):201-206
World J Mens Health.2019, 10.5534
Tropical J. of Pha. Research2017, 16(3):543-552
Pharmacol Res.2020, 161:105205.
International Journal of Pest Management, 1998, 44(4):203-209.
Toxicity and protectant potential of camphor, a major component of essential oil of Ocimum kilimandscharicum, against four stored product beetles[Reference:
WebLink
]

METHODS AND RESULTS:
The biological activity of camphor, a major component of essential oil of the basil shrub, Ocimum kilimandscharicum, against the beetles, Sitophilus granarius, S. zeamais, Tribolium castaneum and Prostephanus truncatus, was investigated in the laboratory using contact toxicity, grain treatment and repellency assays. Camphor applied either topically, impregnated on filter papers or whole wheat and maize grains was highly toxic to all the four species. Beetle mortality was dosage-dependent with the highest doses of 100 mg/ filter paper and 100 mug/insect evoking over 93% and 100% mortalities, respectively, in S. granarius, S. zeamais and P. truncatus after 24 h exposure. Similar doses induced 70% and 100% mortality in T. castaneum. Camphor impregnated on the grain surface was more effective than on filter paper. There was, however, highly significant reduction in toxicity in grain after only 24 h following treatment.
CONCLUSIONS:
Development of eggs and immature stages within grain kernels, as well as progeny emergence, was completely inhibited in camphor-treated grain. Camphor was also highly repellent to the beetles with overall repellency in the range of 80 - 100%. The potential use of suitable products derived from O. kilimandscharicum as supplementary or alternative grain protectants against insect damage in traditional grain storage in developing countries is discussed.