Camaric acid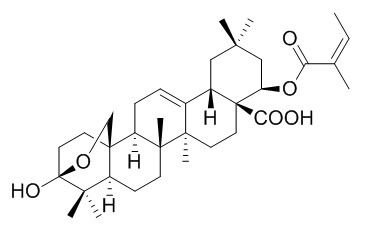 Camaric acid shows antibacterial activity against Staphylococcus aureus and methicillin resistant S. aureus with IC50 values 8.74 and 8.09 uM, respectively, it also shows moderate antileishmanial activity and highly potent antitrypanosomal activity. Camaric acid possesses nematicidal activity. Camaric acid shows significant topical anti-inflammatory activity with IC50 value of 0.67 mg/ear in the assay of TPA mouse ear oedema model.
Inquire / Order: manager@chemfaces.com
Technical Inquiries: service@chemfaces.com
Tel: +86-27-84237783
Fax: +86-27-84254680

Address:
1 Building, No. 83, CheCheng Rd., Wuhan Economic and Technological Development Zone, Wuhan, Hubei 430056, PRC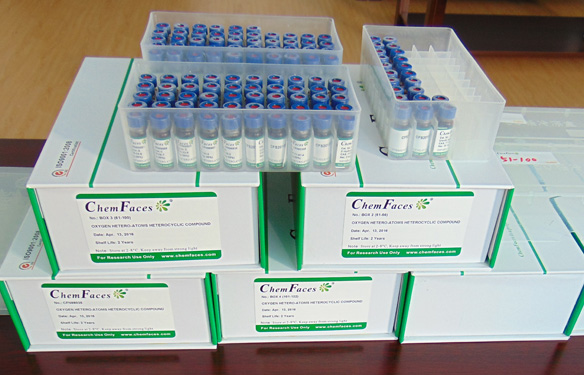 Providing storage is as stated on the product vial and the vial is kept tightly sealed, the product can be stored for up to
24 months(2-8C)
.
Wherever possible, you should prepare and use solutions on the same day. However, if you need to make up stock solutions in advance, we recommend that you store the solution as aliquots in tightly sealed vials at -20C. Generally, these will be useable for up to two weeks. Before use, and prior to opening the vial we recommend that you allow your product to equilibrate to room temperature for at least 1 hour.
Need more advice on solubility, usage and handling? Please email to: service@chemfaces.com
The packaging of the product may have turned upside down during transportation, resulting in the natural compounds adhering to the neck or cap of the vial. take the vial out of its packaging and gently shake to let the compounds fall to the bottom of the vial. for liquid products, centrifuge at 200-500 RPM to gather the liquid at the bottom of the vial. try to avoid loss or contamination during handling.
Kor. J. Herbol.2019, 34(2):59-66
Phytother Res.2019, 33(5):1490-1500
Drug Test Anal.2018, 10(10):1579-1589
The Japan Society for Analytical Chemistry2017, 613-617
Int J Mol Sci.2019, 20(11):E2734
J Sep Sci.2019, 42(21):3352-3362
Korean Journal of Medicinal Crop Science2018, 26(5):382-390
Asian J Beauty Cosmetol2016, 14(3):249-257
Industrial Crops and Products2019, 140:111612
Phytochem Anal.2016, 27(5):296-303
Chem Biodivers. 2014 May;11(5):709-18.
Leishmanicidal Triterpenes from Lantana camara.[Pubmed:
24827681
]

METHODS AND RESULTS:
Two new natural triterpenes, lantaninilic acid and lantoic acid, along with the known triterpenes lantadene A, and oleanolic, ursolic, betulinic, lantanolic, and Camaric acid, were obtained from the aerial parts of Lantana camara through bioassay-guided isolation, monitoring the in vitro antileishmanial activity against promastigotes of Leishmania major. Oleanolic acid (3), ursolic acid (4), lantadene A (5), and lantanilic acid (7) showed significant leishmanicidal activities with IC50 values of 53.0, 12.4, 20.4, and 21.3 μM, respectively. The IC50 value of ursolic acid (4; 12.4 μM) was found to be comparable with that of the standard drugs, pentamidine (IC50 15.0 μM) and amphotericin B (IC50 0.31 μM).
CONCLUSIONS:
The in vitro activities of L. camara and its constituents against promastigotes of Leishmania major are reported here for the first time.
Pharmaceutical Biology, 2008 , 37 (1) :63-66
Antibacterial Triterpenoids Isolated from Lantana camara.[Reference:
WebLink
]
The known triterpenoids lantic acid, Camaric acid, camarinic acid and lantanilic acid were isolated from Lantana camara (L.) cultivated in Egypt.
METHODS AND RESULTS:
The antibacterial activity of lantic acid was carried out using bioautography assays for Gram-positive and Gram-negative bacteria. Lantic acid was found to possess strong antibacterial activity against Escherichia coli and Bacillus cereus, in which 0.08 and 0.1 μg were the minimum inhibition doses, respectively, compared to 0.05 and 0.005 μg for chloramphenicol, respectively.
CONCLUSIONS:
The results indicate that lantic acid has broad spectrum antibacterial activity and may hold potential as a non-selective antimicrobial agent.
Fitoterapia. 2004 Jun;75(3-4):327-31.
Oleanene constituents of Lantana cujabensis.[Pubmed:
15158990
]

METHODS AND RESULTS:
A new compound, 3beta,25-epoxy-3alpha-hydroxy-22beta-isobutanoyloxyolean-12-ene-28-oic acid (1), and two known triterpenoids lantanilic acid (2) and Camaric acid (3) were isolated from the stem and leaves of Lantana cujabensis. Their structures were elucidated by spectroscopic methods.
CONCLUSIONS:
The ethanol extracts did not show significant in vitro antiplasmodial activity against chloroquine-sensitive or resistant strains of Plasmodium falciparum.
Nat Prod Res. 2005 Sep;19(6):609-13.
Nematicidal natural products from the aerial parts of Lantana camara Linn.[Pubmed:
16010828
]

METHODS AND RESULTS:
Lantanilic acid, Camaric acid and oleanolic acid possessing nematicidal activity were isolated from the methanolic extract of the aerial parts of Lantana camara Linn. through bio-assay guided fractionation.
CONCLUSIONS:
These compounds exhibited 98%, 95% and 70% mortality respectively against root-knot nematode Meloidogyne incognita at 0.5% concentration. Conventional nematicide furadan showed 100% mortality at this concentration.
Spatula Dd, 2011,4(1):213-8.
Antibacterial and cytotoxic triterpenoids from Lantana viburnoides ssp viburnoides var kisi[Reference:
WebLink
]

METHODS AND RESULTS:
The stem and root bark ethanol extracts exhibited strong antibacterial activity against (195.3 μg/ml) and (390.6 μg/ml). Camaric acid (1), isolated from the dichloromethane fraction of root bark extract, exhibited antimicrobial activity against (MIC = 19.5 μg/ml) (MIC = 19.5 μg/ml) (MIC = 9.76 μg/ml), (MIC = 4.88 μg/ml), and (MIC = 19.5 μg/ml), and was toxic to the shrimps (LC50 = 4.1 μg/ml). Betulinic acid (2) also from the same fraction exhibited poor anti-bacterial activity against all bacteria tested but showed high cytotoxic activity against brine shrimp larvae (LC50 = 2.4 μg/ml).
CONCLUSIONS:
Detection of antibacterial activity and isolation of an antibacterial compound, Camaric acid, from extracts of ssp. var. supports the traditional use of extracts of the plant for treatment of gastrointestinal problems. Betulinic acid and Camaric acid are already established to have anticancer activity.
Kean. OngBoo.,2004.
Anti-inflammatory activity of camaric acid from Lantana camara[Reference:
WebLink
]

METHODS AND RESULTS:
The chemical studies on the leaves of Lantana camara Linn (Verbanaceae) have successfully afforded linoleic acid, β-sitosterol and phytol together with four pentacyclic triterpenoid acids; oleanonic acid, lantadene B, Camaric acid and oleanolic acid.
CONCLUSIONS:
Camaric acid showed significant topical anti-inflammatory activity with IC50 value of 0.67 mg/ear in the assay of TPA mouse ear oedema model.