Bursehernin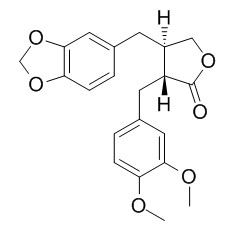 Bursehernin has potential for development as an anti-tumor agent with an anti-proliferation, and cell cycle arrest inducing.
Inquire / Order: manager@chemfaces.com
Technical Inquiries: service@chemfaces.com
Tel: +86-27-84237783
Fax: +86-27-84254680

Address:
1 Building, No. 83, CheCheng Rd., Wuhan Economic and Technological Development Zone, Wuhan, Hubei 430056, PRC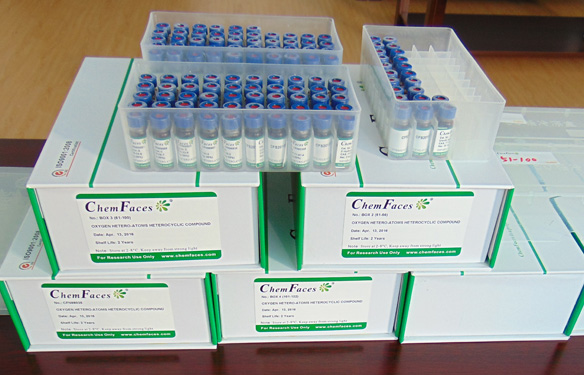 Providing storage is as stated on the product vial and the vial is kept tightly sealed, the product can be stored for up to
24 months(2-8C)
.
Wherever possible, you should prepare and use solutions on the same day. However, if you need to make up stock solutions in advance, we recommend that you store the solution as aliquots in tightly sealed vials at -20C. Generally, these will be useable for up to two weeks. Before use, and prior to opening the vial we recommend that you allow your product to equilibrate to room temperature for at least 1 hour.
Need more advice on solubility, usage and handling? Please email to: service@chemfaces.com
The packaging of the product may have turned upside down during transportation, resulting in the natural compounds adhering to the neck or cap of the vial. take the vial out of its packaging and gently shake to let the compounds fall to the bottom of the vial. for liquid products, centrifuge at 200-500 RPM to gather the liquid at the bottom of the vial. try to avoid loss or contamination during handling.
Mol Med Rep.2015, 12(5):7789-95
J Sep Sci.2020, 201901140
J Nat Prod.2015, 78(6):1339-4
Phytother Res.2015, 29(7):1088-96
J Ethnopharmacol.2017, 196:75-83
J of L. Chroma.&Related Tech2017, 252-258
Process Biochemistry2019, 85:106-115
Biol Pharm Bull.2018, 41(1):65-72
J Pharm Biomed Anal.2016, 129:50-59
Molecules.2015, 20(10):19172-88
J Mol Graph Model. 2017 Jun;74:215-224.
Structure-guided cancer blockade between bioactive bursehernin and proteins: Molecular docking and molecular dynamics study.[Pubmed:
28456097
]
Bursehernin (5'-desmethoxyyatein) is a natural lignan, which has anti-tumor activity in vitro.
METHODS AND RESULTS:
In this study, the binding-inhibitory effects of Bursehernin were screening on selected 80 proteins associated with cancer pathway. The computational analysis suggested inhibitory effect due to Bursehernin towards proteins related to cancer proliferation, including FMS kinase receptor, heat shock protein 90-α (Hsp90-α), adenylate cyclase 10 (ADCY10), mitogen-activated protein kinase kinase (MEK1), and α-tubulin. Moreover, Bursehernin could interfere with cell cycle progression via binding to cyclin B proteins. Among all screened proteins, the compound showed an interesting binding affinity to the FMS kinase receptor. The binding mode studies by molecular dynamic technique showed that aromatic ring of Bursehernin compound was responsible for compound-protein interaction through pi-pi stacking with Tyr105 and Phe178 of the FMS kinase receptor.
CONCLUSIONS:
This study suggests that Bursehernin has potential for development as an anti-tumor agent with an anti-proliferation, and cell cycle arrest inducing, although further studies are needed.