Arctiin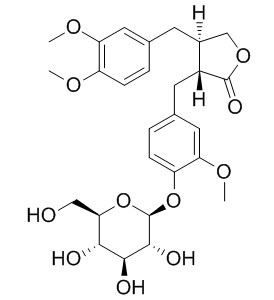 Arctiin(NSC 315527), a plant lignan that can be extracted from the Arctium lappa (burdock) seeds, is a possible environmental endocrine disruptor compounds and have been shown to influence sex hormone metabolism as well as protein synthesis, steroid biosynthesis. Arctiin has been reported to have preventing obesity, antibacterial, antiviral, anti-inflammatory, and anti-oxidant effects in vitro. Arctiin inhibits adipogenesis in 3T3-L1 adipocytes through the inhibition of PPARγ and C/EBPα and the activation of AMPK signaling pathways. Arctiin also has a protective effect on ROS-induced cell dysfunction in HHDPCs and may therefore be useful for alopecia prevention and treatment strategies.
Inquire / Order: manager@chemfaces.com
Technical Inquiries: service@chemfaces.com
Tel: +86-27-84237783
Fax: +86-27-84254680

Address:
1 Building, No. 83, CheCheng Rd., Wuhan Economic and Technological Development Zone, Wuhan, Hubei 430056, PRC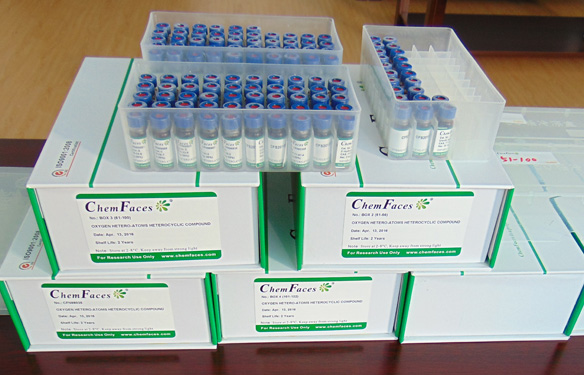 Providing storage is as stated on the product vial and the vial is kept tightly sealed, the product can be stored for up to
24 months(2-8C)
.
Wherever possible, you should prepare and use solutions on the same day. However, if you need to make up stock solutions in advance, we recommend that you store the solution as aliquots in tightly sealed vials at -20C. Generally, these will be useable for up to two weeks. Before use, and prior to opening the vial we recommend that you allow your product to equilibrate to room temperature for at least 1 hour.
Need more advice on solubility, usage and handling? Please email to: service@chemfaces.com
The packaging of the product may have turned upside down during transportation, resulting in the natural compounds adhering to the neck or cap of the vial. take the vial out of its packaging and gently shake to let the compounds fall to the bottom of the vial. for liquid products, centrifuge at 200-500 RPM to gather the liquid at the bottom of the vial. try to avoid loss or contamination during handling.
Crystals2020, 10(3), 206.
Molecules.2019, 24(6):E1155
J Sep Sci.2020, 43(22):4148-4161.
Food Chem.2020, 313:126079
Neurochem Int.2018, 121:114-124
Institut Pasteur Korea2020, doi: 10.21203.
J Biochem Mol Toxicol.2017, 31(9)
Sci Adv.2018, 4(10)
Primary and Industrial.2018, 52(11)
J Ethnopharmacol.2019, 241:112025
Biol Res. 2014 Sep 30;47(1):50.
Arctiin blocks hydrogen peroxide-induced senescence and cell death though microRNA expression changes in human dermal papilla cells.[Pubmed:
25299961
]
Accumulating evidence indicates that reactive oxygen species (ROS) are an important etiological factor for the induction of dermal papilla cell senescence and hair loss, which is also known alopecia. Arctiin is an active lignin isolated from Arctium lappa and has anti-inflammation, anti-microbial, and anti-carcinogenic effects. In the present study, we found that Arctiin exerts anti-oxidative effects on human hair dermal papilla cells (HHDPCs).
METHODS AND RESULTS:
To better understand the mechanism, we analyzed the level of hydrogen peroxide (H2O2)-induced cytotoxicity, cell death, ROS production and senescence after Arctiin pretreatment of HHDPCs. The results showed that Arctiin pretreatment significantly inhibited the H2O2-induced reduction in cell viability. Moreover, H2O2-induced sub-G1 phase accumulation and G2 cell cycle arrest were also downregulated by Arctiin pretreatment. Interestingly, the increase in intracellular ROS mediated by H2O2 was drastically decreased in HHDPCs cultured in the presence of Arctiin. This effect was confirmed by senescence associated-beta galactosidase (SA-β-gal) assay results; we found that Arctiin pretreatment impaired H2O2-induced senescence in HHDPCs. Using microRNA (miRNA) microarray and bioinformatic analysis, we showed that this anti-oxidative effect of Arctiin in HHDPCs was related with mitogen-activated protein kinase (MAPK) and Wnt signaling pathways.
CONCLUSIONS:
Taken together, our data suggest that Arctiin has a protective effect on ROS-induced cell dysfunction in HHDPCs and may therefore be useful for alopecia prevention and treatment strategies.
Nutr Res Pract. 2014 Dec;8(6):655-61.
Arctiin inhibits adipogenesis in 3T3-L1 cells and decreases adiposity and body weight in mice fed a high-fat diet.[Pubmed:
25489405
]
The purpose of this study was to examine the effects and associated mechanisms of Arctiin, a lignan compound found in burdock, on adipogenesis in 3T3-L1 cells. Also, the effects of Arctiin supplementation in obese mice fed a high-fat diet on adiposity were examined.
METHODS AND RESULTS:
3T3-L1 cells were treated with Arctiin (12.5 to 100 μM) during differentiation for 8 days. The accumulation of lipid droplets was determined by Oil Red O staining and intracellular triglyceride contents. The expressions of genes related to adipogenesis were measured by real-time RT-PCR and Western blot analyses. For in vivo study, C57BL/6J mice were first fed either a control diet (CON) or high-fat diet (HF) to induce obesity, and then fed CON, HF, or HF with 500 mg/kg BW Arctiin (HF + AC) for four weeks. Arctiin treatment to 3T3-L1 pre-adipocytes markedly decreased adipogenesis in a dose-dependent manner. The Arctiin treatment significantly decreased the protein levels of the key adipogenic regulators PPARγ and C/EBPα, and also significantly inhibited the expression of SREBP-1c, fatty acid synthase, fatty acid-binding protein and lipoprotein lipase. Also, Arctiin greatly increased the phosphorylation of AMP-activated protein kinase (AMPK) and its downstream target phosphorylated-acetyl CoA carboxylase. Furthermore, administration of Arctiin significantly decreased the body weight in obese mice fed with the high-fat diet. The epididymal, perirenal or total visceral adipose tissue weights of mice were all significantly lower in the HF + AC than in the HF. Arctiin administration also decreased the sizes of lipid droplets in the epididymal adipose tissue.
CONCLUSIONS:
Arctiin inhibited adipogenesis in 3T3-L1 adipocytes through the inhibition of PPARγ and C/EBPα and the activation of AMPK signaling pathways. These findings suggest that Arctiin has a potential benefit in preventing obesity.
J Inflamm (Lond). 2011 Jul 7;8(1):16.
Anti-inflammatory function of arctiin by inhibiting COX-2 expression via NF-κB pathways.[Pubmed:
21733191
]
Arctiin, isolated from Forsythia suspensa has been reported to have anti-inflammatory, anti-oxidant, antibacterial, and antiviral effects in vitro. However, there has been a lack of studies regarding its effects on immunological activity. The aim of this study is to investigate the anti-inflammatory potential and possible mechanisms of Arctiin in LPS-induced macrophages.
METHODS AND RESULTS:
We investigated the mRNA and protein levels of proinflammatory cytokines through RT-PCR and western blot analysis, followed by a FACS analysis for surface molecule changes. Arctiin dose dependently decreased the production of NO and proinflammatory cytokines such as IL-1β, IL-6, TNF-α, and PGE2, and it reduced the gene and protein levels as determined by RT-PCR and western blot analysis, respectively. The expression of co-stimulatory molecules such as B7-1 and B7-2 were also inhibited by Arctiin. Furthermore, the activation of the nuclear transcription factor, NF-κB in macrophages was inhibited by Arctiin.
CONCLUSIONS:
Taken together these results provide evidence of the bioactivity of Arctiin in inflammatory diseases and suggest that Arctiin may exert anti-inflammatory effect by inhibiting the pro-inflammatory mediators through the inactivation of NF-kB.
Mol Med Rep. 2014 Sep;10(3):1363-70.
Photoprotective effect of arctiin against ultraviolet B-induced damage in HaCaT keratinocytes is mediated by microRNA expression changes.[Pubmed:
24926940
]
Human keratinocytes are located in the outermost skin layer and thus particularly vulnerable to ultraviolet B (UVB) radiation exposure. Previous studies have focused on the cellular and molecular perspectives of UVB-induced keratinocyte damage.
METHODS AND RESULTS:
In the present study, it was demonstrated that pretreatment with the phytochemical Arctiin, one of the lignin compounds, protects human HaCaT keratinocytes from UVB-mediated damage. Biochemical assays revealed that UVB-induced cytotoxicity and cell death were significantly reduced in Arctiin-pretreated HaCaT cells. In addition, Arctiin promoted the wound healing and DNA repair properties of keratinocytes. The photoprotective effects of Arctiin were associated with changes in the expression levels of specific microRNAs (miRNAs) in HaCaT cells. A bioinformatics analysis demonstrated that the miRNAs were functionally involved in cancer, cell cycle, and Wnt and mitogen-activated protein kinase signaling pathways.
CONCLUSIONS:
In the present study, the results from the cellular and molecular assays demonstrated a novel role for Arctiin in UVB protection in keratinocytes, which is mediated by miRNA responses and the suppression of UVB-induced cell death. Furthermore, Arctiin is implicated as a potential chemopreventive agent through UVB protection of keratinocytes.
Oncol Rep. 2008 Mar;19(3):721-7.
Arctiin induces cell growth inhibition through the down-regulation of cyclin D1 expression.[Pubmed:
18288407
]
Arctiin is a major lignan constituent of Arctium lappa and has anti-cancer properties in animal models. It was recently reported that Arctiin induces growth inhibition in human prostate cancer PC-3 cells. However, the growth inhibitory mechanism of Arctiin remains unknown.
METHODS AND RESULTS:
Herein we report that Arctiin induces growth inhibition and dephosphorylates the tumor-suppressor retinoblastoma protein in human immortalized keratinocyte HaCaT cells. We also show that the growth inhibition caused by Arctiin is associated with the down-regulation of cyclin D1 protein expression. Furthermore, the Arctiin-induced suppression of cyclin D1 protein expression occurs in various types of human tumor cells, including osteosarcoma, lung, colorectal, cervical and breast cancer, melanoma, transformed renal cells and prostate cancer. Depletion of the cyclin D1 protein using small interfering RNA-rendered human breast cancer MCF-7 cells insensitive to the growth inhibitory effects of Arctiin, implicates cyclin D1 as an important target of Arctiin.
CONCLUSIONS:
Taken together, these results suggest that Arctiin down-regulates cyclin D1 protein expression and that this at least partially contributes to the anti-proliferative effect of Arctiin.
Int Immunopharmacol. 2014 Dec;23(2):505-15.
Arctigenin but not arctiin acts as the major effective constituent of Arctium lappa L. fruit for attenuating colonic inflammatory response induced by dextran sulfate sodium in mice.[Pubmed:
25284342
]
The crude powder of the fruit of Arctium lappa L. (ALF) has previously been reported to attenuate experimental colitis in mice. But, its main effective ingredient and underlying mechanisms remain to be identified. In this study, ALF was extracted with ethanol, and then successively fractionated into petroleum ether, ethyl acetate, n-butanol and water fraction.
METHODS AND RESULTS:
Experimental colitis was induced by dextran sulfate sodium (DSS) in mice. Among the four fractions of ALF, the ethyl acetate fraction showed the most significant inhibition of DSS-induced colitis in mice. The comparative studies of arctigenin and Arctiin (the two main ingredients of ethyl acetate fraction) indicated that arctigenin rather than Arctiin could reduce the loss of body weight, disease activity index and histological damage in the colon. Arctigenin markedly recovered the loss of intestinal epithelial cells (E-cadherin-positive cells) and decreased the infiltration of neutrophils (MPO-positive cells) and macrophages (CD68-positive cells). Arctigenin could down-regulate the expressions of TNF-α, IL-6, MIP-2, MCP-1, MAdCAM-1, ICAM-1 and VCAM-1 at both protein and mRNA levels in colonic tissues. Also, it markedly decreased the MDA level, but increased SOD activity and the GSH level. Of note, the efficacy of arctigenin was comparable or even superior to that of the positive control mesalazine. Moreover, it significantly suppressed the phosphorylation of MAPKs and the activation of NF-κB, including phosphorylation of IκBα and p65, p65 translocation and DNA binding activity.
CONCLUSIONS:
In conclusion, arctigenin but not Arctiin is the main active ingredient of ALF for attenuating colitis via down-regulating the activation of MAPK and NF-κB pathways.