Broussonin C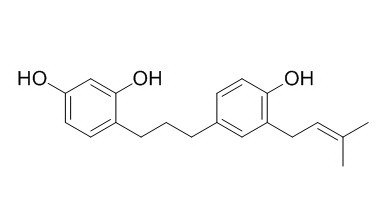 Broussonin C and broussin are antifungal compounds. Broussonin C exerts simple reversible slow-binding inhibition against diphenolase.
Inquire / Order: manager@chemfaces.com
Technical Inquiries: service@chemfaces.com
Tel: +86-27-84237783
Fax: +86-27-84254680

Address:
1 Building, No. 83, CheCheng Rd., Wuhan Economic and Technological Development Zone, Wuhan, Hubei 430056, PRC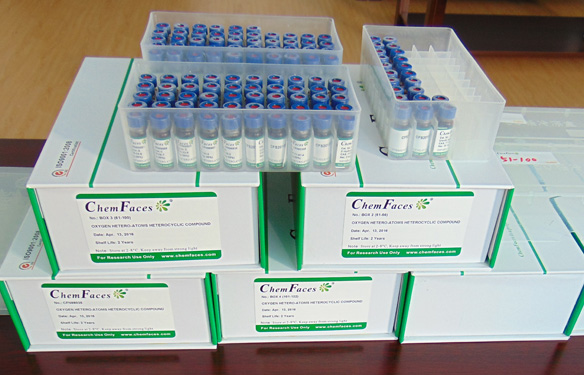 Providing storage is as stated on the product vial and the vial is kept tightly sealed, the product can be stored for up to
24 months(2-8C)
.
Wherever possible, you should prepare and use solutions on the same day. However, if you need to make up stock solutions in advance, we recommend that you store the solution as aliquots in tightly sealed vials at -20C. Generally, these will be useable for up to two weeks. Before use, and prior to opening the vial we recommend that you allow your product to equilibrate to room temperature for at least 1 hour.
Need more advice on solubility, usage and handling? Please email to: service@chemfaces.com
The packaging of the product may have turned upside down during transportation, resulting in the natural compounds adhering to the neck or cap of the vial. take the vial out of its packaging and gently shake to let the compounds fall to the bottom of the vial. for liquid products, centrifuge at 200-500 RPM to gather the liquid at the bottom of the vial. try to avoid loss or contamination during handling.
Appl. Sci.2020, 10(4),1304
Universidade Estadual Paulista2017, 11449
Bulletin of Health Research2016, 44(4):279-286
Molecules.2021, 26(2):313.
CZECH MYCOLOGY2021, 73(1):1-19.
Nat Prod Communications2018, 10.1177
Int J Mol Sci.2021, 22(21):11447.
Molecules.2019, 25(1):E103
Fitoterapia.2022, 105141.
Natural Product Communications2020, doi: 10.1177.
Bioorg Med Chem. 2009 Jan 1;17(1):35-41.
Tyrosinase inhibitory effects of 1,3-diphenylpropanes from Broussonetia kazinoki.[Pubmed:
19046886
]

METHODS AND RESULTS:
Six 1,3-diphenylpropanes exhibiting inhibitory activities against both the monophenolase and diphenolase actions of tyrosinase were isolated from the methanol (95%) extract of Broussonetia kazinoki. These compounds, 1-6, were identified as kazinol C (1), D (2), F (3), Broussonin C (4), kazinol S (5) and kazinol T (6). The latter two species (5 and 6) emerged to be new 1,3-diphenylpropanes which we fully spectroscopically characterized. The IC(50) values of compounds (1, 3-5) for monophenolase inhibition were determined to range between 0.43 and 17.9 microM. Compounds 1 and 3-5 also inhibited diphenolase significantly with IC(50) values of 22.8, 1.7, 0.57, and 26.9 microM, respectively.
CONCLUSIONS:
All four active tyrosinase inhibitors (1, 3-5) were competitive inhibitors. Interestigly they all mainfested simple reversible slow-binding inhibition against diphenolase. The most potent inhibitor, Broussonin C diplayed the following kinetic parameters k(3)=0.0993 microM(-1)min(-1), k(4)=0.0048 min(-1), and K(i)(app)=0.0485 microM.
Chemistry Letters , 1980 (11) :1459-1460.
The co-occurrence of flavan and 1,3-diphenylpropane derivatives in wounded paper mulberry.[Reference:
WebLink
]

METHODS AND RESULTS:
Two antifungal compounds, designated as broussin and Broussonin C, were isolated from wounded xylem tissues of paper mulberry shoots and identified as flavan and 1,3-diphenylpropane derivatives, respectively.