8-O-Methylretusin-7-O-beta-D-glucopyranoside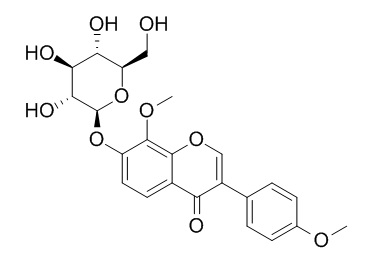 8-O-Methylretusin-7-O-beta-D-glucopyranoside shows significant antimicrobial activity with a broad spectrum as well as antioxidant activity.
Inquire / Order: manager@chemfaces.com
Technical Inquiries: service@chemfaces.com
Tel: +86-27-84237783
Fax: +86-27-84254680

Address:
1 Building, No. 83, CheCheng Rd., Wuhan Economic and Technological Development Zone, Wuhan, Hubei 430056, PRC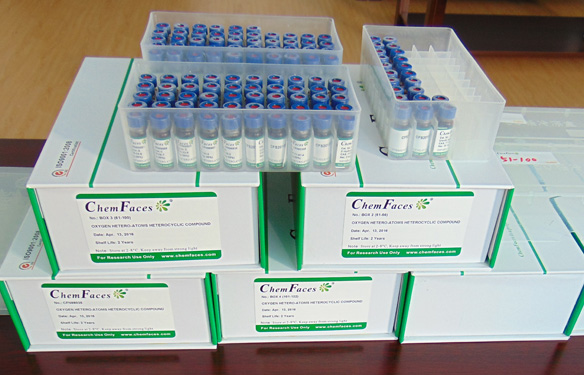 Providing storage is as stated on the product vial and the vial is kept tightly sealed, the product can be stored for up to
24 months(2-8C)
.
Wherever possible, you should prepare and use solutions on the same day. However, if you need to make up stock solutions in advance, we recommend that you store the solution as aliquots in tightly sealed vials at -20C. Generally, these will be useable for up to two weeks. Before use, and prior to opening the vial we recommend that you allow your product to equilibrate to room temperature for at least 1 hour.
Need more advice on solubility, usage and handling? Please email to: service@chemfaces.com
The packaging of the product may have turned upside down during transportation, resulting in the natural compounds adhering to the neck or cap of the vial. take the vial out of its packaging and gently shake to let the compounds fall to the bottom of the vial. for liquid products, centrifuge at 200-500 RPM to gather the liquid at the bottom of the vial. try to avoid loss or contamination during handling.
Chung Shan Medical University2020, US20200323790A1
Front Pharmacol.2018, 9:236
Journal of Chromatography A2020, 460942
Food Chem. 2020, 320:126530
Int J Mol Sci.2017, 18(5)
J Ethnopharmacol.2018, 210:88-94
J Biomed Sci.2020, 27(1):60.
Rev. Chim.2020, 71(3),558-564
Nature Ecology & Evolution2020, doi: 10.1038
Cell.2018, 172(1-2):249-261
Int J Mol Sci. 2012;13(9):11349-64.
Phenolic compounds from Halimodendron halodendron (Pall.) voss and their antimicrobial and antioxidant activities.[Pubmed:
23109858
]
Halimodendron halodendron has been used as forage in northwestern China for a long time. Its young leaves and flowers are edible and favored by indigenous people.
METHODS AND RESULTS:
In this study, eleven phenolic compounds were bioassay-guided and isolated from the aerial parts of H. halodendron for the first time. They were identified by means of physicochemical and spectrometric analysis as quercetin (1), 3,5,7,8,4'-pentahydroxy-3'-methoxy flavone (2), 3-O-methylquercetin (3), 3,3'-di-O-methylquercetin (4), 3,3'-di-O-methylquercetin-7-O-β-d-glucopyranoside (5), isorhamentin-3-O-β-d-rutinoside (6), 8-O-methylretusin (7), 8-O-Methylretusin-7-O-beta-D-glucopyranoside (8), salicylic acid (9), p-hydroxybenzoic acid (ferulic acid) (10), and 4-hydroxy-3-methoxy cinnamic acid (11). They were sorted as flavonols (1-6), soflavones (7 and 8), and phenolic acids (9-11). Among the compounds, flanools 1-4 revealed a strong antibacterial activity with minimum inhibitory concentration (MIC) values of 50-150 μg/mL, and median inhibitory concentration (IC(50)) values of 26.8-125.1 μg/mL. The two isoflavones (7 and 8) showed moderate inhibitory activity on the test bacteria. Three phenolic acids (9, 10 and 11) showed strong antibacterial activity with IC(50) values of 28.1-149.7 μg/mL. Antifungal activities of the compounds were similar to their antibacterial activities. All these phenolic compounds showed significant antimicrobial activity with a broad spectrum as well as antioxidant activity based on 1,1-diphenyl-2-picrylhydrazyl (DPPH) radical scavenging and β-carotene-linoleic acid bleaching assays. In general, the flavonol aglycones with relatively low polarity exhibited stronger activities than the glycosides.
CONCLUSIONS:
The results suggest the potential of this plant as a source of functional food ingredients and provide support data for its utilization as forage as well.