3'-Methoxydaidzin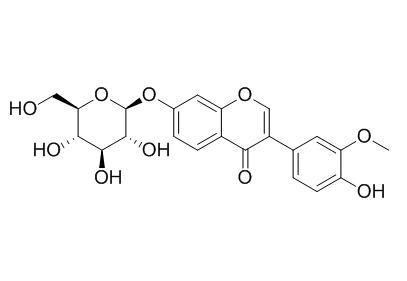 3'-Methoxydaidzin has antioxidation activity, it may be a potential neuroprotective substance in Gegen Qinlian decoction.
Inquire / Order: manager@chemfaces.com
Technical Inquiries: service@chemfaces.com
Tel: +86-27-84237783
Fax: +86-27-84254680

Address:
1 Building, No. 83, CheCheng Rd., Wuhan Economic and Technological Development Zone, Wuhan, Hubei 430056, PRC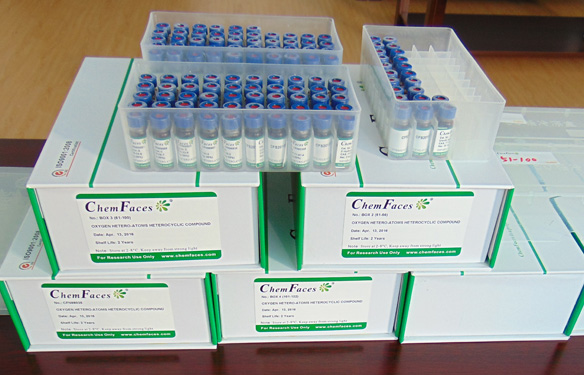 Providing storage is as stated on the product vial and the vial is kept tightly sealed, the product can be stored for up to
24 months(2-8C)
.
Wherever possible, you should prepare and use solutions on the same day. However, if you need to make up stock solutions in advance, we recommend that you store the solution as aliquots in tightly sealed vials at -20C. Generally, these will be useable for up to two weeks. Before use, and prior to opening the vial we recommend that you allow your product to equilibrate to room temperature for at least 1 hour.
Need more advice on solubility, usage and handling? Please email to: service@chemfaces.com
The packaging of the product may have turned upside down during transportation, resulting in the natural compounds adhering to the neck or cap of the vial. take the vial out of its packaging and gently shake to let the compounds fall to the bottom of the vial. for liquid products, centrifuge at 200-500 RPM to gather the liquid at the bottom of the vial. try to avoid loss or contamination during handling.
J Ethnopharmacol.2017, 206:73-77
Korean J Dent Mater.2018, 45(2):139-146
Br J Pharmacol.2016, 173(2):396-410
HortTechnology2016, 26(6):816-819
Molecules.2019, 24(6):E1155
Int J Mol Sci.2018, 19(9):E2528
Front Pharmacol.2019, 10:1355
Sci Rep.2019, 9(1):6429
Integr Cancer Ther.2018, 17(3):832-843
ACS Synth Biol.2020, 9(9):2282-2290.
Fine Chemicals, 2004, 21(7):525-528.
Antioxidation Activities of Natural Components from Dalbergia odorifera T.Chen.[Reference:
WebLink
]

METHODS AND RESULTS:
The antioxidation activities of natural components extracted from Dalbergia odorifera T.Chen on lard and ascidian oil were investigated by OSI.Dalbergia odorifera T.Chen was extracted with 95% ethanol,and the extract was then extracted by petroleum ether,CHCl_3,EtOAc and BuOH successively.The residue of EtOAc had very good antioxidation activity.Eight components were isolated from it,i.e.,2,4-dihydroxy-5-methoxybenzophenone(Ⅰ),2′,3′,7-trihydroxy-4-methoxyisoflavone(Ⅱ),3'-Methoxydaidzin(Ⅲ),4′,5,7-trihydroxy-3-methoxyflavone(Ⅳ),vestitol(Ⅴ),medicarpin(Ⅵ),2-propenyl hexanoate(Ⅶ) and ethyl hexadecanoate(Ⅷ).
CONCLUSIONS:
The results showed that components Ⅰ,Ⅲ,Ⅴ and Ⅵ had antioxidation activity and components Ⅱ and Ⅳ had strong antioxidant activities both on lard and ascidian oil at 0.02% and 0.04% levels.
Zhongguo Zhong Yao Za Zhi. 2013 May;38(10):1581-4.
Development of a rapid screening method for discovering neuroprotective components from traditional Chinese medicine.[Pubmed:
23947142
]
This study developed a method for rapid screening neuroprotective compounds with FDA (fluorescein diacetate) labeled SH-SYSY cells, which was injuried by Glu (L-glutamic acid).
METHODS AND RESULTS:
The cell viability was determined by fluorescence automatic mi-croscopy screening system. Then, neuroprotective components from Gegen Qinlian decoction were screened by the proposed method. The results demonstrated that 4 chemical components, C15, D06, D07 and E05 from Gegen Qinlian decoction, showed significantly neuroprotective effects. Furthermore, 8 compounds (i. e. daidzin, 3'-Methoxydaidzin, liquiritin apioside, 6-C-L-alpha-arabinopyranosyl-8-C-beta-D-glucopyranosyl chrysin, isoliquiritin apioside, baicalin, oroxylin-A-7-O-fP-D-glucuronide and wogonoside) were identified from these active components by LC-Q/TOF-MS technology (liquid chromatography quadrupole time of flight tandem mass spectrometry).
CONCLUSIONS:
These 8 compounds may be the potential neuroprotective substances in Gegen Qinlian decoction.
Planta Med. 1998 Oct;64(7):620-7.
Identification of isoflavones in the roots of Pueraria lobata.[Pubmed:
17253303
]

METHODS AND RESULTS:
The isoflavones of the roots of Pueraria lobata (Willd.) Ohwi (Puerariae Radix) were investigated by high-performance liquid chromatography (HPLC) coupled to photodiode array (PDA) and to mass spectroscopy (MS) using atmospheric pressure chemical ionization (APCI) or electrospray ionization (ESI) in combination with collision-activated decomposition (CAD) (HPLC-APCI-CAD-MS or ESI-CAD-MS) for identification of glycosides and HPLC-APCI-CAD-MS for identification of aglycones. The major glycosides are derived from daidzein ( 9) and most are 8- C-glycosides. 3'-Hydroxypuerarin-4'- O-deoxyhexoside ( 2B) and 3'-methoxy-6''- O- D-xylosylpuerarin ( 6) were identified as new constituents. MS data were obtained for puerarin-4'- O- D-glucoside ( 1), 3'-hydroxypuerarin ( 2A), puerarin ( 3), 3'-methoxypuerarin ( 4), 6''- O- D-xylosylpuerarin ( 5), daidzin ( 7) and 3'-Methoxydaidzin ( 8), which were previously characterized by NMR analysis. Isoflavones identified in Puerariae Radix comprise 3'-methoxydaidzein ( 10), genistein ( 12), daidzein-7- O-methyl ether ( 13A), 3'-methoxydaidzein-7- O-methyl ether or 3'-methoxyformononetin ( 13B) and biochanin A ( 15), while previous characterization of daidzein ( 9) and formononetin ( 14) was substantiated by MS data. The structure of compound 11 could not be established by MS techniques.
CONCLUSIONS:
The estrogenic activity was mainly located in the aglycone fraction.