3-Deoxysappanone B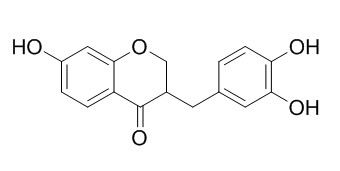 3-Deoxysappanone B has vasorelaxation effects, it can mediate endothelium- independent vasodilator action in rat thoracic aortic rings.
Inquire / Order: manager@chemfaces.com
Technical Inquiries: service@chemfaces.com
Tel: +86-27-84237783
Fax: +86-27-84254680

Address:
1 Building, No. 83, CheCheng Rd., Wuhan Economic and Technological Development Zone, Wuhan, Hubei 430056, PRC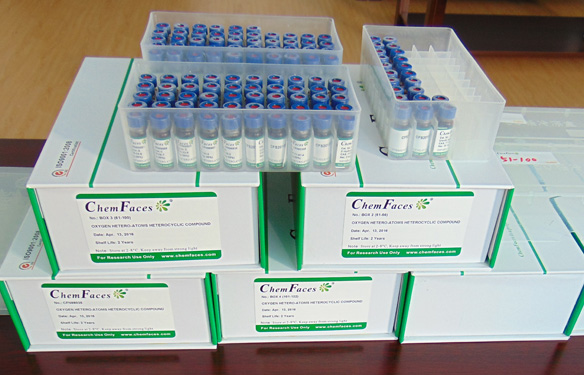 Providing storage is as stated on the product vial and the vial is kept tightly sealed, the product can be stored for up to
24 months(2-8C)
.
Wherever possible, you should prepare and use solutions on the same day. However, if you need to make up stock solutions in advance, we recommend that you store the solution as aliquots in tightly sealed vials at -20C. Generally, these will be useable for up to two weeks. Before use, and prior to opening the vial we recommend that you allow your product to equilibrate to room temperature for at least 1 hour.
Need more advice on solubility, usage and handling? Please email to: service@chemfaces.com
The packaging of the product may have turned upside down during transportation, resulting in the natural compounds adhering to the neck or cap of the vial. take the vial out of its packaging and gently shake to let the compounds fall to the bottom of the vial. for liquid products, centrifuge at 200-500 RPM to gather the liquid at the bottom of the vial. try to avoid loss or contamination during handling.
Biochem Biophys Res Commun.2018, 495(1):1271-1277
Appl Biochem Biotechnol.2020, 190(2):732-744
Mol Microbiol.2019, 112(1):317-332
Microchemical Journal2018, 137:168-173
Molecules.2019, 24(7):E1290
Molecules.2019, 24(24):E4536
Plant Cell Tiss Org2020, 1-16
Research on Crops.2017, 18(2)
Korean Journal of Pharmacognosy2019, 50(4):285-290
Int J Mol Sci.2017, 18(5)
Zhongguo Zhong Yao Za Zhi. 2009 Mar;34(6):731-4.
Vasorelaxation effects of homoisoflavonoids from Caesalpinia sappan in rat thoracic aortic rings.[Pubmed:
19624017
]
To identify and elucidate the vasorelaxant activity of homoisoflavonoids, the main chemical components from Lignum Sappan (the stems of Caesalpinia sappan), in isolated rat thoracic aortic rings pre-contracted with phenylephrine (PE, 1 micromol x L(-1)) and KCl (60 mmol x L(-1)).
METHODS AND RESULTS:
The tension of rat thoracic aorta rings was used to evaluated the vasorelaxant activities of four homoisoflavonoids, brazlin (1), (E)-3-(3,4-dihydroxybenzylidene)-7-hydroxychroman-4-one (2), sappanone B (3), 3-Deoxysappanone B (4). Cumulative addition of homoisoflavonoids (2, 3 and 4) (50-1000 micromol x L(-1)) exhibited an acute relaxation either in endothelium-intact or endothelium-denuded rings in a concentration-dependent manner. However, this relaxation was significantly inhibited in endothelium-denuded condition and in the presence of endothelial nitric oxide synthase (eNOS) inhibitor, N(W)-nitro-L-arginine methyl ester (L-NNA, 100 micromol x L(-1)), and a soluble guanylate cylcase (sGC) inhibitor, methylene blue (MB, 10 micromol x L(-1)) when addition of variation homoisoflavonoids brazlin (1) (50-1000 micromol x L(-1)).
CONCLUSIONS:
These results indicate that normo-homoisoflavonoids (2, 3 and 4) from Caesalpinia sappan mediates endothelium-independent vasodilator action in rat thoracic aortic rings, while the variation homoisoflavonoids brazlin elicits endothelium-dependent relaxation might via nitric oxide (NO)-cGMP pathway. This research could explain the pharmacological activities of homoisoflavonoids to a certain degree.
Molecules. 2008 Aug 28;13(8):1923-30.
A new 3-benzylchroman derivative from Sappan Lignum (Caesalpinia sappan).[Pubmed:
18794793
]

METHODS AND RESULTS:
3'-Deoxy-4-O-methylepisappanol, a new 3-benzylchroman derivative, was isolated from Sappan Lignum, together with thirteen known chemical compounds identified as protosappanin A, sappanchalcone, sappanone B, palmitic acid, (+)-(8S,8'S)-bisdihydrosiringenin, brazilein, 3-deoxysappanchalcone, (+)-lyoniresinol, 3-Deoxysappanone B, protosappanin B, isoprotosappanin B, 3'-O-methylbrazilin and brazilin, respectively.
CONCLUSIONS:
Among these known compounds, this is the first time that (+)-(8S,8'S)-bisdihydrosiringenin was obtained from the family Caesalpiniaceae.