Xanthotoxin
Xanthotoxin (Methoxsalen ) is a potent tricyclic furocoumarin suicide inhibitor of CYP (cytochrome P-450), is an agent used to treat psoriasis, eczema, vitiligo and some cutaneous Lymphomas in conjunction with exposing the skin to sunlight. Xanthotoxin has anticonvulsant activities, it can protect the animals against maximal electroshock-induced seizures; Xanthotoxin prevents bone loss in ovariectomized mice through the inhibition of RANKL-induced osteoclastogenesis, it may be considered to be a new therapeutic candidate for treating osteoporosis.
Inquire / Order: manager@chemfaces.com
Technical Inquiries: service@chemfaces.com
Tel: +86-27-84237783
Fax: +86-27-84254680

Address:
1 Building, No. 83, CheCheng Rd., Wuhan Economic and Technological Development Zone, Wuhan, Hubei 430056, PRC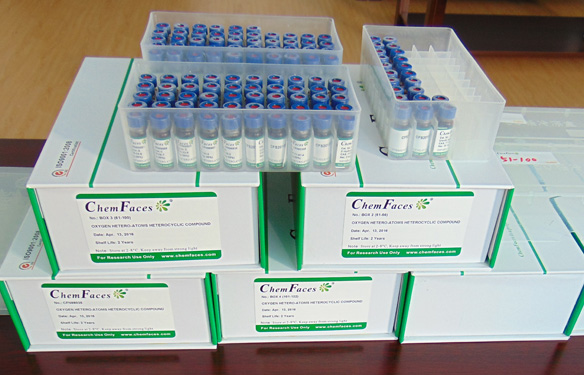 Providing storage is as stated on the product vial and the vial is kept tightly sealed, the product can be stored for up to
24 months(2-8C)
.
Wherever possible, you should prepare and use solutions on the same day. However, if you need to make up stock solutions in advance, we recommend that you store the solution as aliquots in tightly sealed vials at -20C. Generally, these will be useable for up to two weeks. Before use, and prior to opening the vial we recommend that you allow your product to equilibrate to room temperature for at least 1 hour.
Need more advice on solubility, usage and handling? Please email to: service@chemfaces.com
The packaging of the product may have turned upside down during transportation, resulting in the natural compounds adhering to the neck or cap of the vial. take the vial out of its packaging and gently shake to let the compounds fall to the bottom of the vial. for liquid products, centrifuge at 200-500 RPM to gather the liquid at the bottom of the vial. try to avoid loss or contamination during handling.
Process Biochemistry2019, 87:213-220
Molecules.2019, 24(9):E1719
Int J Mol Sci.2019, 20(14):E3538
Biomolecules.2020, 10(2):E184
Nutrients.2017, 10(1)
Planta Med.2019, 85(4):347-355
BMC Complement Altern Med.2019, 19(1):11
International J of Green Pharmacy2019, 13(3)
Molecules.2020, 25(3):734
Virulence.2018, 9(1):588-603
Osteoporos Int. 2016 Jul;27(7):2335-2344.
Xanthotoxin prevents bone loss in ovariectomized mice through the inhibition of RANKL-induced osteoclastogenesis.[Pubmed:
26809192
]
Xanthotoxin (XAT) is extracted from the seeds of Ammi majus. Here, we reported that XAT has an inhibitory effect on osteoclastogenesis in vitro through the suppression of both receptor activator of nuclear factor-κB ligand (RANKL)-induced ROS generation and Ca(2+) oscillations. In vivo studies showed that XAT treatment decreases the osteoclast number, prevents bone loss, and restores bone strength in ovariectomized mice. Excessive osteoclast formation and the resultant increase in bone resorption activity are key pathogenic factors of osteoporosis. In the present study, we have investigated the effects of XAT, a natural furanocoumarin, on the RANKL-mediated osteoclastogenesis in vitro and on ovariectomy-mediated bone loss in vivo.
METHODS AND RESULTS:
Cytotoxicity of XAT was evaluated using bone marrow macrophages (BMMs). Osteoclast differentiation, formation, and fusion were assessed using the tartrate-resistant acid phosphatase (TRAP) stain, the actin cytoskeleton and focal adhesion (FAK) stain, and the fusion assay, respectively. Osteoclastic bone resorption was evaluated using the pit formation assay. Reactive oxygen species (ROS) generation and removal were evaluated using dichlorodihydrofluorescein diacetate (DCFH-DA). Ca(2+) oscillations and their downstream signaling targets were then detected. The ovariectomized (OVX) mouse model was adopted for our in vivo studies. In vitro assays revealed that XAT inhibited the differentiation, formation, fusion, and bone resorption activity of osteoclasts. The inhibitory effect of XAT on osteoclastogenesis was associated with decreased intracellular ROS generation. XAT treatment also suppressed RANKL-induced Ca(2+) oscillations and the activation of the resultant downstream calcium-CaMKK/PYK2 signaling. Through these two mechanisms, XAT downregulated the key osteoclastogenic factors nuclear factor of activated T cells c1 (NFATc1) and c-FOS. Our in vivo studies showed that XAT treatment decreases the osteoclast number, prevents bone loss, rescues bone microarchitecture, and restores bone strength in OVX mice.
CONCLUSIONS:
Our findings indicate that XAT is protective against ovariectomy-mediated bone loss through the inhibition of RANKL-mediated osteoclastogenesis. Therefore, XAT may be considered to be a new therapeutic candidate for treating osteoporosis.
Neuropharmacology. 2014 Oct;85:67-72.
Effects of methoxsalen, a CYP2A5/6 inhibitor, on nicotine dependence behaviors in mice.[Pubmed:
24859605
]
Metabolism of nicotine to inactive cotinine by hepatic enzyme CYP2A6 is the principal pathway by which active nicotine is removed from circulation.
METHODS AND RESULTS:
We therefore hypothesized that inhibition of mouse CYP2A5, the ortolog of human CYP2A6, by methoxsalen (8-methoxypsoralen) alter dependence-related behaviors of nicotine in the mouse. Conditioned place preference (CPP) test was used to assess the appetitive reward-like properties and precipitated nicotine withdrawal to assess physical (somatic and hyperalgesia) and affective (anxiety-related behaviors) measures. The nicotine plasma levels were also measured with or without methoxsalen pretreatment. Methoxsalen (15 and 30 mg/kg, intraperitoneally) pretreatment enhanced nicotine-induced preference in mice (p<0.05). However, there was a lack of enhancement of nicotine in the CPP test after the highest dose of the CYP-2A5 inhibitor. Similarly to the CPP results, repeated administration of methoxsalen increased the intensity of mecamylamine-precipitated withdrawal signs. The potentiation of nicotine preference and withdrawal intensity by methoxsalen was accompanied by significant increase in nicotine plasma levels in mice (p<0.05). Finally, methoxsalen enhanced the ability of a very low dose of nicotine (0.05 mg/kg) to reverse withdrawal signs in mice undergoing spontaneous withdrawal after chronic nicotine infusion (p<0.05).
CONCLUSIONS:
In conclusion, inhibition of nicotine metabolism by methoxsalen alters the behavioral effects of nicotine in the mouse. Combining CYP2A6 inhibitors with low dose nicotine replacement therapies may have a beneficial role in smoking cessation because it will decrease the drug elimination rate and maintain plasma and brain nicotine levels.
Pharmacol Rep. 2010 Nov-Dec;62(6):1231-6.
Anticonvulsant effects of four linear furanocoumarins, bergapten, imperatorin, oxypeucedanin, and xanthotoxin, in the mouse maximal electroshock-induced seizure model: a comparative study.[Pubmed:
21273683
]
The aim of this study was to determine and compare the anticonvulsant activities of four natural furanocoumarins [bergapten (5-methoxypsoralen), imperatorin (8-isopentenyloxypsoralen), oxypeucedanin (5-epoxy-isopentenyloxypsoralen) and Xanthotoxin (8-methoxypsoralen)] in the maximal electroshock-induced seizure test in mice.
METHODS AND RESULTS:
The anticonvulsant effects of bergapten, imperatorin, oxypeucedanin, and Xanthotoxin were evaluated at 15, 30, 60 and 120 min after their systemic (intraperitoneal) administration. Tonic hind limb extension (seizure activity) was evoked in adult albino Swiss mice by a current (sine-wave, 25 mA, 500 V, 50 Hz, 0.2 s stimulus duration) delivered via auricular electrodes. The time courses of protection by bergapten, imperatorin, oxypeucedanin and Xanthotoxin against maximal electroshock-induced seizures revealed that 300 mg/kg imperatorin and Xanthotoxin (C-8 substituted derivatives of psoralen) exerted strong anticonvulsant activity, whereas 300 mg/kg bergapten and oxypeucedanin (C-5 substituted derivatives of psoralen) did not produce any anticonvulsant activity in this model.
CONCLUSIONS:
In conclusion, imperatorin and Xanthotoxin protected the animals against maximal electroshock-induced seizures, whereas bergapten and oxypeucedanin, despite their chemical and structural similarities to Xanthotoxin and imperatorin, exerted no anticonvulsant activity in this seizure test.
J Chem Ecol. 1994 Oct;20(10):2471-80.
Effect of coumarin and xanthotoxin on mitochondrial structure, oxygen uptake, and succinate dehydrogenase activity in onion root cells.[Pubmed:
24241824
]

METHODS AND RESULTS:
At concentrations in which they occur on the plant surface and retard mitosis, coumarin and Xanthotoxin lowered uptake of oxygen (by 60 and 30%, respectively) by meristematic cells ofAllium cepa root tips. They caused changes in the structure of the mitochondrial matrix to become dense, and protrusions of mitochondrial membranes were visible parallelling their hypertrophy, indicating alteration in the structure and physiology of these organelles. Coumarin and, to a lesser extent, Xanthotoxin increased succinate dehydrogenase production in mitochondria and also in the cytoplasm, indicating changes in membrane permeability.
CONCLUSIONS:
Changes in oxygen uptake and mitochondrial structure, in addition to the retardation of mitosis, may be the reason these compounds act as allelochemicals after they have been removed from the plant surface and reach the root meristem.
J Chem Ecol. 2008 Jun;34(6):783-90.
Tritrophic effects of xanthotoxin on the polyembryonic parasitoid Copidosoma sosares (Hymenoptera: Encyrtidae).[Pubmed:
18523826
]
Plant chemistry can have deleterious effects on insect parasitoids, which include the reduction in body size, increased development time, and increased mortality. We examined the effects of Xanthotoxin, a linear furanocoumarin, on the polyembryonic encyrtid wasp Copidosoma sosares, a specialist parasitoid that attacks the parsnip webworm, Depressaria pastinacella, itself a specialist on furanocoumarin-producing plants. Furanocoumarins, allelochemicals abundant in the Apiaceae and Rutaceae, are toxic to a wide range of herbivores.
METHODS AND RESULTS:
In this study, we reared parasitized webworms on artificial diets containing no Xanthotoxin (control) or low or high concentrations of Xanthotoxin. Clutch sizes of both male and female C. sosares broods were more than 20% smaller when they developed in hosts fed the diet containing high concentrations of Xanthotoxin. Xanthotoxin concentration in the artificial diet had no effect on the development time of C. sosares, nor did it have an effect on the body size (length of hind tibia) of individual adult male and female C. sosares in single-sex broods. Webworms fed artificial diets containing low or high concentrations of Xanthotoxin were not significantly smaller, and their development time was similar to that of webworms fed a Xanthotoxin-free diet. Mortality of webworms was not affected by Xanthotoxin in their artificial diet. Therefore, dietary Xanthotoxin did not appear to affect C. sosares via impairment of host health. However, unmetabolized Xanthotoxin was found in D. pastinacella hemolymph where C. sosares embryos develop. Hemolymph concentrations were fourfold greater in webworms fed the high-Xanthotoxin-containing diet than in webworms fed the low-Xanthotoxin-containing diet.
CONCLUSIONS:
We failed to detect any Xanthotoxin metabolism by either C. sosares embryos or precocious larvae. Therefore, the observed tritrophic effects of Xanthotoxin are likely to be due to the effects of Xanthotoxin after direct contact in the hemolymph rather than to the effects of compromised host quality.
J Chem Ecol. 2001 Sep;27(9):1763-73.
Effects of phytic acid and xanthotoxin on growth and detoxification in caterpillars.[Pubmed:
11545369
]
Phytic acid is abundant in the fruits and seeds of many plants and is found in foliage to a lesser extent. Among its several properties, phytic acid is a potent chelator of essential minerals and proteins; thus, the possibility exists that heme-based enzymes such as cytochrome P450 monooxygenases in herbivores are detrimentally affected by phytic acid via chelation of dietary iron.
METHODS AND RESULTS:
Mortality, growth performance, and P450-mediated metabolism of Xanthotoxin, a plant allelochemical, were examined in the presence of phytic acid in three lepidopteran species: a polyphagous seed-feeding species (Heliothis virescens), a polyphagous foliage-feeding species (Trichoplusia ni), and a species oligophagous on immature reproductive structures of two genera of Apiaceae (Depressaria pastinacella). While first instar H. virescens experienced no increase in mortality after 120 hours on a diet containing 1% phytic acid compared to a control diet, both T. ni and D. pastinacella experienced virtually complete mortality over the same time period. Ultimate instars of all three species experienced reductions in relative growth rates (RGR) and relative consumption rates (RCR) in the presence of phytic acid, although the only species to experience reduced digestive efficiency (ECI) was H. virescens. Cytochrome P450-mediated metabolism of Xanthotoxin was reduced 60% in the presence of phytic acid in D. pastinacella, although metabolism remained unaffected in the two noctuids.
CONCLUSIONS:
These studies suggest a defensive function of phytic acid in addition to its primary functions of phosphorus storage, energy storage, and cell wall precursor source.