Vitexicarpin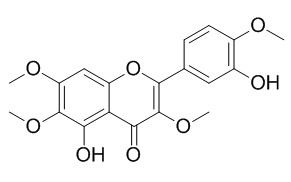 Vitexicarpin has shown antitumor, cytotoxicity, anti-inflammatory, analgesic and immunoregulatory properties.Vitexicarpin can act as a novel angiogenesis inhibitor, it exerts good antiangiogenic effects by inhibiting vascular-endothelial-growth-factor-(VEGF-) induced endothelial cell proliferation, migration, and capillary-like tube formation on matrigel in a dose-dependent manner. It can significantly reduce vascular inflammation, through inhibition of ROS-NF-κB pathway in vascular endothelial cells.
Inquire / Order: manager@chemfaces.com
Technical Inquiries: service@chemfaces.com
Tel: +86-27-84237783
Fax: +86-27-84254680

Address:
1 Building, No. 83, CheCheng Rd., Wuhan Economic and Technological Development Zone, Wuhan, Hubei 430056, PRC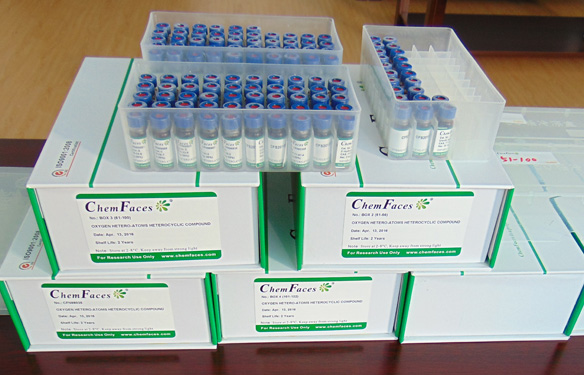 Providing storage is as stated on the product vial and the vial is kept tightly sealed, the product can be stored for up to
24 months(2-8C)
.
Wherever possible, you should prepare and use solutions on the same day. However, if you need to make up stock solutions in advance, we recommend that you store the solution as aliquots in tightly sealed vials at -20C. Generally, these will be useable for up to two weeks. Before use, and prior to opening the vial we recommend that you allow your product to equilibrate to room temperature for at least 1 hour.
Need more advice on solubility, usage and handling? Please email to: service@chemfaces.com
The packaging of the product may have turned upside down during transportation, resulting in the natural compounds adhering to the neck or cap of the vial. take the vial out of its packaging and gently shake to let the compounds fall to the bottom of the vial. for liquid products, centrifuge at 200-500 RPM to gather the liquid at the bottom of the vial. try to avoid loss or contamination during handling.
Anal Biochem.2019, 569:10-15
J of the Korean Society of Cosmetics and Cosmetology2018, 399-406
J Sep Sci.2020, 201901140
Front Pharmacol.2019, 10:1025
J Mol Recognit.2020, 33(2):e2819
Sci Rep.2017, 7:467-479
Biochem Biophys Res Commun.2018, 505(4):1148-1153
Molecules.2019, 24(23):E4303
Journal of Food Hygiene and Safety2019, 34(5):413-420
Chin J Appl. Physiol.2019, 35(3):283-288
Asian Pac J Cancer Prev. 2012;13(12):6369-74.
Vitexicarpin induces apoptosis in human prostate carcinoma PC-3 cells through G2/M phase arrest.[Pubmed:
23464460
]
Vitexicarpin (3', 5-dihydroxy-3, 4', 6, 7-tetramethoxyflavone), a polymethoxyflavone isolated from Viticis Fructus (Vitex rotundifolia Linne fil.), has long been used as an anti-inflammatory herb in traditional Chinese medicine. It has also been reported that Vitexicarpin can inhibit the growth of various cancer cells. However, there is no report elucidating its effect on human prostate carcinoma cells.
METHODS AND RESULTS:
The aim of the present study was to examine the apoptotic induction activity of Vitexicarpin on PC-3 cells and molecular mechanisms involved. MTT studies showed that Vitexicarpin dose-dependently inhibited growth of PC-3 cells with an IC50~28.8 μM. Hoechst 33258 staining further revealed that Vitexicarpin induced apoptotic cell death. The effect of Vitexicarpin on PC-3 cells apoptosis was tested using prodium iodide (PI)/Annexin V-FITC double staining and flow cytometry. The results indicated that Vitexicarpin induction of apoptotic cell death in PC-3 cells was accompanied by cell cycle arrest in the G2/M phase. Furthermore, our study demonstrated that Vitexicarpin induction of PC-3 cell apoptosis was associated with upregulation of the proapoptotic protein Bax, and downregulation of antiapoptotic protein Bcl-2, release of Cytochrome c from mitochondria and decrease in mitochondrial membrane potential.
CONCLUSIONS:
Our findings suggested that Vitexicarpin may become a potential leading drug in the therapy of prostate carcinoma.
Planta Med. 2002 Nov;68(11):1047-9.
Tracheospasmolytic activity of viteosin-A and vitexicarpin isolated from vitex trifolia.[Pubmed:
12451502
]

METHODS AND RESULTS:
The n-hexane extract that has shown activity in the tracheospasmolytic bioassay was fractionated by solvent extraction and from the major active fraction two compounds were isolated and identified as viteosin-A and Vitexicarpin. These compounds blocked spontaneous contraction of isolated male guinea pig trachea induced by histamine; however only Vitexicarpin was active in a model using sensitized guinea pig trachea stimulated by ovalbumin up to minimum dose of 1.3 x 10(-5) M.
CONCLUSIONS:
The result suggests that Vitexicarpin is able to block effects of histamine released from sensitized mast cells possibly by stabilizing the mast cells membrane function.
Inflammation. 2012 Apr;35(2):584-93.
Vascular protective role of vitexicarpin isolated from Vitex rotundifolia in human umbilical vein endothelial cells.[Pubmed:
21614554
]
Pro-inflammatory cytokines induce injury of endothelial cells caused by increases of adhesion molecules, leading to vascular inflammation and the development of atherosclerosis. Recent pharmacological studies have demonstrated that Vitexicarpin, a flavonoid isolated from Vitex rotundifolia, has anti-inflammatory, antitumor, and analgesic properties.
METHODS AND RESULTS:
In this study, we investigated whether Vitexicarpin (5-100 nM) prevented the TNF-α-induced vascular inflammation process in human umbilical vein endothelial cells (HUVEC). We found that pretreatment with Vitexicarpin decreased TNF-α (10 ng/ml)-induced expression of cell adhesion molecules such as vascular cell adhesion molecule-1, intracellular adhesion molecule-1, and E-selectin as well as matrix metalloproteinase-2 and -9 expression. Preincubation with Vitexicarpin also dose-dependently inhibited TNF-α-induced adhesion of HL-60 monocytic cells. Vitexicarpin significantly decreased TNF-α-induced intracellular reactive oxygen species (ROS) production. Furthermore, Vitexicarpin suppressed NF-κB nuclear translocation and transcriptional activity in TNF-α-treated HUVEC.
CONCLUSIONS:
In conclusion, Vitexicarpin significantly reduced vascular inflammation, through inhibition of ROS-NF-κB pathway in vascular endothelial cells.
Evid Based Complement Alternat Med. 2013;2013:278405.
Vitexicarpin acts as a novel angiogenesis inhibitor and its target network.[Pubmed:
23476684
]
Vitexicarpin (VIT) isolated from the fruits of Vitex rotundifolia has shown antitumor, anti-inflammatory, and immunoregulatory properties.
METHODS AND RESULTS:
This work is designed to evaluate the antiangiogenic effects of VIT and address the underlying action mechanism of VIT by a network pharmacology approach. The results validated that VIT can act as a novel angiogenesis inhibitor. Firstly, VIT can exert good antiangiogenic effects by inhibiting vascular-endothelial-growth-factor- (VEGF-) induced endothelial cell proliferation, migration, and capillary-like tube formation on matrigel in a dose-dependent manner. Secondly, VIT was also shown to have an antiangiogenic mechanism through inhibition of cell cycle progression and induction of apoptosis. Thirdly, VIT inhibited chorioallantoic membrane angiogenesis as well as tumor angiogenesis in an allograft mouse tumor model. We further addressed VIT's molecular mechanism of antiangiogenic actions using one of our network pharmacology methods named drugCIPHER. Then, we tested some key molecules in the VEGF pathway targeted by VIT and verified the inhibition effects of VIT on AKT and SRC phosphorylation.
CONCLUSIONS:
Taken together, this work not only identifies VIT as a novel potent angiogenesis inhibitor, but also demonstrates that network pharmacology methods can be an effective and promising approach to make discovery and understand the action mechanism of herbal ingredients.
J Nat Prod. 2003 Jun;66(6):865-7.
Cytotoxic flavone analogues of vitexicarpin, a constituent of the leaves of Vitex negundo.[Pubmed:
12828478
]

METHODS AND RESULTS:
Bioassay-guided fractionation of the chloroform-soluble extract of the leaves of Vitex negundo led to the isolation of the known flavone Vitexicarpin (1), which exhibited broad cytotoxicity in a human cancer cell line panel. In an attempt to increase the cytotoxic potency of 1, a series of acylation reactions was performed on this compound to obtain its methylated (2), acetylated (3), and six new acylated (4-9) derivatives. Compound 9, the previously unreported 5,3'-dihexanoyloxy-3,6,7,4'-tetramethoxyflavone, showed comparative cytotoxic potency to compound 1 and was selected for further evaluation. However, this compound was found to be inactive when evaluated in the in vivo hollow fiber assay with Lu1, KB, and LNCaP cells at the highest dose (40 mg/kg/body weight) tested, and in the in vivo P-388 leukemia model (135 mg/kg), using the ip administration route.