Vicenin -1
Vicenin-1 possesses potent anti-inflammatory and anti-oxidant activity.
Inquire / Order: manager@chemfaces.com
Technical Inquiries: service@chemfaces.com
Tel: +86-27-84237783
Fax: +86-27-84254680

Address:
1 Building, No. 83, CheCheng Rd., Wuhan Economic and Technological Development Zone, Wuhan, Hubei 430056, PRC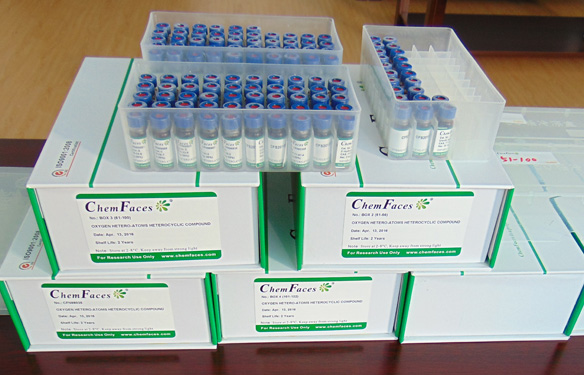 Providing storage is as stated on the product vial and the vial is kept tightly sealed, the product can be stored for up to
24 months(2-8C)
.
Wherever possible, you should prepare and use solutions on the same day. However, if you need to make up stock solutions in advance, we recommend that you store the solution as aliquots in tightly sealed vials at -20C. Generally, these will be useable for up to two weeks. Before use, and prior to opening the vial we recommend that you allow your product to equilibrate to room temperature for at least 1 hour.
Need more advice on solubility, usage and handling? Please email to: service@chemfaces.com
The packaging of the product may have turned upside down during transportation, resulting in the natural compounds adhering to the neck or cap of the vial. take the vial out of its packaging and gently shake to let the compounds fall to the bottom of the vial. for liquid products, centrifuge at 200-500 RPM to gather the liquid at the bottom of the vial. try to avoid loss or contamination during handling.
Biochem Biophys Res Commun.2017, 494(3-4):587-593
Food Funct.2020, 10.1039
J Sep Sci.2018, 41(7):1682-1690
Nutrients.2019, 12(1)
Int J Food Sci Nutr.2019, 70(7):825-833
Toxicol Res.2019, 35(4):371-387
LWT-Food Science and Technology2017, 75:488-496
Chem Biol Interact.2018, 290:44-51
Biochemistry.2018, 57(40):5886-5896
Front Neurosci.2019, 13:1091
Journal of the Korean Society for Applied Biological Chemistry, 2015, 58(3):365-371.
Plant-derived molecules from Saussurea grandifolia as inhibitors of aldose reductase.[Reference:
WebLink
]
Saussurea grandifolia was tested for aldose reductase (AR) inhibition as part of a search for potentially therapeutic natural compounds.
METHODS AND RESULTS:
Stepwise polarity fractions were tested for in vitro inhibition of rat lens AR. Of these, the ethyl acetate (EtOAc) and n-butanol (n-BuOH) fractions exhibited AR inhibitory activities. A chromatographic separation of the active EtOAc and n-BuOH fractions led to the isolation of nine compounds, which were known and identified as vitexin (1), genkwanin-5-O-glucoside (2), vitexin 2″-p-hydroxybenzoate (3), kaempferol-3-O-rutinoside (4), isovitexin (5), quercitrin (6), isoquercitrin (7), 1,5-di-O-caffeoylquinic acid (8), and Vicenin -1 (9). Among these compounds, compounds 6, 7, and 8 showed very strong inhibitory activities against AR (IC50's = 0.34, 0.32, and 0.08 μM, respectively).
CONCLUSIONS:
The results suggest that S. grandifolia is clearly a potential source for therapeutic agent that might be useful for the treatment of diabetic complications.
Regulatory Toxicology and Pharmacology, 2016:S0273230016303026.
Acute and repeated doses (28 days) oral toxicity study of Vicenin-1, a flavonoid glycoside isolated from fenugreek seeds in laboratory mice.[Reference:
WebLink
]
Vicenin -1 (fenugreek glycoside) has been proven to possess potent anti-inflammatory and anti-oxidant activity. The objective of the present investigation was to determine in-vivo acute and subacute (28-days repeated dose) oral toxicity of Vicenin -1 isolated from fenugreek seed.
METHODS AND RESULTS:
Vicenin-1 (93%) was isolated from a hydroalcoholic extract of fenugreek seed and characterized using HPLC, TLC, 1H NMR and 13C NMR. Acute oral toxicity (AOT) and subacute toxicity studies of Vicenin -1 were carried out according to OECD 425 (up-and-down procedure) and OCED 407 guidelines in Swiss albino mice. In AOT, Vicenin -1showed 10% mortality when administered at a dose of 5000 mg/kg. However, when vicenin-1 was administered for at doses of 37.5, 75, or 150 mg/kg 28-days it did not show any mortality at the administered doses. Vicenin -1 (75 mg/kg) did not show observational, behavioral, biochemical or histopathological toxic effects. There were minor alterations in body weight, hematology, and histopathology of mice administered with Vicenin -1 (150 mg/kg), but these changes were within normal laboratory ranges. The highest concentration of Venicin-1 was found in liver (3.46%) followed by lung (0.65%).
CONCLUSIONS:
In conclusion, Vicenin -1 showed median lethal dose (LD50) of 4837.5 mg/kg with no-observed-adverse-effect levels (NOAEL) at 75 mg/kg and lowest adverse effect levels (LOAEL) at 150 mg/kg for both sexes of mice during AOT and sub-acute toxicity study, respectively.