Vicenin -2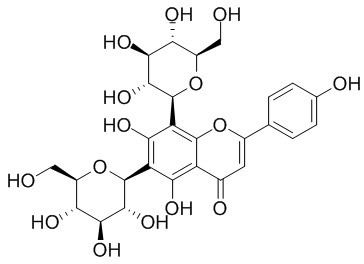 Vicenin -2 has hepatoprotective, anti-cancer, antioxidant and anti-inflammatory activities, and DTL co-administration is more effective than either of the single agents in androgen-independent prostate cancer. Vicenin -2 might be a useful lead for the development of multiple target-oriented therapeutic modalities for the treatment of diabetes and diabetes-associated complications. Vicenin -2 could act as a UV light barrier to protect the plants.
Inquire / Order: manager@chemfaces.com
Technical Inquiries: service@chemfaces.com
Tel: +86-27-84237783
Fax: +86-27-84254680

Address:
1 Building, No. 83, CheCheng Rd., Wuhan Economic and Technological Development Zone, Wuhan, Hubei 430056, PRC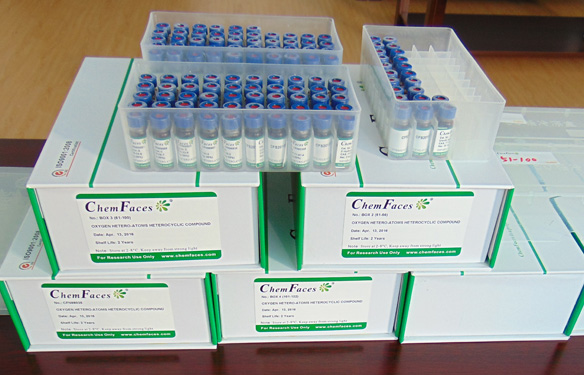 Providing storage is as stated on the product vial and the vial is kept tightly sealed, the product can be stored for up to
24 months(2-8C)
.
Wherever possible, you should prepare and use solutions on the same day. However, if you need to make up stock solutions in advance, we recommend that you store the solution as aliquots in tightly sealed vials at -20C. Generally, these will be useable for up to two weeks. Before use, and prior to opening the vial we recommend that you allow your product to equilibrate to room temperature for at least 1 hour.
Need more advice on solubility, usage and handling? Please email to: service@chemfaces.com
The packaging of the product may have turned upside down during transportation, resulting in the natural compounds adhering to the neck or cap of the vial. take the vial out of its packaging and gently shake to let the compounds fall to the bottom of the vial. for liquid products, centrifuge at 200-500 RPM to gather the liquid at the bottom of the vial. try to avoid loss or contamination during handling.
Biomed Chromatogr.2016, 30(10):1573-81
Food and Bioprocess Technology2017, 10(6):1074-1092
Antioxidants (Basel).2020, 9(2):E99
J Ethnopharmacol.2017, 197:157-164
Evid Based Complement Alternat Med.2015, 2015:165457
Phytomedicine.2019, 58:152893
Int J Mol Sci.2017, 19(1)
Molecules.2018, 23(7):E1659
Korean J of Food Science&Technology 2017, 49(2):146-150
Asian Journal of Chemistry2018, 30(12):2699-2703
J Nat Prod. 2014 Mar 28;77(3):464-71.
Evaluation of intestinal permeability of vicenin-2 and lychnopholic acid from Lychnophora salicifolia (Brazilian arnicão) using Caco-2 cells.[Pubmed:
24279746
]
Lychnophora salicifolia, commonly known as "arnicão", is used as an anti-inflammatory agent and as a flavoring agent in the Brazilian traditional spirit "cachaça".
METHODS AND RESULTS:
In this work, the permeation process of Vicenin -2 (1) and lychnopholic acid (2) (major secondary metabolites from the hydroalcoholic extract) was investigated using Caco-2 cells. For this investigation, a new HPLC-DAD method was developed and validated for the quantification step. It was observed that 2 crosses the Caco-2 cell monolayer by passive diffusion. On the other hand, 1 was not transported, suggesting no absorption and no efflux of this compound in Caco-2 cells.
Sci Rep. 2014 Mar 7;4:4309.
Mass spectrometry of flavonoid vicenin-2, based sunlight barriers in Lychnophora species.[Pubmed:
24603617
]
Lychnophora salicifolia plants collected from four different places in Brazil (three states: Goias, Minas Gerais and Bahia) revealed a conserved accumulation of Vicenin -2 , a di-C-glycosyl flavonoid. Quantitative studies by UPLC-MS/MS showed high concentration of Vicenin -2 in leaves from sixty specimens of six Lychnophora species. So the tissue distributions of Vicenin -2 were evaluated in wild Lychnophora leaves (Asteraceae) by laser based imaging mass spectrometry (IMS) to propose its distributions and possible functions for the species analyzed. Mass spectrometric imaging revealed that Vicenin -2 , unlike other flavonoids, was produced at the top of the leaves. The combination of localization and UV absorption properties of Vicenin -2 suggests that it could act as a UV light barrier to protect the plants, since plants are sessile organisms that have to protect themselves from harsh external conditions such as intense sunlight.
Phytomedicine. 2013 Mar 15;20(5):427-31.
Testing of Perilla frutescens extract and Vicenin 2 for their antispasmodic effect.[Pubmed:
23357362
]
Gastrointestinal discomfort is frequently observed. The effects of Perilla frutescens extract and Vicenin -2 (a compound in this extract) were assayed in rat ileum with or without stimulation with acetylcholine or Ba(2+). Both had no direct spasmolytic effect, but both decreased acetylcholine- or Ba(2+)-induced contraction of rat ileum indicating an antispasmodic effect. This is valuable because effects were only observed when spasms were induced and may disturb the patient. The extract and the compound may be used to maintain and improve gut health.
Food Chem Toxicol. 2014 Jul;69:55-62.
Vicenin 2 isolated from Artemisia capillaris exhibited potent anti-glycation properties.[Pubmed:
24713265
]
Vicenin -2, isolated from a traditionally used medicinal plant Artemisia capillaris, is a 6,8-di-C-glucoside of apigenin which has been previously reported to possess a wide variety of pharmacological activities including antioxidant, anti-inflammatory, anti-cancer, and hepatoprotective. However, there have not been any reports concerning its anti-diabetic potential until now.
METHODS AND RESULTS:
Therefore, in the present study, we evaluated the anti-diabetic potential of Vicenin -2 via α-glucosidase, protein tyrosine phosphatase 1B (PTP1B), rat lens aldose reductase (RLAR), and advanced glycation end products (AGE) formation inhibitory assays. Vicenin -2 strongly inhibited α-glucosidase, PTP1B, and RLAR in the corresponding assays. In addition, Vicenin -2 inhibited the formation of both fluorescent AGE and nonfluorescent AGE, e.g., CML, as well as the level of fructosamine in glucose-fructose-induced bovine serum albumin (BSA) glycation. In the test system, Vicenin -2 suppressed glycation-induced protein oxidation by attenuating the formation of protein carbonyl groups as well as by inhibiting the modification of protein thiol groups. Moreover, Vicenin -2 was found to be a potent inhibitor of glycation-induced formation of amyloid cross-β structures in BSA.
CONCLUSIONS:
Taken together, Vicenin -2 might be a useful lead for the development of multiple target-oriented therapeutic modalities for the treatment of diabetes and diabetes-associated complications.
Biochem Pharmacol. 2011 Nov 1;82(9):1100-9.
Anti-cancer effects of novel flavonoid vicenin-2 as a single agent and in synergistic combination with docetaxel in prostate cancer.[Pubmed:
21803027
]
The present study was conducted to determine the efficacy of novel flavonoid Vicenin -2 (VCN-2), an active constituent of the medicinal herb Ocimum Sanctum Linn or Tulsi, as a single agent and in combination with docetaxel (DTL) in carcinoma of prostate (CaP).
METHODS AND RESULTS:
Vicenin-2 effectively induced anti-proliferative, anti-angiogenic and pro-apoptotic effect in CaP cells (PC-3, DU-145 and LNCaP) irrespective of their androgen responsiveness or p53 status. Vicenin -2 inhibited EGFR/Akt/mTOR/p70S6K pathway along with decreasing c-Myc, cyclin D1, cyclin B1, CDK4, PCNA and hTERT in vitro. Vicenin -2 reached a level of 2.6±0.3μmol/l in serum after oral administration in mice which reflected that vicenin-2 is orally absorbed. The i.v. administration of docetaxel (DTL), current drug of choice in androgen-independent CaP, is associated with dose-limiting toxicities like febrile neutropenia which has lead to characterization of alternate routes of administration and potential combinatorial regimens. In this regard, Vicenin -2 in combination with DTL synergistically inhibited the growth of prostate tumors in vivo with a greater decrease in the levels of AR, pIGF1R, pAkt, PCNA, cyclin D1, Ki67, CD31, and increase in E-cadherin. Vicenin -2 has been investigated for radioprotection and anti-inflammatory properties. This is the first study on the anti-cancer effects of Vicenin -2 .
CONCLUSIONS:
In conclusion, our investigations collectively provide strong evidence that vicenin-2 is effective against CaP progression along with indicating that Vicenin -2 and DTL co-administration is more effective than either of the single agents in androgen-independent prostate cancer.