Sinapine thiocyanate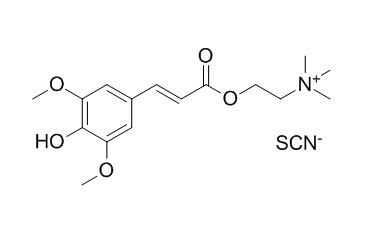 Sinapine thiocyanate has antioxidant activities and is hepatoprotective in a dose-dependent manner, implies that Brassica rapa seeds could be developed as a functional food for hepatoprotection.
Inquire / Order: manager@chemfaces.com
Technical Inquiries: service@chemfaces.com
Tel: +86-27-84237783
Fax: +86-27-84254680

Address:
1 Building, No. 83, CheCheng Rd., Wuhan Economic and Technological Development Zone, Wuhan, Hubei 430056, PRC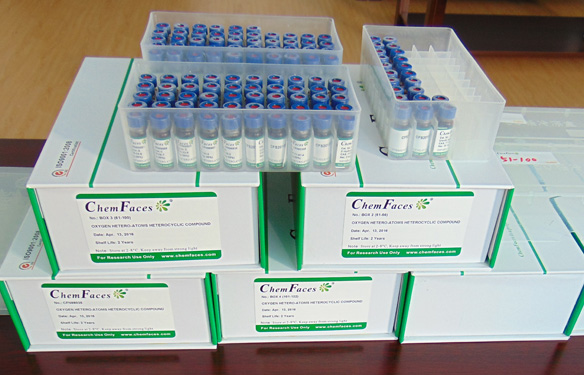 Providing storage is as stated on the product vial and the vial is kept tightly sealed, the product can be stored for up to
24 months(2-8C)
.
Wherever possible, you should prepare and use solutions on the same day. However, if you need to make up stock solutions in advance, we recommend that you store the solution as aliquots in tightly sealed vials at -20C. Generally, these will be useable for up to two weeks. Before use, and prior to opening the vial we recommend that you allow your product to equilibrate to room temperature for at least 1 hour.
Need more advice on solubility, usage and handling? Please email to: service@chemfaces.com
The packaging of the product may have turned upside down during transportation, resulting in the natural compounds adhering to the neck or cap of the vial. take the vial out of its packaging and gently shake to let the compounds fall to the bottom of the vial. for liquid products, centrifuge at 200-500 RPM to gather the liquid at the bottom of the vial. try to avoid loss or contamination during handling.
Ajchem JournalJAN. 2014
Molecules.2017 Oct 27;
Industrial Crops and Products2017 Jan.
Biochem Biophys Res Commun. 2018 Jan 1;
Molecules 2016, 21(6), 780; 2016 Jun 17;21(6).
Journal of Analytical ChemistryAug. 2017;
Virulence.2018 Jan 1;
International Journal of Mol. Med.2015 Mar 6.
Scientific ResearchJune 20, 2017
Lab On a Chip21 Feb 2018;
《Food and Drug》 2014-03
Stability of Sinapine Thiocyanate from Water Extract of Semen Raphani in Artificial Gastric and Intestinal Juice[Reference:
WebLink
]
To investigate the stability of Sinapine thiocyanate in artificial gastric and intestinal juice gained from the water extract of Semen Raphani.
METHODS AND RESULTS:
HPLC was used to determine the area at different time points of Sinapine thiocyanate in artificial gastric juice with or without pepsin and artificial intestinal juice with or without pancreatin, the mass concentration and average remaining percentage were calculated respectively. Sinapine thiocyanate was more stable in artificial gastric juice than in artificial intestinal juice and most unstable in artificial intestinal juice without pancreatin. The stability of Sinapine thiocyanate was similar in two kinds of artificial gastric juice but considerable different in artificial intestinal juice.
CONCLUSIONS:
The remaining percentage of Sinapine thiocyanate in artificial gastric and intestinal juice, which were relatively stable, were all above 70 %, and that provided reference for the absorption mechanism of Sinapine thiocyanate.
《Strait Pharmaceutical Journal》 2013-03
Determination of sinapine thiocyanate in YangHePingChuan granules by UPLC[Reference:
WebLink
]
To establish a method for determination of Sinapine thiocyanate in YangHePingChuan granules by UPLC.
METHODS AND RESULTS:
UPLC method was adopted.The determination was performed on the Acquity UPLC BEH C18(100mm×2.1mm,1.7μm) column with mobile phase consisted of acetonitrile-0.08 mol·L-1 potassium dihydrogen phosphate(13∶ 87)at the flow rate of 0.25mL·min-1.The detection wavelength was set at 326nm and the column temperature was 30℃. The linear ranger of Sinapine thiocyanate was 0.105~1.05μg with an average recovery of 99.55%(RSD=1.82%,n=6).
CONCLUSIONS:
The method is accurate,reliable,simple and practical,it can be used for the quality control of granules.