Sibiricose A5
Sibiricose A5 is a lactate dehydrogenase inhibitor, it displays antidepressant-like, and antioxidant actions. Sibiricose A5 can protect PC12 cells damage induced by P. tenuifolia.
Inquire / Order: manager@chemfaces.com
Technical Inquiries: service@chemfaces.com
Tel: +86-27-84237783
Fax: +86-27-84254680

Address:
1 Building, No. 83, CheCheng Rd., Wuhan Economic and Technological Development Zone, Wuhan, Hubei 430056, PRC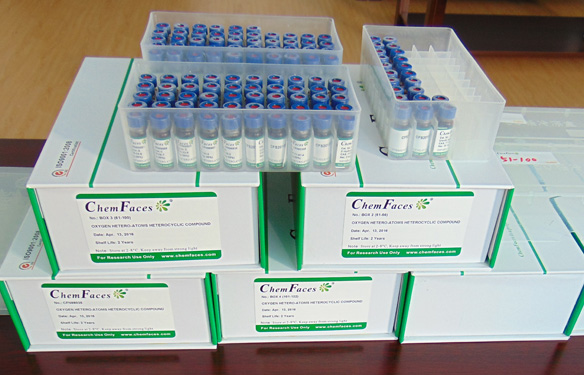 Providing storage is as stated on the product vial and the vial is kept tightly sealed, the product can be stored for up to
24 months(2-8C)
.
Wherever possible, you should prepare and use solutions on the same day. However, if you need to make up stock solutions in advance, we recommend that you store the solution as aliquots in tightly sealed vials at -20C. Generally, these will be useable for up to two weeks. Before use, and prior to opening the vial we recommend that you allow your product to equilibrate to room temperature for at least 1 hour.
Need more advice on solubility, usage and handling? Please email to: service@chemfaces.com
The packaging of the product may have turned upside down during transportation, resulting in the natural compounds adhering to the neck or cap of the vial. take the vial out of its packaging and gently shake to let the compounds fall to the bottom of the vial. for liquid products, centrifuge at 200-500 RPM to gather the liquid at the bottom of the vial. try to avoid loss or contamination during handling.
Cardiovasc Toxicol.2019, 19(4):297-305
Biol Pharm Bull.2018, 41(11):1645-1651
Biochemistry.2018, 57(40):5886-5896
Research on Crops.2017, 18(3):569
Nat Chem Biol.2018, 14(8):760-763
Process Biochemistry2019, 87:213-220
J Pharm Biomed Anal.2017, 140:274-280
Chemistry of Plant Materials.2019, 129-136
Clin Transl Oncol.2019, 10.1007
Cancer Manag Res.2019, 11:483-500
Zhongguo Zhong Yao Za Zhi. 2008 Jun;33(11):1278-80.
Study on antidepressant components of sucrose ester from Polygala tenuifolia.[Pubmed:
18831206
]
To investigate the antidepressant components of Polygala tenuifolia.
METHODS AND RESULTS:
The chromatographic method was used to isolate and purify the chemical constituents, their structures were identified by spectral analysis, MTT method was applied to investigate their cytotoxic activities. Nine compounds were isolated from the roots of P. tenuifolia. Their structures were identified as sibiricose A, (1), Sibiricose A5 (2), tenuifoliside A (3) and 3', 6-disinapoyl sucrose (4), sibiricose A6 (5), 3, 4, 5-trimethoxycinnamate (6), polygalaxanthone III (7), tenuifolioses A (8), tenuifolioses H (9) and some compounds' activities to PC12 were observed.
CONCLUSIONS:
Compound 1 was isolated from this plant for the first time. Compounds 2,3 could protect PC12 cells damage induced by P. tenuifolia.
Talanta. 2015 Nov 1;144:830-5.
Indirect identification of antioxidants in Polygalae Radix through their reaction with 2,2-diphenyl-1-picrylhydrazyl and subsequent HPLC-ESI-Q-TOF-MS/MS.[Pubmed:
26452897
]
A rapid and efficient method for the identification of antioxidants in the traditional Chinese medicine Polygalae Radix (PR) by HPLC-ESI-Q-TOF-MS/MS is described.
METHODS AND RESULTS:
The method is based on the hypothesis that upon reaction of antioxidants with 1,1-diphenyl-2-picrylhydrazyl (DPPH), the peak areas of compounds with potential antioxidant activities in the HPLC chromatogram will be significantly reduced in comparison to the untreated sample. The identity confirmation was achieved by Q-TOF-MS/MS technique. With this method, eight components were proposed possessing potent antioxidant activity. They were identified as Sibiricose A5, sibiricose A6, sucrose monoester, polygalaxanthone III, tenuifoliside B, 3',6-disinapoylsucrose (DISS), sucrose diester, tenuifoliside C, respectively. DISS was proposed to be the most potent one. The antioxidant activity of DISS was evaluated by DPPH, ABTS radical scavenging assay and ferric-reducing antioxidant power (FRAP) assay in vitro. Vitamin C (Vc) was used as positive control substance. DISS showed moderate DPPH (DISS's IC50 value was 1024.17 μg/mL, Vc's was 294.68 μg/mL) and ABTS (IC50 324.13 μg/mL, Vc's was 117.50 μg/mL) free radical scavenging capacity and ferric-reducing antioxidant power.
CONCLUSIONS:
DISS can be used as a new source of natural antioxidant in foods and cosmetics.
Molecules. 2011 Jun 29;16(7):5507-13.
Absorbable phenylpropenoyl sucroses from Polygala tenuifolia.[Pubmed:
21716172
]

METHODS AND RESULTS:
Three phenylpropenoyl sucroses--Sibiricose A5, A6 and 3',6-disinapoyl sucrose--were isolated from the 30% EtOH extract of Polygala tenuifolia, which displayed antidepressant-like action.
CONCLUSIONS:
HPLC analysis indicated that the three phenylpropenoyl sucroses could be absorbed into serum. From the serum pharmacochemistry point of view, these three phenylpropenoyl sucroses might prevent or relieve depression.
J Sep Sci. 2017 Mar;40(6):1385-1395.
Bioactivity screening, extraction, and separation of lactate dehydrogenase inhibitors from Polygala tenuifolia Willd. based on a hyphenated strategy.[Pubmed:
28134488
]
Stroke is the second leading cause of death worldwide. Lactate dehydrogenase inhibitors are currently widely used in the treatment of ischemic stroke, and natural products are considered promising sources of lactate dehydrogenase inhibitors.
METHODS AND RESULTS:
In this study, ultrafiltration liquid chromatography coupled with mass spectrometry was used for the screening and identification of lactate dehydrogenase inhibitors from Polygala tenuifolia. Furthermore, five lactate dehydrogenase inhibitors, Sibiricose A5, 3,6'-di-O-sinapoyl-sucrose, glomeratose A, tenuifoliside B, and tenuifoliside C, were selected as target lactate dehydrogenase inhibitors.