6-O-Feruloylglucose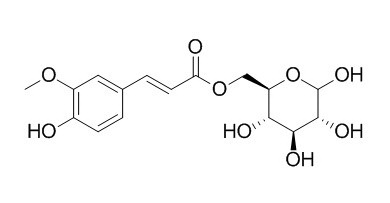 6-O-(E)-Feruloyl-glucose has scavenging hydroxyl radical activity.
Inquire / Order: manager@chemfaces.com
Technical Inquiries: service@chemfaces.com
Tel: +86-27-84237783
Fax: +86-27-84254680

Address:
1 Building, No. 83, CheCheng Rd., Wuhan Economic and Technological Development Zone, Wuhan, Hubei 430056, PRC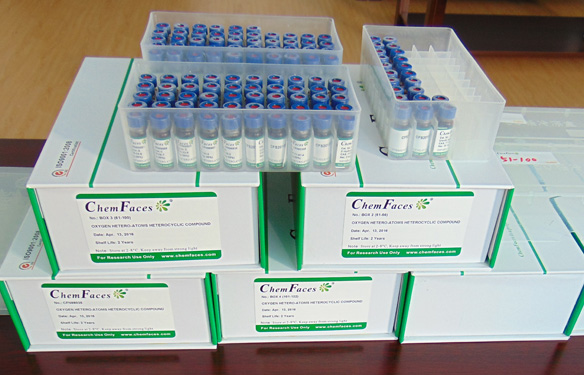 Providing storage is as stated on the product vial and the vial is kept tightly sealed, the product can be stored for up to
24 months(2-8C)
.
Wherever possible, you should prepare and use solutions on the same day. However, if you need to make up stock solutions in advance, we recommend that you store the solution as aliquots in tightly sealed vials at -20C. Generally, these will be useable for up to two weeks. Before use, and prior to opening the vial we recommend that you allow your product to equilibrate to room temperature for at least 1 hour.
Need more advice on solubility, usage and handling? Please email to: service@chemfaces.com
The packaging of the product may have turned upside down during transportation, resulting in the natural compounds adhering to the neck or cap of the vial. take the vial out of its packaging and gently shake to let the compounds fall to the bottom of the vial. for liquid products, centrifuge at 200-500 RPM to gather the liquid at the bottom of the vial. try to avoid loss or contamination during handling.
QASCF2022, 14(4).
Journal of Phytopathology2021, 169,Issue11-12.
Molecules.2020, 25(23):5636.
Natural Product Communications2021, 16(9):1-10.
Korean J of Food Science&Technology 2017, 49(2):146-150
Molecules.2021, 26(9):2765.
Phytomedicine.2019, 56:48-56
International J of Green Pharmacy2019, 13(3)
Molecules.2021, 26(9):2526.
Asian Pac J Tropical Bio.2020, 10(6):239-247
Sci. China C. Life Sci.,1999,42(4):420-6.
Reaction of hydroxyl radical with phenylpropanoid glycoside and its derivatives by pulse radiolysis.[Pubmed:
18763133
]

METHODS AND RESULTS:
The reaction of hydroxyl radical with 1 phenylpropanoid glycoside (PPG), cistanoside C, and its 3 derivatives: 1-0-beta-D-2-(p-hydroxyphenyl)-ethanyl-glucose, 6-O-(E)-femloyl-glucose(6-O-Feruloylglucose) and 6-O-(E)-p-hydroxy-cinnarnoylglucose isolated from folk medicinal herbs was investigated by pulse radiolysis technique respectively. The reaction rate constants were determined by analysis of built-up trace of absorption at lambda(max) of specific transient absorption spectra of PPG and its derivatives upon attacking . OH. All four compounds react with . OH at close to diffusion controlled rate (1. 03 x 10(9)-19.139 x 10(9) L . mol(-1) . s(-1)), suggesting that they are effective . OH scavengers.
CONCLUSIONS:
The results demonstrated that the numbers of phenolic hydroxyl groups of PPG and its derivatives are directly related to their scavenging activities. By comparing the reaction rates of . OH with 1-O-beta-D-2-(p-hydroxyphenyl)-ethanyl-glucose, 6-O-(E)-feruloyl-glucose (6-O-Feruloylglucose)or 6-O-(E)-p-hydroxy-cinnomoyl-glucose, it is evident that the phenylethyl group is more impofiant than phenylacryloyl group for scavenging . OH.