Shanzhiside methylester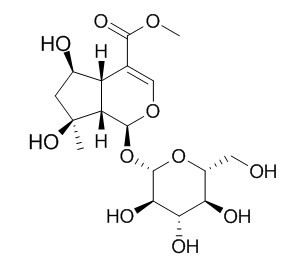 Shanzhiside methylester reduces neuropathic pain by activating spinal GLP-1 receptors and subsequently stimulating microglial β-endorphin expression via the p38 MAPK signaling.
Inquire / Order: manager@chemfaces.com
Technical Inquiries: service@chemfaces.com
Tel: +86-27-84237783
Fax: +86-27-84254680

Address:
1 Building, No. 83, CheCheng Rd., Wuhan Economic and Technological Development Zone, Wuhan, Hubei 430056, PRC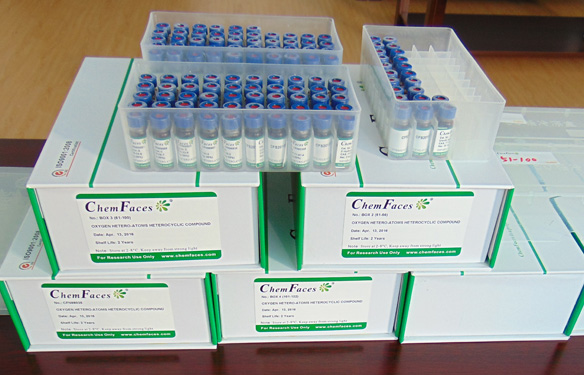 Providing storage is as stated on the product vial and the vial is kept tightly sealed, the product can be stored for up to
24 months(2-8C)
.
Wherever possible, you should prepare and use solutions on the same day. However, if you need to make up stock solutions in advance, we recommend that you store the solution as aliquots in tightly sealed vials at -20C. Generally, these will be useable for up to two weeks. Before use, and prior to opening the vial we recommend that you allow your product to equilibrate to room temperature for at least 1 hour.
Need more advice on solubility, usage and handling? Please email to: service@chemfaces.com
The packaging of the product may have turned upside down during transportation, resulting in the natural compounds adhering to the neck or cap of the vial. take the vial out of its packaging and gently shake to let the compounds fall to the bottom of the vial. for liquid products, centrifuge at 200-500 RPM to gather the liquid at the bottom of the vial. try to avoid loss or contamination during handling.
Tea Res. Ins. Of China2017, 1-12
Acta horticulturae2017, 1158:257-268
BMC Complement Altern Med.2014, 14:242
Molecules.2015, 20(10):19172-88
J. of The Korean Society of Food Culture2017, 144-149
Semyung University2017, 149407
Int J Mol Sci.2019, 20(8):E1855
Biol Pharm Bull.2017, 40(6):797-806
Phytomedicine.2019, 55:229-237
Nutrients.2019, 11(4):E936
Neuropharmacology. 2016 Feb;101:98-109
Shanzhiside methylester, the principle effective iridoid glycoside from the analgesic herb Lamiophlomis rotata, reduces neuropathic pain by stimulating spinal microglial β-endorphin expression.[Pubmed:
26363192
]
Lamiophlomis rotata (L. rotata, Duyiwei) is an orally available Tibetan analgesic herb widely prescribed in China. Shanzhiside methylester (SM) is a principle effective iridoid glycoside of L. rotata and serves as a small molecule glucagon-like peptide-1 (GLP-1) receptor agonist. This study aims to evaluate the signal mechanisms underlying SM anti-allodynia, determine the ability of SM to induce anti-allodynic tolerance, and illustrate the interactions between SM and morphine, or SM and β-endorphin, in anti-allodynia and anti-allodynic tolerance.
METHODS AND RESULTS:
Intrathecal SM exerted dose-dependent and long-lasting (>4 h) anti-allodynic effects in spinal nerve injury-induced neuropathic rats, with a maximal inhibition of 49% and a projected ED50 of 40.4 μg. SM and the peptidic GLP-1 receptor agonist exenatide treatments over 7 days did not induce self-tolerance to anti-allodynia or cross-tolerance to morphine or β-endorphin. In contrast, morphine and β-endorphin induced self-tolerance and cross-tolerance to SM and exenatide. In the spinal dorsal horn and primary microglia, SM significantly evoked β-endorphin expression, which was completely prevented by the microglial inhibitor minocycline and p38 mitogen-activated protein kinase (MAPK) inhibitor SB203580. SM anti-allodynia was totally inhibited by the GLP-1 receptor antagonist exendin(9-39), minocycline, β-endorphin antiserum, μ-opioid receptor antagonist CTAP, and SB203580. SM and exenatide specifically activated spinal p38 MAPK phosphorylation.
CONCLUSIONS:
These results indicate that SM reduces neuropathic pain by activating spinal GLP-1 receptors and subsequently stimulating microglial β-endorphin expression via the p38 MAPK signaling. Stimulation of the endogenous β-endorphin expression may be a novel and effective strategy for the discovery and development of analgesics for the long-term treatment of chronic pain.
Biomed Chromatogr. 2012 Dec;26(12):1543-51.
Simultaneous determination of four shanzhiside methylester derivatives in rabbit plasma by liquid chromatography/tandem mass spectrometry.[Pubmed:
22422345
]

METHODS AND RESULTS:
A simple and sensitive high-performance liquid chromatography/tandem mass spectrometry (LC/MS/MS) method was developed and validated for simultaneous determination of Shanzhiside methylester and its three derivatives in rabbit plasma. The method showed good linearity and no endogenous material interfered with the marked compounds and internal standard (IS) capatol peaks. Samples were processed by acetonitrile precipitation. Chromatography was performed using a C₁₈ column (150 × 3.9 mm i.d., 4 μm). The mobile phase consisted of methanol and water (60:40, v/v) during a total run time of 7 min. The main mass parent ions and daughter ions pairs (m/z) for monitoring were: Shanzhiside methylester, 429.0/267.4; 8-O-acetyl Shanzhiside methylester, 470.9/411.3; loganin, 413.2/251.4; phloyoside II, 479.2/281.3; and IS 385.2/203.3.
CONCLUSIONS:
Finally, the method was applied to a pharmacokinetic study of rabbits following intravenous administration of iridoid glycosides extracted from traditional herb Lamiophlomis rotata.