Rediocide C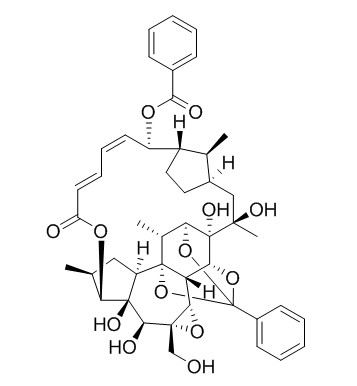 Rediocide C exhibits antimycobacterial activity, with the MIC value of 3.84 uM; it also exhibits potent activity against D. pteronyssinus with respective LC50 values of 5.59 microg/cm2.
Inquire / Order: manager@chemfaces.com
Technical Inquiries: service@chemfaces.com
Tel: +86-27-84237783
Fax: +86-27-84254680

Address:
1 Building, No. 83, CheCheng Rd., Wuhan Economic and Technological Development Zone, Wuhan, Hubei 430056, PRC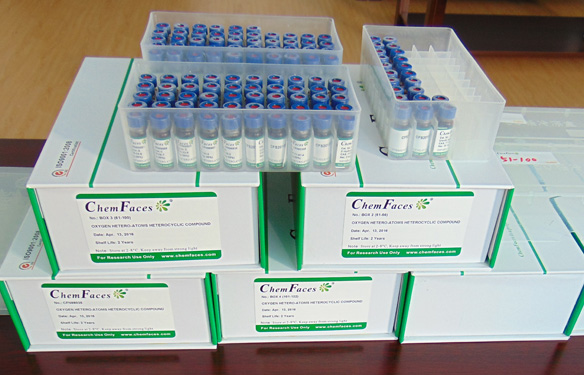 Providing storage is as stated on the product vial and the vial is kept tightly sealed, the product can be stored for up to
24 months(2-8C)
.
Wherever possible, you should prepare and use solutions on the same day. However, if you need to make up stock solutions in advance, we recommend that you store the solution as aliquots in tightly sealed vials at -20C. Generally, these will be useable for up to two weeks. Before use, and prior to opening the vial we recommend that you allow your product to equilibrate to room temperature for at least 1 hour.
Need more advice on solubility, usage and handling? Please email to: service@chemfaces.com
The packaging of the product may have turned upside down during transportation, resulting in the natural compounds adhering to the neck or cap of the vial. take the vial out of its packaging and gently shake to let the compounds fall to the bottom of the vial. for liquid products, centrifuge at 200-500 RPM to gather the liquid at the bottom of the vial. try to avoid loss or contamination during handling.
Int J Mol Med.2019, 43(6):2516-2522
Bulletin of Health Research2016, 44(4):279-286
Molecules.2019, 24(17):E3127
Sci Rep.2016, 6:25094
Pak J Pharm Sci.2019, 32(6):2879-2885
Food Chem.2019, 276:768-775
Analytical sci. & Tech2016, 186-193
Molecules.2019, 24(21):E3834
Food Quality and Safety2018, 2:213-219
Evid Based Complement Alternat Med.2016, 2016:1230294
Chem Pharm Bull (Tokyo). 2005 Feb;53(2):241-3.
Acaricidal daphnane diterpenoids from Trigonostemon reidioides (KURZ) CRAIB roots.[Pubmed:
15684528
]

METHODS AND RESULTS:
A new daphnane diterpenoid, rediocide F (1), was isolated together with three known compounds, rediocides A (2), C (3) and E (4), from the hexane extract of Trigonostemon reidioides roots by bioassay-guided fractionation for acaricidal activity on Dermatophagoides pteronyssinus, Thai common house dust mite. The structure of rediocide F (1) was established as the demethyl analog of Rediocide C (3) on the basis of spectral analysis.
CONCLUSIONS:
Compounds 1-4 exhibited potent activity against D. pteronyssinus with respective LC50 values of 2.53, 0.78, 5.59 and 0.92 microg/cm2.
Tetrahedron , 2017,73( 12):1594–1601.
Terpenoids with potent antimycobacterial activity against Mycobacterium tuberculosis from Trigonostemon reidioides roots[Reference:
WebLink
]
Phytochemical investigation of Trigonostemon reidioides roots led to the isolation of fourteen compounds. These included six new diterpenoids, trigonoreidons A−F (1−6), together with eight known diterpenoids 7−14.
METHODS AND RESULTS:
The structures of the new compounds were elucidated by spectroscopic techniques and the absolute configuration at the asymmetric carbon was determined by the modified Mosher's method. The structure of trigonoreidon B (2) was confirmed by X-ray crystallographic analysis. The known compounds were identified by comparison of the spectroscopic and physical data with those of reported values. The isolated compounds were evaluated for antimycobacterial activity against Mycobacterium tuberculosis.
CONCLUSIONS:
Among the compounds that exhibited antimycobacterial activity, the diterpenoids Rediocide C (12) and rediocide G (14) were the most active compounds, with the MIC value of 3.84 μM.