Rapanone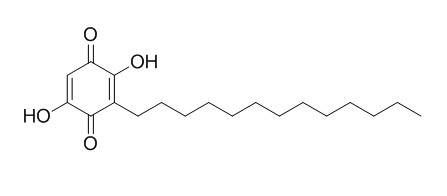 Rapanone is a potential cytotoxic compound, it induced apoptosis in MCF-7 cells mediated by increased ROS production and MMP loss, respectively. Rapanone impairs mitochondrial respiration by inhibiting electron transport chain at Complex III and promotes mitochondrial dysfunction.
Inquire / Order: manager@chemfaces.com
Technical Inquiries: service@chemfaces.com
Tel: +86-27-84237783
Fax: +86-27-84254680

Address:
1 Building, No. 83, CheCheng Rd., Wuhan Economic and Technological Development Zone, Wuhan, Hubei 430056, PRC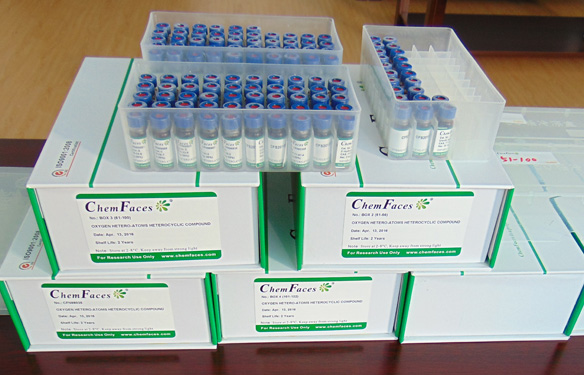 Providing storage is as stated on the product vial and the vial is kept tightly sealed, the product can be stored for up to
24 months(2-8C)
.
Wherever possible, you should prepare and use solutions on the same day. However, if you need to make up stock solutions in advance, we recommend that you store the solution as aliquots in tightly sealed vials at -20C. Generally, these will be useable for up to two weeks. Before use, and prior to opening the vial we recommend that you allow your product to equilibrate to room temperature for at least 1 hour.
Need more advice on solubility, usage and handling? Please email to: service@chemfaces.com
The packaging of the product may have turned upside down during transportation, resulting in the natural compounds adhering to the neck or cap of the vial. take the vial out of its packaging and gently shake to let the compounds fall to the bottom of the vial. for liquid products, centrifuge at 200-500 RPM to gather the liquid at the bottom of the vial. try to avoid loss or contamination during handling.
Saf Health Work.2019, 10(2):196-204
Exp Biol Med (Maywood).2019, 244(18):1665-1679
Sci Rep.2017, 7(1):3249
Med Sci Monit.2019, 25:9499-9508
Acta Agriculturae Scandinavica2015, 381-383
Biomolecules.2020, 10(2):E184
J Funct Foods2019, 54:449-456
Food and Fermentation Industries2018, 44(371)
Biochem Biophys Res Commun.2018, 505(4):1148-1153
Proc Natl Acad Sci USA.2016, 113(30):E4407-1
BMC pharmacology & toxicology, 2016, 17(1):60.
Cytotoxicity of Plumbagin, Rapanone and 12 other naturally occurring Quinones from Kenyan Flora towards human carcinoma cells.[Reference:
WebLink
]
Cancer is a major public health concern globally and chemotherapy remains the principal mode of the treatment of various malignant diseases.
METHODS AND RESULTS:
This study was designed to investigate the cytotoxicity of 14 naturally occurring quinones including; 3 anthraquinones, 1 naphthoquinone and 10 benzoquinones against 6 human carcinoma cell lines and normal CRL2120 fibroblasts. The neutral red uptake (NR) assay was used to evaluate the cytotoxicity of the compounds, whilst caspase-Glo assay was used to detect caspases activation. Cell cycle and mitochondrial membrane potential (MMP) were all analyzed via flow cytometry meanwhile levels of reactive oxygen species (ROS) were measured by spectrophotometry. Anthraquinone: emodin (2), naphthoquinone: plumbagin (4), and benzoquinones: Rapanone (9), 2,5-dihydroxy-3-pentadecyl-2,5-cyclohexadiene-1,4-dione (10), 5-O-methylembelin (11), 1,2,4,5-tetraacetate-3-methyl-6-(14-nonadecenyl)-cyclohexadi-2,5-diene (13), as well as doxorubicin displayed interesting activities with IC50 values below 100 μM in the six tested cancer cell lines. The IC50 values ranged from 37.57 μM (towards breast adenocarcinoma MCF-7 cells) to 99.31 μM (towards small cell lung cancer A549 cells) for 2, from 0.06 μM (MCF-7 cells) to 1.14 μM (A549 cells) for 4, from 2.27 μM (mesothelioma SPC212 cells) to 46.62 μM (colorectal adenocarcinoma DLD-1 cells) for 9, from 8.39 μM (SPC212 cells) to 48.35 μM (hepatocarinoma HepG2 cells) for 10, from 22.57 μM (MCF-7 cells) to 61.28 μM (HepG2 cells) for 11, from 9.25 μM (MCF-7 cells) to 47.53 μM (A549 cells) for 13, and from 0.07 μM (SPC212 cells) to 1.01 μM (A549 cells) for doxorubicin. Compounds 4 and 9 induced apoptosis in MCF-7 cells mediated by increased ROS production and MMP loss, respectively.
CONCLUSIONS:
The tested natural products and mostly 2, 4, 9, 10, 11 and 13 are potential cytotoxic compounds that deserve more investigations towards developing novel antiproliferative drugs against human carcinoma.
Toxicology in Vitro,2020,63,104737.
Rapanone, a naturally occurring benzoquinone, inhibits mitochondrial respiration and induces HepG2 cell death.[Reference:
WebLink
]
Rapanone is a natural occurring benzoquinone with several biological effects including unclear cytotoxic mechanisms.
METHODS AND RESULTS:
Here we addressed if mitochondria are involved in the cytotoxicity of Rapanone towards cancer cells by employing hepatic carcinoma (HepG2) cells and isolated rat liver mitochondria. In the HepG2, Rapanone (20–40 μM) induced a concentration-dependent mitochondrial membrane potential dissipation, ATP depletion, hydrogen peroxide generation and, phosphatidyl serine externalization; the latter being indicative of apoptosis induction. Rapanone toxicity towards primary rats hepatocytes (IC50 = 35.58 ± 1.50 μM) was lower than that found for HepG2 cells (IC50 = 27.89 ± 0.75 μM). Loading of isolated mitochondria with Rapanone (5–20 μM) caused a concentration-dependent inhibition of phosphorylating and uncoupled respirations supported by complex I (glutamate and malate) or the complex II (succinate) substrates, being the latter eliminated by complex IV substrate (TMPD/ascorbate). Rapanone also dissipated mitochondrial membrane potential, depleted ATP content, released Ca2+ from Ca2+-loaded mitochondria, increased ROS generation, cytochrome c release and membrane fluidity. Further analysis demonstrated that Rapanone prevented the cytochrome c reduction in the presence of decylbenzilquinol, identifying complex III as the site of its inhibitory action. Computational docking results of Rapanone to cytochrome bc1 (Cyt bc1) complex from the human sources found spontaneous thermodynamic processes for the quinone-Qo and Qi binding interactions, supporting the experimental in vitro assays.
CONCLUSIONS:
Collectively, these observations suggest that Rapanone impairs mitochondrial respiration by inhibiting electron transport chain at Complex III and promotes mitochondrial dysfunction. This property is potentially involved in Rapanone toxicity on cancer cells.