(-)-Lariciresinol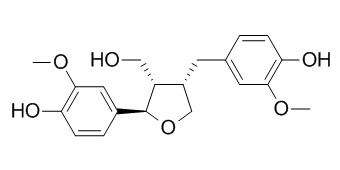 Lariciresinol administration can inhibit the tumor growth and tumor angiogenesis, conceivable importance of dietary lignan lariciresinol in inhibition of breast cancer development.
Inquire / Order: manager@chemfaces.com
Technical Inquiries: service@chemfaces.com
Tel: +86-27-84237783
Fax: +86-27-84254680

Address:
1 Building, No. 83, CheCheng Rd., Wuhan Economic and Technological Development Zone, Wuhan, Hubei 430056, PRC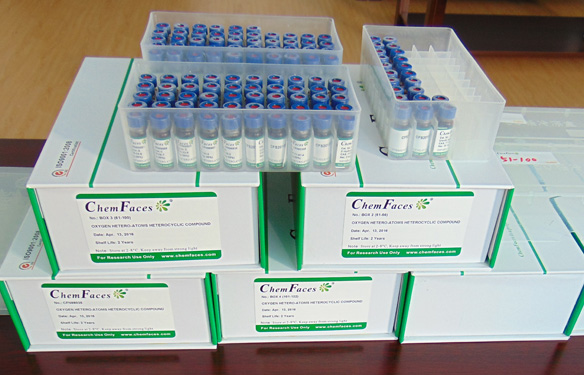 Providing storage is as stated on the product vial and the vial is kept tightly sealed, the product can be stored for up to
24 months(2-8C)
.
Wherever possible, you should prepare and use solutions on the same day. However, if you need to make up stock solutions in advance, we recommend that you store the solution as aliquots in tightly sealed vials at -20C. Generally, these will be useable for up to two weeks. Before use, and prior to opening the vial we recommend that you allow your product to equilibrate to room temperature for at least 1 hour.
Need more advice on solubility, usage and handling? Please email to: service@chemfaces.com
The packaging of the product may have turned upside down during transportation, resulting in the natural compounds adhering to the neck or cap of the vial. take the vial out of its packaging and gently shake to let the compounds fall to the bottom of the vial. for liquid products, centrifuge at 200-500 RPM to gather the liquid at the bottom of the vial. try to avoid loss or contamination during handling.
Biomolecules.2022, 12(12):1754.
Anticancer Res.2021, 41(3):1357-1364.
Antioxidants (Basel).2020, 9(6):526.
Chem Biol Interact.2022, 368:110248.
Int J Mol Sci.2017, 18(12)
International J of Green Pharmacy2019, 13(3)
J Ethnopharmacol.2020, 249:112381
Biol Pharm Bull.2018, 41(11):1645-1651
Tea Res. Ins. Of China2017, 1-12
Evid Based Complement Alternat Med.2020, 2020:2584783.
Int J Cancer. 2008 Sep 1;123(5):1196-204.
Dietary lariciresinol attenuates mammary tumor growth and reduces blood vessel density in human MCF-7 breast cancer xenografts and carcinogen-induced mammary tumors in rats.[Pubmed:
18528864
]
Lariciresinol is a dietary lignan that accounts for a significant portion of the total phytoestrogen intake from Western foods. Recent epidemiological studies suggest that high dietary intake of lignans and lariciresinol is associated with reduced breast cancer risk. However, no causal relationship between lariciresinol intake and breast cancer development has been established.
METHODS AND RESULTS:
In this study, we investigated for the first time the effects and possible mechanisms of action of lariciresinol on hormone responsive mammary cancer in vivo in dimethylbenz[a]anthracene induced mammary cancer in rats, and in human MCF-7 breast cancer xenografts in athymic mice. For tumor bearing rats, lariciresinol (3 or 15 mg/kg of body weight) or vehicle was administered p.o. daily for 9 weeks. For E2-maintained ovariectomized athymic mice bearing orthotopic MCF-7 tumors, control diet (AIN-93G) or lariciresinol containing diet (AIN-93G supplemented with 20 or 100 mg of lariciresinol/kg of diet) was administered for 5 weeks. In both models, lariciresinol administration inhibited the tumor growth and tumor angiogenesis. In MCF-7 cells, enterolactone significantly inhibited the E2-stimulated VEGF secretion. Moreover, in MCF-7 xenografts, lariciresinol administration enhanced tumor cell apoptosis and increased estrogen receptor beta expression. Lariciresinol and its further metabolites secoisolariciresinol, enterodiol and enterolactone were found in serum of both rats and athymic mice confirming a similar lignan metabolism pattern as in humans.
CONCLUSIONS:
These findings indicate conceivable importance of dietary lignan lariciresinol in inhibition of breast cancer development.
FEBS Lett. 2007 Feb 20;581(4):603-10.
(+)-Pinoresinol/(-)-lariciresinol reductase from Linum perenne Himmelszelt involved in the biosynthesis of justicidin B.[Pubmed:
17257599
]

METHODS AND RESULTS:
A cDNA encoding a pinoresinol-lariciresinol reductase PLR (PLR-Lp1) was isolated from a cell culture of Linum perenne Himmelszelt accumulating the arylnaphthalene lignan justicidin B. The recombinant PLR-Lp1 prefers (+)-pinoresinol in the first reaction step, but (-)-Lariciresinol in the second step.
CONCLUSIONS:
Therefore, it is the first PLR described with opposite enantiospecificity within the two reaction steps catalysed by PLRs. Hairy root lines transformed with an ihpRNAi construct to suppress plr gene expression show less mRNA accumulation for the plr-Lp1 gene and PLR enzyme activity. Justicidin B accumulation was reduced down to 24% in comparison to control lines showing the involvement of PLR-Lp1 in the biosynthesis of justicidin B.