Isomedicarpin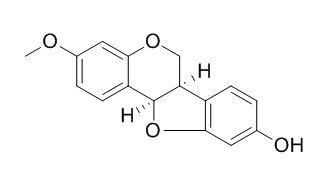 Isomedicarpin is a phytoalexin.
Inquire / Order: manager@chemfaces.com
Technical Inquiries: service@chemfaces.com
Tel: +86-27-84237783
Fax: +86-27-84254680

Address:
1 Building, No. 83, CheCheng Rd., Wuhan Economic and Technological Development Zone, Wuhan, Hubei 430056, PRC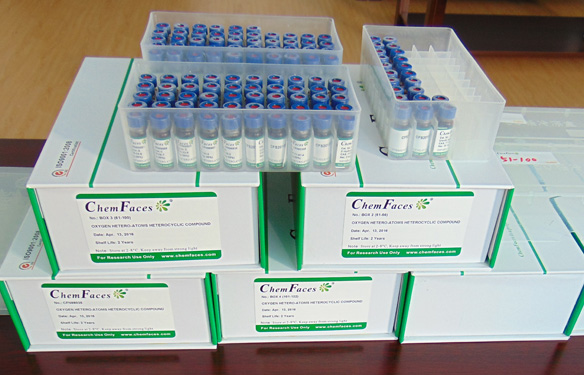 Providing storage is as stated on the product vial and the vial is kept tightly sealed, the product can be stored for up to
24 months(2-8C)
.
Wherever possible, you should prepare and use solutions on the same day. However, if you need to make up stock solutions in advance, we recommend that you store the solution as aliquots in tightly sealed vials at -20C. Generally, these will be useable for up to two weeks. Before use, and prior to opening the vial we recommend that you allow your product to equilibrate to room temperature for at least 1 hour.
Need more advice on solubility, usage and handling? Please email to: service@chemfaces.com
The packaging of the product may have turned upside down during transportation, resulting in the natural compounds adhering to the neck or cap of the vial. take the vial out of its packaging and gently shake to let the compounds fall to the bottom of the vial. for liquid products, centrifuge at 200-500 RPM to gather the liquid at the bottom of the vial. try to avoid loss or contamination during handling.
RSC Advances2017, 86
Oxid Med Cell Longev2019, 9056845:13
J Exp Bot.2016, 67(12):3777-88
APMIS.2019, 127(10):688-695
J of Dentistry & Oral Health2019, 2641-1962
Phytomedicine.2018, 38:45-56
Evid Based Complement Alternat Med.2018, 2018:1073509
J Med Food.2019, 22(10):1067-1077
Korean J Dent Mater.2018, 45(2):139-146
Biochem Biophys Res Commun.2017, 494(3-4):587-593
Biochemical Systematics and Ecology.1991; 19(6):497-506.
Isoflavonoid phytoalexins from the fungus-inoculated leaflets of Erythrina species.[Reference:
WebLink
]

METHODS AND RESULTS:
Using the drop-diffusate technique, a total of 14 isoflavonoid phytoalexins have been variously isolated from the fungus (Helminthosporium carbonum)-inoculated leaflets of 33 Erythrina species and subspecies. These compounds have been identified as 2′-hydroxydaidzein, genistein and 2′-hydroxygenistein (all isoflavones), 2′-hydroxydihydrodaidzein and dalbergiodin (both isoflavanones), demethylvestitol and isovestitol (both isoflavans), and demethylmedicarpin, glycinol, Isomedicarpin, phaseollidin, sandwicarpin, sandwicensin and cristacarpin (all pterocarpans). Diffusates from both control (water-treated) and fungus-inoculated leaflets of E. berenices and E. macrophylla also contained the constitutive isoflavone daidzein.
CONCLUSIONS:
With the exception of daidzein, all the Erythrina isoflavonoids (applied level 25 μg) inhibited the growth of Cladosporium herbarum on silica gel thin-layer plates. The survey data suggest that in terms of its isoflavonoid chemistry, the genus Erythrina has a close affinity with subtribes Diocleinae-Glycininae-Phaseolinae of the tribe Phaseoleae.