Savinin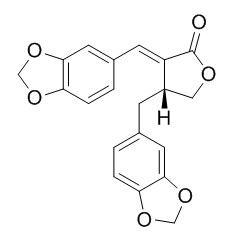 Savinin has antiinflammatory effect, can significantly inhibit tumor necrosis factor (TNF)-a production in lipopolysaccharide (LPS)-stimulated RAW264.7 cells, and T cell proliferation elicited by concanavalin (Con A), without displaying cytotoxicity. Savinin also exhibits potent spermicidal activity and significant insecticidal activity.
Inquire / Order: manager@chemfaces.com
Technical Inquiries: service@chemfaces.com
Tel: +86-27-84237783
Fax: +86-27-84254680

Address:
1 Building, No. 83, CheCheng Rd., Wuhan Economic and Technological Development Zone, Wuhan, Hubei 430056, PRC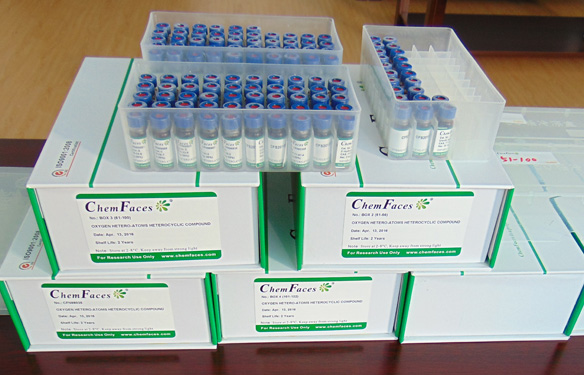 Providing storage is as stated on the product vial and the vial is kept tightly sealed, the product can be stored for up to
24 months(2-8C)
.
Wherever possible, you should prepare and use solutions on the same day. However, if you need to make up stock solutions in advance, we recommend that you store the solution as aliquots in tightly sealed vials at -20C. Generally, these will be useable for up to two weeks. Before use, and prior to opening the vial we recommend that you allow your product to equilibrate to room temperature for at least 1 hour.
Need more advice on solubility, usage and handling? Please email to: service@chemfaces.com
The packaging of the product may have turned upside down during transportation, resulting in the natural compounds adhering to the neck or cap of the vial. take the vial out of its packaging and gently shake to let the compounds fall to the bottom of the vial. for liquid products, centrifuge at 200-500 RPM to gather the liquid at the bottom of the vial. try to avoid loss or contamination during handling.
Pharmaceutics.2022, 14(5):945.
Molecules.2022, 27(19):6681.
Heliyon2022, 8(2):e08866.
Comput Biol Chem.2019, 83:107096
Food Chem.2022, 373(Pt B):131364.
Biochem Biophys Res Commun.2020, 527(4):889-895.
Revista Brasileira de Farmacognosia2021, 31:794-804.
Natural Product Communications2021, 16(9):1-10.
Biol Pharm Bull.2017, 40(6):797-806
Appl Biochem Biotechnol.2022, s12010-022-04166-2.
Phytochemistry. 2001 Apr;56(8):857-61.
Antimicrobial alkaloids from Zanthoxylum tetraspermum and caudatum.[Pubmed:
11324918
]

METHODS AND RESULTS:
Two benzophenanthrene alkaloids, 8-acetonyldihydronitidine and 8-acetonyldihydroavicine were isolated from Zanthoxylum tetraspermum stem bark along with liriodenine, sesamin, lichexanthone and (+)-piperitol-gamma,gamma-dimethylallylether. The species endemic to Sri Lanka, Z. caudatum, contained sesamin, Savinin, liriodenine, decarine and 8-O-desmethyl-N-nornitidine.
CONCLUSIONS:
8-Acetonyldihydronitidine and 8-acetonyldihydroavicine showed significant antibacterial activity while the former along with liriodenine was strongly antifungal. Savinin exhibited potent spermicidal activity. Both Savinin and sesamin exhibited significant insecticidal activity.
Biol Pharm Bull. 2001 Feb;24(2):167-71.
Savinin, a lignan from Pterocarpus santalinus inhibits tumor necrosis factor-alpha production and T cell proliferation.[Pubmed:
11217086
]

METHODS AND RESULTS:
Two lignans were isolated from the heartwood of Pterocarpus santalinus by activity-guided fractionation and investigated for their biological properties and molecular mechanism of action. On the basis of their spectroscopic data, these compounds were identified as Savinin (1) and calocedrin (2), dibenzyl butyrolactone-type lignan compounds having an alpha-arylidene gamma-lactone structure. These lignans significantly inhibited tumor necrosis factor (TNF)-a production in lipopolysaccharide (LPS)-stimulated RAW264.7 cells, and T cell proliferation elicited by concanavalin (Con A), without displaying cytotoxicity. The molecular inhibitory mechanism of compound 1 was confirmed to be mediated by the non-polar butyrolactone ring, according to a structure-relationship study with structurally related and unrelated compounds, such as arctigenin (a dibenzyl butyrolactone type lignan), eudesmin (a furofuran type lignan), isolariciresinol (a dibenzylbutane type lignan), and cynaropicrin (a sesquiterpene lactone).
CONCLUSIONS:
The results suggest that Savinin may act as an active principle in the reported biological activities of P. santalinus, such as antiinflammatory effect, by mediation of the butyrolactone ring as a valuable pharmacophore.