Hypaphorine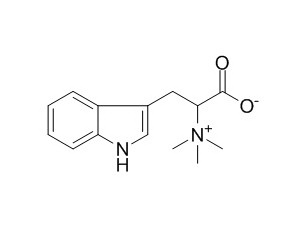 Hypaphorine is an indole-3-acetic acid antagonist which specifically compete with indole-3-acetic acid in binding to the indole-3-acetic acid-binding site in plant peroxidases.Hypaphorine and endogenous indole-3-acetic acid counteract in controlling root hair elongation.
Inquire / Order: manager@chemfaces.com
Technical Inquiries: service@chemfaces.com
Tel: +86-27-84237783
Fax: +86-27-84254680

Address:
1 Building, No. 83, CheCheng Rd., Wuhan Economic and Technological Development Zone, Wuhan, Hubei 430056, PRC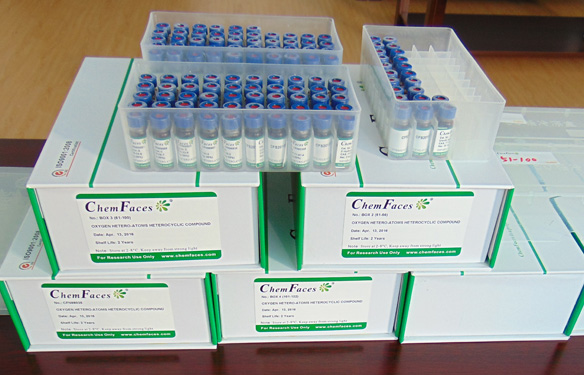 Providing storage is as stated on the product vial and the vial is kept tightly sealed, the product can be stored for up to
24 months(2-8C)
.
Wherever possible, you should prepare and use solutions on the same day. However, if you need to make up stock solutions in advance, we recommend that you store the solution as aliquots in tightly sealed vials at -20C. Generally, these will be useable for up to two weeks. Before use, and prior to opening the vial we recommend that you allow your product to equilibrate to room temperature for at least 1 hour.
Need more advice on solubility, usage and handling? Please email to: service@chemfaces.com
The packaging of the product may have turned upside down during transportation, resulting in the natural compounds adhering to the neck or cap of the vial. take the vial out of its packaging and gently shake to let the compounds fall to the bottom of the vial. for liquid products, centrifuge at 200-500 RPM to gather the liquid at the bottom of the vial. try to avoid loss or contamination during handling.
J of Dentistry & Oral Health2019, 2641-1962
Molecules.2017, 22(3)
Pharmacognosy Journal2019, 11,6:1235-1241
Planta Med.2019, 85(3):217-224
Phytochemistry Letters2015, 243-247
J Chromatogr B Analyt Technol Biomed Life Sci.2018, 1080:27-36
Sci Rep.2017, 7:40345
Cell Mol Biol(Noisy-le-grand)2019, 65(7):77-83
JPC-Journal of Planar Chromatography 2017, 30(2)
TCI CO.2019, US20190151257A1
Planta. 2000 Oct;211(5):722-8.
Root hair elongation is inhibited by hypaphorine, the indole alkaloid from the ectomycorrhizal fungus Pisolithus tinctorius, and restored by indole-3-acetic acid.[Pubmed:
11089686
]
Hypaphorine, the major indolic compound isolated from the ectomycorrhizal fungus Pisolithus tinctorius, controls the elongation rate of root hairs.
METHODS AND RESULTS:
At inhibitory concentrations (100 microM), Hypaphorine induced a transitory swelling of root hair tips of Eucalyptus globulus Labill. ssp. bicostata. When the polar tip growth resumed, a characteristic deformation was still visible on elongating hairs. At higher Hypaphorine concentrations (500 microM and greater), root hair elongation stopped, only 15 min after application. However, root hair initiation from trichoblasts was not affected by Hypaphorine. Hypaphorine activity could not be mimicked by related molecules such as indole-3-acetic acid (IAA) or tryptophan. While IAA had no activity on root hair elongation, IAA was able to restore the tip growth of root hairs following inhibition by Hypaphorine.
CONCLUSIONS:
These results suggest that Hypaphorine and endogenous IAA counteract in controlling root hair elongation. During ectomycorrhiza development, the absence of root hairs might be due in part to fungal release of molecules, such as Hypaphorine, that inhibit the elongation of root hairs.
J Agric Food Chem. 2013 Aug 7;61(31):7654-60.
Hypaphorine is present in human milk in association with consumption of legumes.[Pubmed:
23855762
]
In metabolomic analysis of human milk amines, we found a previously unidentified compound. This was tentatively identified as Hypaphorine, an indole alkaloid composed of tryptophan and three methyls, and with neurological and glucose-lowering effects in rodents.
METHODS AND RESULTS:
Hypaphorine identity was confirmed by Hypaphorine synthesis, and then a fluorometric method was developed to quantify Hypaphorine in milk and foods. Using dietary records, we identified peanut products as probable sources of Hypaphorine. Milk from 24 lactating women showed widely varying Hypaphorine, with a mean ± SD 0.34 ± 0.33 μM, and the highest concentration of 1.24 μM. Peanuts showed high Hypaphorine of 70 μg/g compared to 60 and 100 μg/g in dried chickpeas and lentils.
CONCLUSIONS:
Dietary challenge in lactating women with Hypaphorine-rich foods demonstrated transfer of Hypaphorine into milk with Hypaphorine appearance peaking 5-18 h after consumption and prolonged disappearance indicative of slow excretion or metabolism. The potential functional roles of Hypaphorine in human nutrition remain to be addressed.
Biochem Biophys Res Commun. 2002 Jun 14;294(3):553-9.
A fungal auxin antagonist, hypaphorine prevents the indole-3-acetic acid-dependent irreversible inactivation of horseradish peroxidase: inhibition of Compound III-mediated formation of P-670.[Pubmed:
12056802
]
Hypaphorine, an indolic alkaloid from an ectomycorrhizal fungus is a putative antagonist of indole-3-acetic acid (IAA) known to inhibit the effect of IAA in growing roots of Eucalyptus seedling. Previously we have used horseradish peroxidase-C (HRP) as a sensitive reporter of IAA-binding to the IAA-binding domain, and reported that Hypaphorine specifically inhibits the HRP-catalyzed superoxide generation coupled to oxidation of IAA [Kawano et al., Biochem. Biophys. Res. Commun. 288]. Since binding of IAA to the auxin-binding domain is the key step required for IAA oxidation by HRP, it was assumed that the inhibitory effect of Hypaphorine is due to its competitive binding to the auxin-binding domain in HRP.
METHODS AND RESULTS:
Here, we obtained further evidence in support of our assumption that Hypaphorine specifically inhibits binding of IAA to HRP. In this study, HRP arrested at the temporal inactive form known as Compound III was used as a sensitive indicator for binding of IAA to HRP. Addition of IAA to the preformed Compound III resulted in rapid decreases in absorption maxima at 415, 545, and 578 nm characteristic to Compound III, and in turn a rapid increase in absorption maximum at 670 nm representing the formation of P-670, the irreversibly inactivated form of hemoproteins, was induced. In contrast, the IAA-dependent irreversible inactivation of HRP was inhibited in the presence of Hypaphorine. In addition, the mode of interaction between IAA and Hypaphorine was determined to be competitive inhibition, further confirming that Hypaphorine is an IAA antagonist which specifically compete with IAA in binding to the IAA-binding site in plant peroxidases.
Planta. 2003 Dec;218(2):217-25.
Hypaphorine, an indole-3-acetic acid antagonist delivered by the ectomycorrhizal fungus Pisolithus tinctorius, induces reorganisation of actin and the microtubule cytoskeleton in Eucalyptus globulus ssp bicostata root hairs.[Pubmed:
14504925
]
Hypaphorine, an indole alkaloid from the ectomycorrhizal fungus Pisolithus tinctorius Coker & Couch., counteracts indole-3-acetic acid (IAA) activity and controls the rate of root hair elongation in Eucalyptus globulus ssp. bicostata.
METHODS AND RESULTS:
The present investigation shows that Hypaphorine changes cytoskeletal organisation in elongating root hairs of the host. In the Hypaphorine-treated root hairs no actin cap was distinguished. The fine actin filaments occurring in the subapical region were replaced by a few thick actin filament bundles that extended from the subapical region toward the root hair tip. In the Hypaphorine-treated hairs the total number of actin filament bundles along most of the root hair length was significantly reduced, presumably due to aggregation of pre-existing actin filaments. The first signs of alteration to the cytoskeleton could be detected as soon as 15 min after Hypaphorine treatment. In Hypaphorine-treated, but not in control root hairs, a patch of aggregated microtubules regularly occurred at a distance of approximately 10 microm from the tip, possibly as a consequence of changes induced by Hypaphorine in the actin cytoskeleton. The Hypaphorine-induced aggregations in the actin and microtubule cytoskeletons could stabilise the structure of cytoskeletal elements, which in turn could hinder the vesicle delivery at the tip necessary for elongation. Such cytoskeletal alterations may be a consequence of the antagonism between IAA and Hypaphorine.
CONCLUSIONS:
The latter view was supported by restoration of the actin cytoskeleton in Hypaphorine-treated root hairs by IAA application.