Homoeriodictyol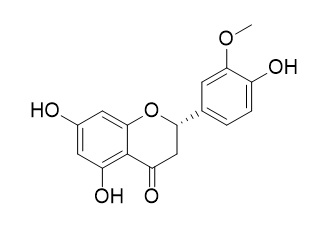 Homoeriodictyol, a naturally occurring, bitter-masking flavanone, as a promising agent to increase appetite and food intake. The flavanone homoeriodictyol can increase SGLT-1-mediated glucose uptake but decrease serotonin release in differentiated Caco-2 cells.
Inquire / Order: manager@chemfaces.com
Technical Inquiries: service@chemfaces.com
Tel: +86-27-84237783
Fax: +86-27-84254680

Address:
1 Building, No. 83, CheCheng Rd., Wuhan Economic and Technological Development Zone, Wuhan, Hubei 430056, PRC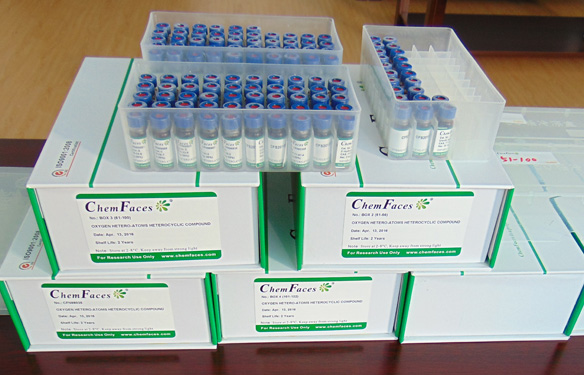 Providing storage is as stated on the product vial and the vial is kept tightly sealed, the product can be stored for up to
24 months(2-8C)
.
Wherever possible, you should prepare and use solutions on the same day. However, if you need to make up stock solutions in advance, we recommend that you store the solution as aliquots in tightly sealed vials at -20C. Generally, these will be useable for up to two weeks. Before use, and prior to opening the vial we recommend that you allow your product to equilibrate to room temperature for at least 1 hour.
Need more advice on solubility, usage and handling? Please email to: service@chemfaces.com
The packaging of the product may have turned upside down during transportation, resulting in the natural compounds adhering to the neck or cap of the vial. take the vial out of its packaging and gently shake to let the compounds fall to the bottom of the vial. for liquid products, centrifuge at 200-500 RPM to gather the liquid at the bottom of the vial. try to avoid loss or contamination during handling.
Biomedicines.2021, 9(8):954.
Toxicol In Vitro.2022, 81:105346.
Pharmacognosy Journal2019, 11,6:1235-1241
Biomedicine & Pharmacotherapy2020, 125:109950
Mol Cells.2018, 41(8):771-780
Vojnosanit Pregl2016, 75(00):391-391
Phytomedicine.2018, 40:37-47
Molecules.2019, 24(11):E2102
Antioxidants (Basel).2020, 9(6):526.
Appl. Sci.2020, 10(20),7374.
PLoS One. 2017 Feb 13;12(2):e0171580.
The flavanone homoeriodictyol increases SGLT-1-mediated glucose uptake but decreases serotonin release in differentiated Caco-2 cells.[Pubmed:
28192456
]
Flavanoids and related polyphenols, among them hesperitin, have been shown to modulate cellular glucose transport by targeting SGLT-1 and GLUT-2 transport proteins.
METHODS AND RESULTS:
We aimed to investigate whether Homoeriodictyol, which is structurally related to hesperitin, affects glucose uptake in differentiated Caco-2 cells as a model for the intestinal barrier. The results revealed that, in contrast to other polyphenols, the flavanon Homoeriodictyol promotes glucose uptake by 29.0 ± 3.83% at a concentration of 100 μM. The glucose uptake stimulating effect was sensitive to phloridzin, but not to phloretin, indicating an involvement of the sodium-coupled glucose transporter SGLT-1, but not of sodium-independent glucose transporters (GLUT). In addition, in contrast to the increased extracellular serotonin levels by stimulation with 500 mM D-(+)-glucose, treatment with 100 μM Homoeriodictyol decreased serotonin release by -48.8 ± 7.57% in Caco-2 cells via a phloridzin-sensitive signaling pathway. Extracellular serotonin levels were also reduced by -57.1 ± 5.43% after application of 0.01 μM Homoeriodictyol to human neural SH-SY5Y cells.
CONCLUSIONS:
In conclusion, we demonstrate that Homoeriodictyol affects both the glucose metabolism and the serotonin system in Caco-2 cells via a SGLT-1-meditated pathway. Furthermore, the results presented here support the usage of Caco-2 cells as a model for peripheral serotonin release. Further investigations may address the value of Homoeriodictyol in the treatment of anorexia and malnutrition through the targeting of SGLT-1.
Mol Nutr Food Res. 2017 Aug 21.
Appetite-Inducing Effects of Homoeriodictyol: Two Randomized, Cross-Over Interventions.[Pubmed:
28834253
]
Anorexia of aging, characterized by a decrease in appetite and/or food intake, is a major risk factor of under-nutrition and adverse health outcomes in elderly people. Recent in vitro evidence suggests Homoeriodictyol (HED), a naturally occurring, bitter-masking flavanone, as a promising agent to increase appetite and food intake.
METHODS AND RESULTS:
In two cross-over intervention trials, 30 mg NaHED, either solely (n = 10, Study I) or in combination with a 75 g glucose load (n = 17, study II) were administered to healthy adult subjects. Ratings of hunger were assessed at fasting and either 30 min (Study I) or 120 min (Study II) post intervention. Ad libitum energy intake from a standardized breakfast and plasma changes in hunger-/satiety-associated hormones PYY, GLP-1, ghrelin and serotonin were determined after blood drawings. Effects were more pronounced when NaHED was administered in combination with 75 g glucose since ad libitum energy (+ 9.52 ± 4.60%) and protein (+ 7.08 ± 7.97%) intake as well as plasma ΔAUC ghrelin values increased in study II solely, whereas plasma serotonin concentrations decreased after both interventions.
CONCLUSIONS:
NaHED demonstrated appetizing effects in healthy adults when administered with a glucose load. Long-term intervention studies are warranted to verify these effects in compromised subjects.
J Pharm Biomed Anal. 2008 Apr 14;46(5):971-4.
Stereospecific high-performance liquid chromatographic validation of homoeriodictyol in serum and Yerba Santa (Eriodictyon glutinosum).[Pubmed:
17719196
]
A stereospecific method of analysis of racemic Homoeriodictyol (eriodictyol 3'-methyl ether) in biological fluids is necessary to study pharmacokinetics and disposition in fruits and herbs.
METHODS AND RESULTS:
A simple high-performance liquid chromatographic method was developed for the determination of Homoeriodictyol enantiomers. Separation was achieved in a Chiralcel OJ-RH column with UV-detection at 288 nm. The standard curves in serum were linear ranging from 0.5 to 100.0 microg/ml for each enantiomer. The mean extraction efficiency was >88.0%. Precision of the assay was <15% (CV), and was within 12% at the limit of quantitation (0.5 microg/ml). Bias of the assay was <15%, and was within 6% at the limit of quantitation.
CONCLUSIONS:
The assay was applied successfully to stereospecific disposition of Homoeriodictyol enantiomers in rats and to the quantification of Homoeriodictyol enantiomers in Yerba Santa (Eriodictyon glutinosum).