Hesperetin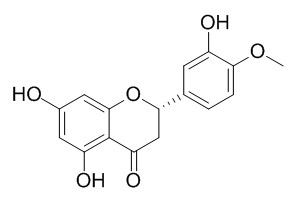 Hesperetin has antioxidative and anti-inflammatory effects, it inhibits vascular formation by endothelial cells via the inhibition of the PI3K/AKT, ERK and p38 MAPK signaling. Hesperetin-mediated apoptosis of MCF-7 cells involves accumulation of ROS and activation of ASK1/JNK pathway, it induces apoptosis in triple negative breast cancer MDA-MB-231 cells via intrinsic pathway via activation of caspase -9 and -3 and increase in Bax:Bcl-2 ratio.
Inquire / Order: manager@chemfaces.com
Technical Inquiries: service@chemfaces.com
Tel: +86-27-84237783
Fax: +86-27-84254680

Address:
1 Building, No. 83, CheCheng Rd., Wuhan Economic and Technological Development Zone, Wuhan, Hubei 430056, PRC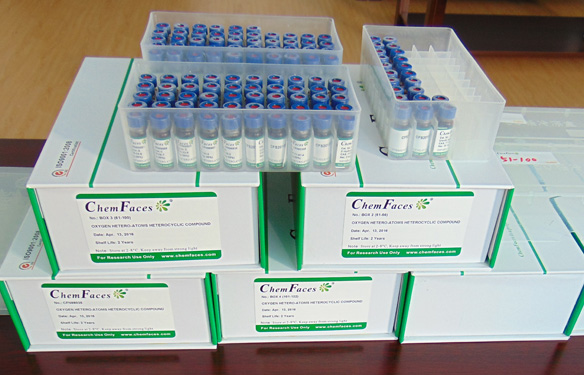 Providing storage is as stated on the product vial and the vial is kept tightly sealed, the product can be stored for up to
24 months(2-8C)
.
Wherever possible, you should prepare and use solutions on the same day. However, if you need to make up stock solutions in advance, we recommend that you store the solution as aliquots in tightly sealed vials at -20C. Generally, these will be useable for up to two weeks. Before use, and prior to opening the vial we recommend that you allow your product to equilibrate to room temperature for at least 1 hour.
Need more advice on solubility, usage and handling? Please email to: service@chemfaces.com
The packaging of the product may have turned upside down during transportation, resulting in the natural compounds adhering to the neck or cap of the vial. take the vial out of its packaging and gently shake to let the compounds fall to the bottom of the vial. for liquid products, centrifuge at 200-500 RPM to gather the liquid at the bottom of the vial. try to avoid loss or contamination during handling.
Academic J of Second Military Medical University2019, 40(1)
Toxicological Research2020, doi: 10.1007.
Inflammation2015, 38(1):445-55
Drug Des Devel Ther.2020, 14:61-71
Front Pharmacol.2019, 10:1226
Research J. Pharm. and Tech.2020, 13(7):3059-3064.
Int J Mol Sci.2020, 21(9):3144.
Evid Based Complement Alternat Med.2017, 2017:1583185
Nutrients.2019, 12(1)
J Sep Sci.2019, 42(21):3352-3362
Tumour Biol. 2015 Jun 17.
The pleiotropic effects of fisetin and hesperetin on human acute promyelocytic leukemia cells are mediated through apoptosis, cell cycle arrest, and alterations in signaling networks.[Pubmed:
26081618
]
Fisetin and Hesperetin, flavonoids from various plants, have several pharmaceutical activities including antioxidative, anti-inflammatory, and anticancer effects. However, studies elucidating the role and the mechanism(s) of action of fisetin and Hesperetin in acute promyelocytic leukemia are absent. In this study, we investigated the mechanism of the antiproliferative and apoptotic actions exerted by fisetin and Hesperetin on human HL60 acute promyelocytic leukemia cells.
METHODS AND RESULTS:
The viability of HL60 cells was evaluated using the MTT assay, apoptosis by annexin V/propidium iodide (PI) staining and cell cycle distribution using flow cytometry, and changes in caspase-3 enzyme activity and mitochondrial transmembrane potential. Moreover, we performed whole-genome microarray gene expression analysis to reveal genes affected by fisetin and Hesperetin that can be important for developing of future targeted therapy. Based on data obtained from microarray analysis, we also described biological networks modulated after fisetin and Hesperetin treatment by KEGG and IPA analysis. Fisetin and Hesperetin treatment showed a concentration- and time-dependent inhibition of proliferation and induced G2/M arrest for both agents and G0/G1 arrest for Hesperetin at only the highest concentrations. There was a disruption of mitochondrial membrane potential together with increased caspase-3 activity. Furthermore, fisetin- and Hesperetin-triggered apoptosis was confirmed by annexin V/PI analysis. The microarray gene profiling analysis revealed some important biological pathways including mitogen-activated protein kinases (MAPK) and inhibitor of DNA binding (ID) signaling pathways altered by fisetin and Hesperetin treatment as well as gave a list of genes modulated ≥2-fold involved in cell proliferation, cell division, and apoptosis.
CONCLUSIONS:
Altogether, data suggested that fisetin and Hesperetin have anticancer properties and deserve further investigation.
J Cell Physiol. 2015 Aug;230(8):1729-39.
Hesperetin Induces Apoptosis in Breast Carcinoma by Triggering Accumulation of ROS and Activation of ASK1/JNK Pathway.[Pubmed:
25204891
]
Hesperetin, a flavanone glycoside predominantly found in citrus fruits, exhibits a wide array of biological properties. In the present study Hesperetin exhibited a significant cytotoxic effect in human breast carcinoma MCF-7 cells in a concentration- and time-dependent manner without affecting normal (HMEC) as well as immortalized normal mammary epithelial cells (MCF-10A).
METHODS AND RESULTS:
The cytotoxic effect of Hesperetin was due to the induction of apoptosis as evident from the phosphatidyl-serine externalization, DNA fragmentation, caspase-7 activation, and PARP cleavage. Apoptosis was associated with caspase-9 activation, mitochondrial membrane potential loss, release of cytochrome c, and increase in Bax:Bcl-2 ratio. Pre-treatment with caspase-9 specific inhibitor (Z-LEHD-fmk) markedly attenuated apoptosis suggesting an involvement of intrinsic mitochondrial apoptotic cascade. Further, DCFDA flow-cytometric analysis revealed triggering of ROS in a time-dependent manner. Pre-treatment with ROS scavenger N-acetylcysteine (NAC) and glutathione markedly abrogated Hesperetin-mediated apoptosis whereas carbonyl cyanide m-chlorophenylhydrazone (CCCP) pretreatment along with DHR123-based flow-cytometry indicated the generation of cytosolic ROS. Profiling of MAPKs revealed activation of JNK upon Hesperetin treatment which was abrogated upon NAC pre-treatment. Additionally, inhibition of JNK by SP600125 significantly reversed Hesperetin-mediated apoptosis. The activation of JNK was associated with the activation of ASK1.
CONCLUSIONS:
Silencing of ASK1 resulted in significant attenuation of JNK activation as well as reversed the Hesperetin-mediated apoptosis suggesting that Hesperetin-mediated apoptosis of MCF-7 cells involves accumulation of ROS and activation of ASK1/JNK pathway. In addition, Hesperetin also induced apoptosis in triple negative breast cancer MDA-MB-231 cells via intrinsic pathway via activation of caspase -9 and -3 and increase in Bax:Bcl-2 ratio.
J Biochem Mol Toxicol. 2015 Mar;29(3):99-108.
Hesperetin inhibit adipocyte differentiation and enhance Bax- and p21-mediated adipolysis in human mesenchymal stem cell adipogenesis.[Pubmed:
25345581
]
We aimed to explore the antiadipogenic and adipolysis effect of Hesperetin in human mesenchymal stem cells (hMSCs)-induced adipogenesis.
METHODS AND RESULTS:
IC50 value of Hesperetin was higher for hMSCs such as 149.2 ± 13.2 μmol for 24 h and 89.4 ± 11.4 μmol in 48 h, whereas in preadipocytes was 87.6 ± 9.5 μmol and 72.4 ± 5.6 μmol in 24 h and 48 h, respectively. Hesperetin treatment (5, 10, and 20 μmol) to adipogenesis-induced hMSCs (Group 1) and preadipocytes (Group 2) resulted in a significantly (p < 0.05) increased lipolysis. The treatment with Hesperetin decreased the expression of resistin, adiponectin, aP2, LPL, PPAR-γ, and TNF-α in Groups 1 and 2, whereas a significant increase was observed in Bcl, Bax, and p21 expression in Group 2 compared to untreated preadipocytes. hMSCs cultured in adipogenic medium along with Hesperetin significantly inhibited adipocyte differentiation and increased the proapoptotic gene expression levels in preadipocyte.
CONCLUSIONS:
Our result indicates the antiadipogenic and adipolysis effects of Hesperetin.
Med Oncol. 2015 Apr;32(4):101.
Hesperetin induces the apoptosis of hepatocellular carcinoma cells via mitochondrial pathway mediated by the increased intracellular reactive oxygen species, ATP and calcium.[Pubmed:
25737432
]
Hesperetin, a flavonoid from citrus fruits, has been proved to possess biological activity on various types of human cancers. However, few related studies on hepatocellular carcinoma are available. In this study, we aimed to investigate the effect of Hesperetin on hepatocellular carcinoma cells in vitro and in vivo and clarify its potentially specific mechanism.
METHODS AND RESULTS:
Compared with the control group, the proliferations of hepatocellular carcinoma cells in Hesperetin groups were significantly inhibited (P < 0.05), and a dose- and time-dependent inhibition of cell viability was observed. When pretreated with H2O2 (1 mM) or N-acetyl-L-cysteine (5 mM), the inhibition of cell viability by Hesperetin was enhanced or reduced, respectively (P < 0.05). Similarly, the levels of intracellular ROS, ATP and Ca(2+) changed in different groups (P < 0.05). The results of Hoechst 33258 staining showed that the percentages of apoptotic cells in Hesperetin groups are remarkably higher than that in control group (P < 0.05). And the results of Western blot showed that Hesperetin caused an increase in the levels of cytosolic AIF, cytosolic Apaf-1, cytosolic Cyt C, caspase-3, caspase-9 and Bax and a decrease in that of Bcl-2, mitochondrial AIF, mitochondrial Apaf-1 and mitochondrial Cyt C (P < 0.05). Meanwhile, Hesperetin significantly inhibited the growth of xenograft tumors.
CONCLUSIONS:
Our study suggests that Hesperetin could inhibit the proliferation and induce the apoptosis of hepatocellular carcinoma via triggering the activation of the mitochondrial pathway by increasing the levels of intracellular ROS, ATP and Ca(2+).
Prev Nutr Food Sci. 2014 Dec;19(4):299-306.
Hesperetin Inhibits Vascular Formation by Suppressing of the PI3K/AKT, ERK, and p38 MAPK Signaling Pathways.[Pubmed:
25580394
]
Hesperetin has been shown to possess a potential anti-angiogenic effect, including vascular formation by endothelial cells. However, the mechanisms underlying the potential anti-angiogenic activity of Hesperetin are not fully understood. In the present study, we evaluated whether Hesperetin has anti-angiogenic effects in human umbilical vascular endothelial cells (HUVECs).
METHODS AND RESULTS:
HUVECs were treated with 50 ng/mL vascular endothelial growth factor (VEGF) to induce proliferation as well as vascular formation, followed by treatment with several doses of Hesperetin (25, 50, and 100 μM) for 24 h. Cell proliferation and vascular formation were analyzed using the 3-(4,5-dimethylthiazol-2-yl)-2,5-diphenyltetrazolium bromide and tube formation assay, respectively. In addition, cell signaling related to cell proliferation and vascular formation was analyzed by western blot. Furthermore, a mouse aorta ring assay was performed to confirm the effect of Hesperetin on vascular formation. Hesperetin treatment did not cause differences in HUVECs proliferation. However, Hesperetin significantly inhibited VEGF-induced cell migration and tube formation of HUVECs (P<0.05). Moreover, Hesperetin suppressed the expression of ERK, p38 MAPK, and PI3K/AKT in the VEGF-induced HUVECs. In an ex vivo model, Hesperetin also suppressed microvessel sprouting of mouse aortic rings.
CONCLUSIONS:
Taken together, the findings suggest that Hesperetin inhibited vascular formation by endothelial cells via the inhibition of the PI3K/AKT, ERK and p38 MAPK signaling.