Ganoderic acid H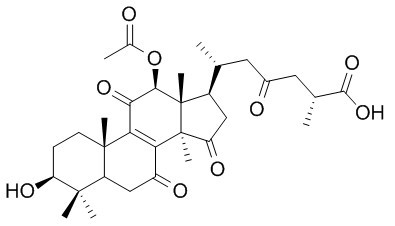 Ganoderic acid H is a potent antitumour agent, it mediates its biological effects through the inhibition of transcription factors AP-1 and NF-kappaB, resulting in the down-regulation of expression of Cdk4.
Inquire / Order: manager@chemfaces.com
Technical Inquiries: service@chemfaces.com
Tel: +86-27-84237783
Fax: +86-27-84254680

Address:
1 Building, No. 83, CheCheng Rd., Wuhan Economic and Technological Development Zone, Wuhan, Hubei 430056, PRC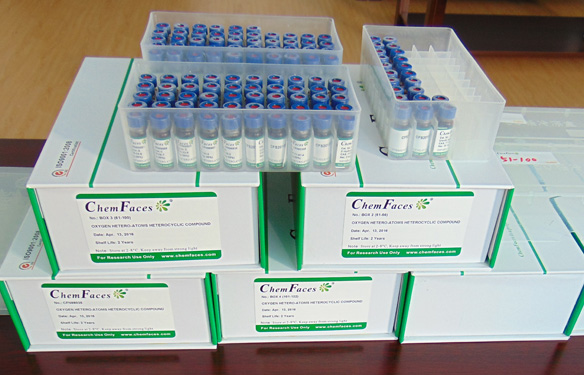 Providing storage is as stated on the product vial and the vial is kept tightly sealed, the product can be stored for up to
24 months(2-8C)
.
Wherever possible, you should prepare and use solutions on the same day. However, if you need to make up stock solutions in advance, we recommend that you store the solution as aliquots in tightly sealed vials at -20C. Generally, these will be useable for up to two weeks. Before use, and prior to opening the vial we recommend that you allow your product to equilibrate to room temperature for at least 1 hour.
Need more advice on solubility, usage and handling? Please email to: service@chemfaces.com
The packaging of the product may have turned upside down during transportation, resulting in the natural compounds adhering to the neck or cap of the vial. take the vial out of its packaging and gently shake to let the compounds fall to the bottom of the vial. for liquid products, centrifuge at 200-500 RPM to gather the liquid at the bottom of the vial. try to avoid loss or contamination during handling.
Evid-Based Compl Alt2020, 7202519:13
Int Immunopharmacol.2019, 71:361-371
Analytical Methods2018, 10(27)
Int J Mol Sci. 2014, 15(5):8443-57
Pharmacognosy Magazine2018, 14(56):418-424
Biomed Chromatogr.2016, 30(10):1573-81
The Japan Society for Analytical Chemistry2017, 613-617
Industrial Food Engineering2015, 19(4):408-413
Br J Pharmacol.2020, 10.1111
Plant Cell Tiss Org2017, 479-486
Int J Mol Med. 2008 May;21(5):577-84.
Ganoderic acids suppress growth and invasive behavior of breast cancer cells by modulating AP-1 and NF-kappaB signaling.[Pubmed:
18425349
]
Structurally related lanostane-type triterpenes, ganoderic acid A, F and H (GA-A, GA-F, Ganoderic acid H), were identified in an oriental medicinal mushroom Ganoderma lucidum.
METHODS AND RESULTS:
In the present study we evaluated the effect of GA-A, Ganoderic acid H and GA-F on highly invasive human breast cancer cells. We showed that GA-A and Ganoderic acid H suppressed growth (cell proliferation and colony formation) and invasive behavior (adhesion, migration and invasion) of MDA-MB-231 cells. Our results suggest that GA-A and Ganoderic acid H mediate their biological effects through the inhibition of transcription factors AP-1 and NF-kappaB, resulting in the down-regulation of expression of Cdk4 and the suppression of secretion of uPA, respectively. Furthermore, the activity of ganoderic acids is linked to the hydroxylation in the position 7 and 15 (GA-A) and 3 (Ganoderic acid H) in their triterpene lanostane structure.
CONCLUSIONS:
In conclusion, hydroxylated triterpenes from G. lucidum could be promising natural agents for the therapy of invasive breast cancers.
Nat Prod Res. 2014;28(24):2264-72.
Extraction optimisation and isolation of triterpenoids from Ganoderma lucidum and their effect on human carcinoma cell growth.[Pubmed:
25032738
]
The response surface methodology was used to optimise the extraction conditions of Ganoderma lucidum based on a Box-Behnken design.
METHODS AND RESULTS:
A quadratic model sufficiently simulated the response of Ganoderic acid H with a determination coefficient (R(2)) of 0.98. The optimal condition for extracting triterpenoids was determined to be 100.00% ethanol at 60.22°C for 6.00 h, under which the yield of the reference triterpenoid Ganoderic acid H increased from 0.88 to 2.09 mg/g powder. Following extraction, triterpenoid-enriched fraction was further isolated into 23 fractions, and 7 fractions were identified as ganoderic acids A, B, D, G, H and I and ganoderenic acid D. Of the seven triterpenoids, ganoderenic acid D was most cytotoxic with IC50 values of 0.14 ± 0.01, 0.18 ± 0.02 and 0.26 ± 0.03 mg/mL in Hep G2, Hela and Caco-2 cells, respectively. While ganoderic acids A, G and H were relatively non-cytotoxic.
CONCLUSIONS:
The variation of inhibitory effects for these triterpenoids was likely related to their chemical structures.