Galanolactone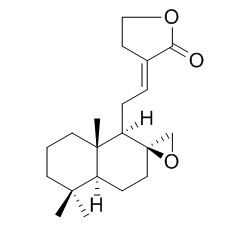 Galanolactone has anti-5-HT effect, a diterpenoid isolated from ginger, is related to antagonism of 5-HT3 receptors, it has inhibit nitric oxide production with IC(50) values ranging from 5.5 to 28.5 μM. Galanolactone exerts anti-obesity effect through down regulation of adipogenic transcription factors and adipogenic marker genes.Galanolactone also shows cytotoxic activity .
Inquire / Order: manager@chemfaces.com
Technical Inquiries: service@chemfaces.com
Tel: +86-27-84237783
Fax: +86-27-84254680

Address:
1 Building, No. 83, CheCheng Rd., Wuhan Economic and Technological Development Zone, Wuhan, Hubei 430056, PRC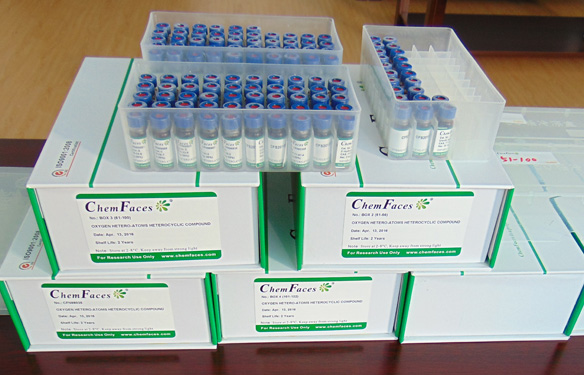 Providing storage is as stated on the product vial and the vial is kept tightly sealed, the product can be stored for up to
24 months(2-8C)
.
Wherever possible, you should prepare and use solutions on the same day. However, if you need to make up stock solutions in advance, we recommend that you store the solution as aliquots in tightly sealed vials at -20C. Generally, these will be useable for up to two weeks. Before use, and prior to opening the vial we recommend that you allow your product to equilibrate to room temperature for at least 1 hour.
Need more advice on solubility, usage and handling? Please email to: service@chemfaces.com
The packaging of the product may have turned upside down during transportation, resulting in the natural compounds adhering to the neck or cap of the vial. take the vial out of its packaging and gently shake to let the compounds fall to the bottom of the vial. for liquid products, centrifuge at 200-500 RPM to gather the liquid at the bottom of the vial. try to avoid loss or contamination during handling.
Appl Microbiol Biotechnol.2018, 102(12):5105-5120
Chin. Med.J.Res. Prac.2017, 31(4)
J Med Food.2016, 19(12):1155-1165
J Nat Sc Biol Med2019, 10(2):149-156
Mol Microbiol.2019, 112(1):317-332
Front Plant Sci.2020, 10:1705
Front Pharmacol.2017, 8:205
Exp Ther Med.2019, 18(6):4388-4396
Onco Targets Ther.2017, 10:3467-3474
Microchemical Journal2018, 137:168-173
Planta Med. 2002 Jul;68(7):642-4.
Antiplasmodial activity of labdanes from Aframomum latifolium and Aframomum sceptrum.[Pubmed:
12143001
]

METHODS AND RESULTS:
Bioguided fractionation of extracts of Aframomum latifolium and A. sceptrum (Zingiberaceae) resulted in isolation of (+)-( S)-nerolidol and seven labdanes, coronarin B, galanal A and B, Galanolactone, ( E)-8beta,17-epoxylabd-12-ene-15,16-dial, (+)-( E)-labda-8(17), 12-diene-15,16-dial and its diethyl acetal, the latter being presumably an isolation artefact.
CONCLUSIONS:
The labdanes show a modest in vitro activity against a chloroquine-sensitive Plasmodium falciparum strain.
Chem Pharm Bull (Tokyo). 1991 Feb;39(2):397-9.
Anti-5-hydroxytryptamine3 effect of galanolactone, diterpenoid isolated from ginger.[Pubmed:
2054863
]
It has been reported that an acetone extract of ginger and its fractions have anti-5-HT (5-hydroxytryptamine; serotonin) effects.
METHODS AND RESULTS:
In the present study, guinea pig ileum, rat stomach fundus and rabbit aortic strips are used in order to determine the constituents of fraction 2 which are responsible for anti-5-HT effect and to examine their pharmacological properties. The analysis of fraction 2-3 indicated that Galanolactone, a diterpenoid, is one of the active constituents. In guinea pig ileum, Galanolactone inhibited contractile responses to 5-HT with a pIC50 value 4.93. pIC50 value of Galanolactone against the response to 2-methyl-5-HT, a selective 5-HT3 agonist, in the presence of methysergide at 1 x 10(-5) M was 5.10. pIC50 values of ICS 205-930, a selective 5-HT3 antagonist, were 5.30 and 7.49, respectively. The concentration-response curve of 5-HT was shown as a biphasic curve and Galanolactone caused a selective shift to the right of the second phase. In the same preparations, the pIC50 value of Galanolactone and ICS 205-930 against the response to carbamylcholine (CCh) was 4.45 and 4.46. The inhibitory effect of Galanolactone on the 5-HT response in the stomach fundus and aortic strips was less than that in the ileum. In addition, in the thoracic aorta precontracted with 50 mM K+, the relaxing effect of Galanolactone was about 1/10 of that of papaverine.
CONCLUSIONS:
These results suggest that the anti-5-HT effect of Galanolactone, a diterpenoid isolated from ginger, is related to antagonism of 5-HT3 receptors.
Arch Pharm Res. 2012 Feb;35(2):315-20.
Phenylpropanoid ester from Zingiber officinale and their inhibitory effects on the production of nitric oxide.[Pubmed:
22370785
]

METHODS AND RESULTS:
A new phenylpropanoid ester mixture, (E)-geranylferulic acid (1a) and (Z)-geranylferulic acid (1b), along with 13 known compounds, [6]-gingerol (2), [8]-gingerol (3), [10]-gingerdione (4), 1-dehydro-[6]-gingerdione (5), 1-dehydro-[8]-gingerdione (6), [6]-paradol (7), [8]-paradol (8), [6]-gingeroldiacetate (9), 6-hydroxy-[6]-shogaol (10), Galanolactone (11), trans-®-sesquiphellandrol (12), trans-sesquipiperitol (13), and 4α,5β-dihydroxybisabola-2,10-diene (14) were isolated from ethanol extract of Zingiber officinale. Their structures were determined based on the spectroscopic (1D, 2D-NMR and MS) and chemical evidence. All of the isolates were evaluated for their potential to inhibit LPS-induced production of nitric oxide in murine macrophage RAW264.7 cells.
CONCLUSIONS:
Compounds 1-12 were found to inhibit nitric oxide production with IC(50) values ranging from 5.5 to 28.5 μM.