Desmethoxy yangonin
Desmethoxyyangonin is a reversible inhibitor of MAO-B, it may have important therapeutic value for treatment of neurodegenerative disorders and Parkinson's Disease. Desmethoxy yangonin protects LPS or LPS/D-GalN-induced damages in cell or liver tissues mainly through de-regulating IKK/NFκB and Jak2/STAT3 signaling pathways.
Inquire / Order: manager@chemfaces.com
Technical Inquiries: service@chemfaces.com
Tel: +86-27-84237783
Fax: +86-27-84254680

Address:
1 Building, No. 83, CheCheng Rd., Wuhan Economic and Technological Development Zone, Wuhan, Hubei 430056, PRC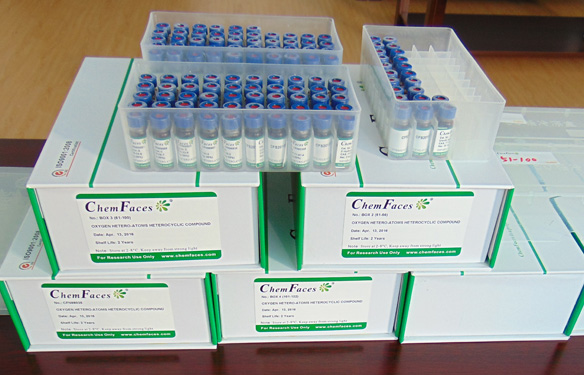 Providing storage is as stated on the product vial and the vial is kept tightly sealed, the product can be stored for up to
24 months(2-8C)
.
Wherever possible, you should prepare and use solutions on the same day. However, if you need to make up stock solutions in advance, we recommend that you store the solution as aliquots in tightly sealed vials at -20C. Generally, these will be useable for up to two weeks. Before use, and prior to opening the vial we recommend that you allow your product to equilibrate to room temperature for at least 1 hour.
Need more advice on solubility, usage and handling? Please email to: service@chemfaces.com
The packaging of the product may have turned upside down during transportation, resulting in the natural compounds adhering to the neck or cap of the vial. take the vial out of its packaging and gently shake to let the compounds fall to the bottom of the vial. for liquid products, centrifuge at 200-500 RPM to gather the liquid at the bottom of the vial. try to avoid loss or contamination during handling.
Int Immunopharmacol.2019, 71:361-371
Hum Exp Toxicol.2017, 36(11):1169-1176
Journal of Ginseng Research2019, 10.1016
Toxicol In Vitro.2019, 59:161-178
Oncotarget.2017, 8(64):108006-108019
Journal of Third Military Medical University2019, 41(2):110-115
Chem Pharm Bull (Tokyo).2017, 65(9):826-832
Molecules.2015, 20(11):20014-30
Antiviral Res.2013, 98(3):386-93
Nutrients.2018, 10(12)
PLoS One. 2013 Oct 15;8(10):e77626.
A plant kavalactone desmethoxy yangonin prevents inflammation and fulminant hepatitis in mice.[Pubmed:
24143247
]
An active compound of the plant rhizomes, Desmethoxy yangonin (DMY), was identified in this study for its novel effect against endotoxin lipopolysaccharide (LPS)-stimulated inflammation in murine macrophages and LPS/D-galactosamine (LPS/D-GalN)-induced fulminant hepatitis in mice.
METHODS AND RESULTS:
Desmethoxy yangonin was observed to significantly inhibit proliferation and activation of T cells ex vivo and the activity of several pro-inflammatory mediators in vitro. Desmethoxy yangonin also protected LPS/D-GalN-induced acute hepatic damages in mice through inhibiting aminotransferases activities and infiltrations of inflammatory macrophages, neutrophils and pathogenic T cells into the liver tissues. In addition, pretreatment with Desmethoxy yangonin significantly improved the survival rate of LPS/D-GalN-treated mice to 90% (9/10), compared to LPS/D-GalN-treated group (40%, 4/10). UPLC/MS platform-based comparative metabolomics approach was used to explore the serum metabolic profile in fulminant hepatic failure (FHF) mice with or without the Desmethoxy yangonin pretreatment. The results showed that LPS/D-GalN-induced hepatic damage is likely through perturbing amino acid metabolism, which leads to decreased pyruvate formation via catalysis of aminotransferases, and Desmethoxy yangonin treatment can prevent to a certain degree of these alterations in metabolic network in mouse caused by LPS/D-GalN.
CONCLUSIONS:
Mechanistic investigation demonstrated that Desmethoxy yangonin protects LPS or LPS/D-GalN-induced damages in cell or liver tissues mainly through de-regulating IKK/NFκB and Jak2/STAT3 signaling pathways.
Planta Med., 2015, 81 - PB19
Isolation and characterization of desmethoxyyangonin from Renealmia alpinia as a selective reversible inhibitor of human Monoamine Oxidase B.[Reference:
WebLink
]
Renealmia alpinia (Zingiberaceae), a medicinal plant of tropical rainforests, is used to treat snakebites, as a febrifuge, analgesic, antiemetic, antiulcer, and anticonvulsant. The dichloromethane extract of R. alpinia leaves showed potent inhibition of recombinant human MAO-A and -B.
METHODS AND RESULTS:
Phytochemical studies yielded six known compounds including, pinostrobin, pinostrobin chalcone, sakuretin, sakuretin-4'-methyl, yashabushidiol, and Desmethoxy yangonin. Desmethoxy yangonin displayed strong inhibition of MAO-A and -B (Ki values 0.922 and 0.031μM, respectively), with about 30 fold more selectivity against MAO-B. The kinetic analysis of the inhibition and equilibrium dialysis dissociation assay of the enzyme-inhibitor complex showed reversible binding of
CONCLUSIONS:
Desmethoxy yangonin with MAO-A and -B. Selective reversible inhibitors of MAO-B have important therapeutic value for treatment of neurodegenerative disorders and Parkinson's Disease.
Drug Metab Dispos. 2004 Nov;32(11):1317-24.
Desmethoxyyangonin and dihydromethysticin are two major pharmacological kavalactones with marked activity on the induction of CYP3A23.[Pubmed:
15282211
]
This study was undertaken to test the ability of purified kavalactones to induce CYP3A23 and activate PXR.
METHODS AND RESULTS:
Rat hepatocytes were treated with Desmethoxy yangonin, dihydrokawain, dihydromethysticin, kawain, methysticin, or yangonin, and the expression of CYP3A23 was monitored. Among the kavalactones, only Desmethoxy yangonin and dihydromethysticin markedly induced the expression of CYP3A23 (approximately 7-fold). A similar magnitude of induction was detected with combined six kavalactones at a noninductive concentration when individually used. The induced expression, however, was markedly reduced or completely abolished if dihydromethysticin, Desmethoxy yangonin, or both were excluded from the mixtures. Interestingly, regardless of whether dihydromethysticin or Desmethoxy yangonin was used alone or together with other kavalactones, similar amounts of total kavalactones were needed to produce comparable induction, suggesting that the inductive activity of dihydromethysticin and Desmethoxy yangonin is additively/synergistically enhanced by other kavalactones. In addition, treatment with dihydromethysticin, Desmethoxy yangonin, or pregnenolone 16alpha-carbonitrile (PCN) markedly increased the levels of CYP3A23 mRNA, and inhibition of mRNA synthesis abolished the induction. In contrast to PCN, dihydromethysticin and Desmethoxy yangonin only slightly activated rat or human PXR.
CONCLUSIONS:
These findings suggest that the induction of CYP3A23 by dihydromethysticin and Desmethoxy yangonin involves transcription activation, probably through a PXR-independent or PXR-involved indirect mechanism.