Carlinoside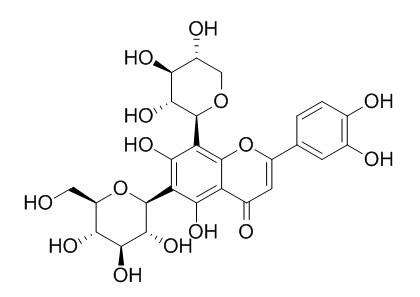 Carlinoside could be a worthy choice to intervene hyperbilirubinemia due to liver dysfunction. Carlinoside upregulates Nrf2 gene expression, increases its nuclear translocation and stimulates UGT1A1 promoter activity.
Inquire / Order: manager@chemfaces.com
Technical Inquiries: service@chemfaces.com
Tel: +86-27-84237783
Fax: +86-27-84254680

Address:
1 Building, No. 83, CheCheng Rd., Wuhan Economic and Technological Development Zone, Wuhan, Hubei 430056, PRC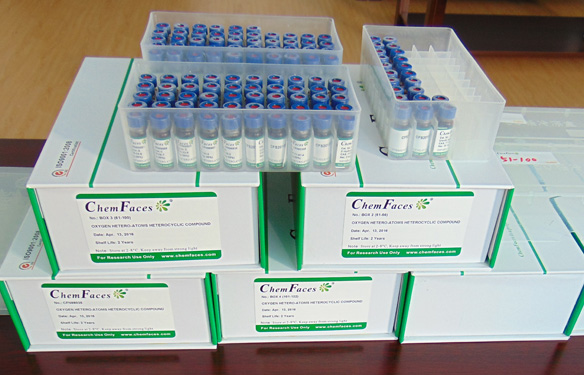 Providing storage is as stated on the product vial and the vial is kept tightly sealed, the product can be stored for up to
24 months(2-8C)
.
Wherever possible, you should prepare and use solutions on the same day. However, if you need to make up stock solutions in advance, we recommend that you store the solution as aliquots in tightly sealed vials at -20C. Generally, these will be useable for up to two weeks. Before use, and prior to opening the vial we recommend that you allow your product to equilibrate to room temperature for at least 1 hour.
Need more advice on solubility, usage and handling? Please email to: service@chemfaces.com
The packaging of the product may have turned upside down during transportation, resulting in the natural compounds adhering to the neck or cap of the vial. take the vial out of its packaging and gently shake to let the compounds fall to the bottom of the vial. for liquid products, centrifuge at 200-500 RPM to gather the liquid at the bottom of the vial. try to avoid loss or contamination during handling.
Mol Med Rep.2015, 12(5):7789-95
Sci. Rep.2015, 14-23
SBRAS2016, 12
J Sep Sci.2018, 41(7):1682-1690
Int J Oncol.2019, 55(1):320-330
J of Ana. Chem.2019, 74(11):1113-1121
Phytother Res.2019, 33(4):1104-1113
J Hematol Oncol.2018, 11(1):112
Process Biochemistry2019, 87:213-220
Sci Rep. 2017, 17332(7)
Biochem Pharmacol. 2011 Nov 1;82(9):1186-97.
Carlinoside reduces hepatic bilirubin accumulation by stimulating bilirubin-UGT activity through Nrf2 gene expression.[Pubmed:
21801714
]
Accumulation of bilirubin, primarily because of its insolubility, has been found to be associated with liver diseases including jaundice. Free bilirubin is insoluble; its glucuronidation by bilirubin-UGT enzyme (UGT1A1) makes it soluble and eliminates it through urine and faeces.
METHODS AND RESULTS:
Taking CCl(4) induced rat liver dysfunction model, we demonstrated that suppression of UGT1A1 activity in rat liver increased serum bilirubin level which could be reversed by Carlinoside (Cln), a flavone glycoside. Although Cln is a flavone compound, it escaped self-glucuronidation in the intestine and readily absorbed. Kinetic study of microsomal UGT1A1 from HepG2 cells suggested that Cln enhanced enzyme activity by increasing V(max) without altering K(m). This altered V(max) was found to be due to UGT1A1 overexpression by Cln which was observed in both HepG2 and rat primary hepatocytes. Since Nrf2 is the transcription factor of UGT1A1, we examined whether Cln effect on UGT1A1 overexpression is mediated through Nrf2. In Nrf2 knock-out cells, Cln could not elevate UGT1A1 activity indicating Nrf2 to be its target. Cln significantly increased Nrf2 gene expression in HepG2 cells which was subsequently localized in nuclear region. Results from ChIP assay showed that Cln markedly augmented Nrf2 binding to UGT1A1 promoter that consequently enhanced reporter activity.
CONCLUSIONS:
Our findings therefore show that Cln upregulated Nrf2 gene expression, increased its nuclear translocation and stimulated UGT1A1 promoter activity. Total outcome of these events brought about a significant increase of bilirubin glucuronidation. Cln therefore could be a worthy choice to intervene hyperbilirubinemia due to liver dysfunction.
J Ethnopharmacol. 2008 Jan 17;115(2):320-2.
Compounds from Vitex polygama active against kidney diseases.[Pubmed:
17981413
]
Vitex polygama Cham. (Lamiaceae, formerly Verbenaceae) is a familiar Brazilian species popularly known as Tarumã whose leaf tea has been used by population to treat kidney diseases.
METHODS AND RESULTS:
The aim of this research was to investigate the hydroalcoholic extract of leaves in order to isolate the active compounds. Hydroalcoholic extract of leaves was obtained by stirring the previous hexane and methanol extracted leaves residue with 50% aqueous MeOH solution by ultra-sonic mixing. The obtained extract was partitioned with n-butanol. The yielded fraction was subsequently submitted to several chromatographic procedures to lead to the isolation of O-glycosidicflavones orientin and isoorientin as well as C-glycosylflavones schaftoside and Carlinoside along with their isomers, known as potent anti-inflammatory, antinociceptive and antioxidant agents, then identified as the active constituents, justifying the folk use of the plant to combat and prevent kidney stone and inflammation.