Avicularin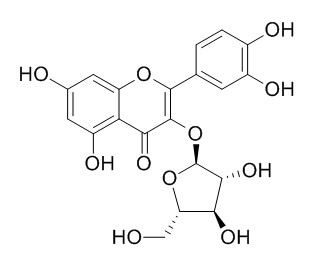 Avicularin exhibits anti-inflammatory activity through the suppression of ERK signaling pathway in LPS-stimulated RAW 264.7 macrophage cells; it inhibits the accumulation of the intracellular lipids by decreasing C/EBPα-activated GLUT4-mediated glucose uptake in adipocytes and potently inhibiting fatty acid synthase.
Inquire / Order: manager@chemfaces.com
Technical Inquiries: service@chemfaces.com
Tel: +86-27-84237783
Fax: +86-27-84254680

Address:
1 Building, No. 83, CheCheng Rd., Wuhan Economic and Technological Development Zone, Wuhan, Hubei 430056, PRC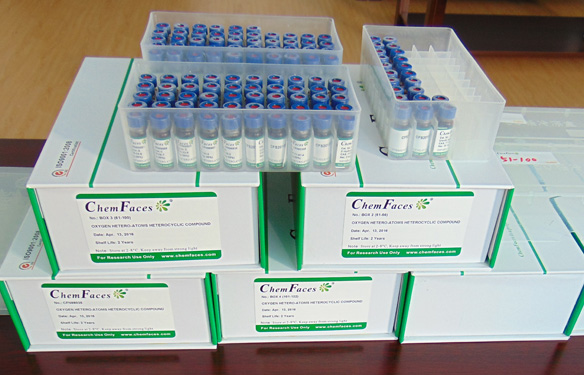 Providing storage is as stated on the product vial and the vial is kept tightly sealed, the product can be stored for up to
24 months(2-8C)
.
Wherever possible, you should prepare and use solutions on the same day. However, if you need to make up stock solutions in advance, we recommend that you store the solution as aliquots in tightly sealed vials at -20C. Generally, these will be useable for up to two weeks. Before use, and prior to opening the vial we recommend that you allow your product to equilibrate to room temperature for at least 1 hour.
Need more advice on solubility, usage and handling? Please email to: service@chemfaces.com
The packaging of the product may have turned upside down during transportation, resulting in the natural compounds adhering to the neck or cap of the vial. take the vial out of its packaging and gently shake to let the compounds fall to the bottom of the vial. for liquid products, centrifuge at 200-500 RPM to gather the liquid at the bottom of the vial. try to avoid loss or contamination during handling.
Int Immunopharmacol.2019, 71:361-371
Food and Fermentation Industries2019, 45(7):45-51
Sci Rep.2019, 9(1):6429
Cell Metab.2020, S1550-4131(20)30002-4
Food Res Int.2020, 128:108778
Exp Ther Med.2019, 18(6):4388-4396
Cell Biochem Funct.2018, 36(6):303-311
Primary and Industrial.2018, 52(11)
Nutrients.2019, 12(1):E40
Am J Chin Med.2016, 44(6):1255-1271
Biomol Ther (Seoul). 2012 Nov;20(6):532-7.
Avicularin Inhibits Lipopolysaccharide-Induced Inflammatory Response by Suppressing ERK Phosphorylation in RAW 264.7 Macrophages.[Pubmed:
24009846
]
suppresAvicularin, quercetin-3-α-L-arabinofuranoside, has been reported to possess diverse pharmacological properties such as anti-inflammatory and anti-infectious effects. However, the underlying mechanism by which Avicularin exerts its anti-inflammatory activity has not been clearly demonstrated. This study aimed to elucidate the anti-inflammatory mechanism of Avicularin in lipopolysaccharide (LPS)-stimulated RAW 264.7 macrophage cells.
METHODS AND RESULTS:
Avicularin significantly inhibited LPS-induced excessive production of pro-inflammatory mediators such as nitric oxide (NO) and PGE2 and the protein levels of iNOS and COX-2, which are responsible for the production of NO and PGE2, respectively. Avicularin also suppressed LPS-induced overproduction of pro-inflammatory cytokine IL-1β. Furthermore, Avicularin significantly suppressed LPS-induced degradation of IκB, which retains NF-κB in the cytoplasm, consequently inhibiting the transcription of pro-inflammatory genes by NF-κB in the nucleus. To understand the underlying signaling mechanism of anti-inflammatory activity of Avicularin, involvement of multiple kinases was examined. Avicularin significantly attenuated LPS-induced activation of ERK signaling pathway in a concentration-dependent manner.
CONCLUSIONS:
Taken together, the present study clearly demonstrates that Avicularin exhibits anti-inflammatory activity through the suppression of ERK signaling pathway in LPS-stimulated RAW 264.7 macrophage cells.
Planta Med. 2015 Mar;81(5):373-81.
Pharmacokinetic evaluation of avicularin using a model-based development approach.[Pubmed:
25782034
]
The aim of this study was to use the pharmacokinetic information of Avicularin in rats to project a dose for humans using allometric scaling.
METHODS AND RESULTS:
A highly sensitive and specific bioanalytical assay to determine Avicularin concentrations in the plasma was developed and validated for UPLC-MS/MS. The plasma protein binding of Avicularin in rat plasma determined by the ultrafiltration method was 64%. The pharmacokinetics of Avicularin in nine rats was studied following an intravenous bolus administration of 1 mg/kg and was found to be best described by a two-compartment model using a nonlinear mixed effects modeling approach. The pharmacokinetic parameters were allometrically scaled by body weight and centered to the median rat weight of 0.23 kg, with the power coefficient fixed at 0.75 for clearance and 1 for volume parameters. Avicularin was rapidly eliminated from the systemic circulation within 1 h post-dose, and the Avicularin pharmacokinetic was linear up to 5 mg/kg based on exposure comparison to literature data for a 5-mg/kg single dose in rats.
CONCLUSIONS:
Using allometric scaling and Monte Carlo simulation approaches, the rat doses of 1 and 5 mg/kg correspond to the human equivalent doses of 30 and 150 mg, respectively, to achieve comparable plasma Avicularin concentrations in humans.
J Agric Food Chem. 2013 May 29;61(21):5139-47.
Avicularin, a plant flavonoid, suppresses lipid accumulation through repression of C/EBPα-activated GLUT4-mediated glucose uptake in 3T3-L1 cells.[Pubmed:
23647459
]
Avicularin (quercetin-3-O-α-L-arabinofuranoside) is a plant flavonoid and a quercetin glycoside. In this study, we found that Avicularin suppressed the accumulation of intracellular lipids through repression of glucose transporter 4 (GLUT4)-mediated glucose uptake in mouse adipocytic 3T3-L1 cells.
METHODS AND RESULTS:
Avicularin was highly purified (purity of more than at least 99%) from Taxillus kaempferi (DC.) Danser (Loranthaceae) by high-performance liquid chromatography, and its structure was determined by nuclear magnetic resonance and mass spectrometry. Avicularin decreased the intracellular triglyceride level along with a reduction in the expression of adipogenic genes such as peroxisome proliferator-activated receptor γ, CCAAT/enhancer-binding protein (C/EBP) α, and aP2 (fatty acid-binding protein 4). In contrast, Avicularin did not affect the expression of lipogenic and lipolytic genes. Interestingly, the expression of the GLUT4 gene was significantly suppressed in an Avicularin-concentration-dependent manner. Moreover, the binding of C/EBPα to the promoter region of the GLUT4 gene was repressed by adding Avicularin to the medium in 3T3-L1 cells, as demonstrated by the results of a chromatin immunoprecipitation assay.
CONCLUSIONS:
These results indicate that Avicularin inhibited the accumulation of the intracellular lipids by decreasing C/EBPα-activated GLUT4-mediated glucose uptake in adipocytes.
J Enzyme Inhib Med Chem. 2006 Feb;21(1):87-93.
Potent inhibition of fatty acid synthase by parasitic loranthus [Taxillus chinensis (dc.) danser] and its constituent avicularin.[Pubmed:
16570511
]
The medicinal herb parasitic loranthus in a screen was found to inhibit fatty acid synthase (EC 2.3.1.85, FAS) and reduce body weight of rats in our previous study. Now we have determined the inhibitory characteristics and kinetic parameters of extracts of parasitic loranthus [Taxillus chinensis (DC.) Danser].
METHODS AND RESULTS:
The parasitic loranthus extracts (PLE) inhibits FAS reversibly and irreversibly and with an IC50 value of 0.48 microg/ml, appears to be the most potent inhibitor reported to date. PLE contains various potent inhibitors and may react with different sites on FAS. The irreversible inhibition exhibits a time-dependent biphasic process including a speedy fast-phase during the initial several minutes. The fast-phase inhibition seems to be caused by some potent but low-concentration component(s) in the extracts. In addition, we have found that Avicularin existing in this herb can potently inhibit FAS.
CONCLUSIONS:
This glycosylated flavonoid and quercetin play an effective role in inhibiting FAS by parasitic loranthus.