Ampelopsin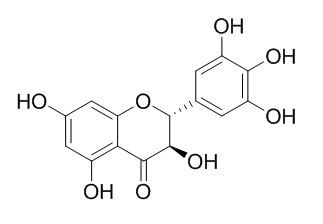 Ampelopsin,a major antifungal constituent from Salix sachalinensis, which has hepatoprotective, anti-inflammatory,antioxidant, antitumor, anti-invasive and anti-metastatic effects. It is an effective mTOR inhibitor, it inhibited the interconnected ROS/Akt/IKK/NF-κB signaling pathways, and it inhibited H₂O₂-induced apoptosis by ERK and Akt signaling pathways and up-regulation of heme oxygenase-1.
Inquire / Order: manager@chemfaces.com
Technical Inquiries: service@chemfaces.com
Tel: +86-27-84237783
Fax: +86-27-84254680

Address:
1 Building, No. 83, CheCheng Rd., Wuhan Economic and Technological Development Zone, Wuhan, Hubei 430056, PRC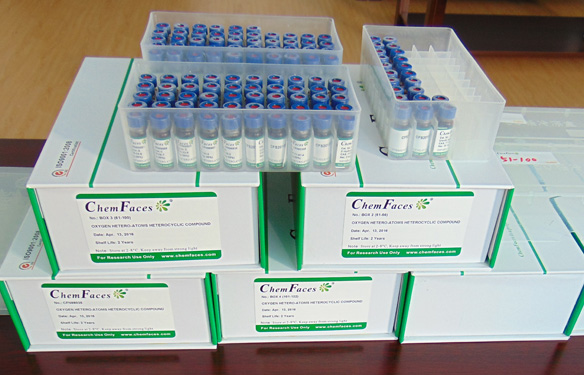 Providing storage is as stated on the product vial and the vial is kept tightly sealed, the product can be stored for up to
24 months(2-8C)
.
Wherever possible, you should prepare and use solutions on the same day. However, if you need to make up stock solutions in advance, we recommend that you store the solution as aliquots in tightly sealed vials at -20C. Generally, these will be useable for up to two weeks. Before use, and prior to opening the vial we recommend that you allow your product to equilibrate to room temperature for at least 1 hour.
Need more advice on solubility, usage and handling? Please email to: service@chemfaces.com
The packaging of the product may have turned upside down during transportation, resulting in the natural compounds adhering to the neck or cap of the vial. take the vial out of its packaging and gently shake to let the compounds fall to the bottom of the vial. for liquid products, centrifuge at 200-500 RPM to gather the liquid at the bottom of the vial. try to avoid loss or contamination during handling.
Process Biochemistry2019, 87:213-220
Pharmacol Rep.2020, 72(2):472-480.
J Ethnopharmacol.2018, 210:88-94
Arch Biochem Biophys.2018, 644:93-99
Int J Mol Sci.2019, 20(3):E651
J of the Korean Society of Cosmetics and Cosmetology2018, 399-406
J Nat Med.2017, 71(2):380-388
Molecules.2018, 23(10):E2638
Phytomedicine.2019, 59:152785
Food Chem.2017, 228:301-314
Int Immunopharmacol. 2012 Jan;12(1):278-87.
Ampelopsin reduces endotoxic inflammation via repressing ROS-mediated activation of PI3K/Akt/NF-κB signaling pathways.[Pubmed:
22193240
]
Ampelopsin (AMP), a plant flavonoid, has potent anti-inflammatory properties in vitro and in vivo. The molecular mechanisms of Ampelopsin on pharmacological and biochemical actions of RAW264.7 macrophages in inflammation have not been clearly elucidated yet.
METHODS AND RESULTS:
In the present study, non-cytotoxic level of Ampelopsin significantly inhibited the release of nitric oxide (NO) and pro-inflammatory cytokines such as interleukin (IL)-1β, IL-6 and tumor necrosis factor (TNF)-α in a dose-dependent manner. Consistent with NO inhibition, Ampelopsin suppressed lipopolysaccharide (LPS)-induced expression of inducible NO synthase (iNOS) by inhibiting nuclear factor κB (NF-κB) activation, which highly correlated with its inhibitory effect on IκB kinase (IKK) phosphorylation, IκB phosphorylation and NF-κB nuclear translocation. Further study demonstrated that Ampelopsin suppressed LPS-induced activation of Akt without effecting mitogen-activated protein kinases (MAPKs) phosphorylation. A pharmacological inhibitor of the phosphoinositide 3-kinase (PI3K)-Akt pathway, LY294002, abrogated IKK/IκB/NF-κB-mediated iNOS gene expression. Finally, we certificated that Ampelopsin reduced reactive oxygen species (ROS) accumulation and an anti-oxidant N-acetyl-L-cysteine (NAC) significantly repressed LPS-induced PI3K/Akt phosphorylation and the downstream IKK/IκB activation. NAC thereby inhibited LPS-induced iNOS expression and NO production.
CONCLUSIONS:
The present results suggest that the anti-inflammatory effect of Ampelopsin is due to inhibiting the interconnected ROS/Akt/IKK/NF-κB signaling pathways.
Journal of the Agricultural Chemical Society of Japan, 2001, 75(6):659-67.
Ampelopsin, a Major Antifungla Constitutent from Salix sachalinensis, and its Methyl Ethers.[Reference:
WebLink
]

METHODS AND RESULTS:
To measure the antifungal potency of plant secondary metabolites, we did an antifungal test using Cladosporium herbarum as a test fungus and minute extracts of some plants. This test showed that the methanol extract of Salix sachalinensis leaves had strong antifungal activity. An antifugal principle in the leaves has been identified as (2R,3R)-(+)-5,7,3 ' ,4 ' ,5 ' -pentahydroxy-dihydroflavonol (Ampelopsin). The antifungal potency of S. sachalinensis leaves was not due to an antifungal constituent with high specific activity, but due to the high content of Ampelopsin.
CONCLUSIONS:
To improve the antifungal activity, Ampelopsin was made into variously methylated derivatives, and these products were bioassayed. 7,3 ' ,4 ' -Tri-O-methylAmpelopsin, out of 8 derivatives, had the strongest antifungal activity, which was about 4 times that of Ampelopsin. The structure-activity relationship is briefly discussed.
Biofactors. 2004;21(1-4):175-8.
Hepatoprotective activity of tocha, the stems and leaves of Ampelopsis grossedentata, and ampelopsin.[Pubmed:
15630194
]

METHODS AND RESULTS:
Hepatoprotective effect of the leaves and stems of Ampelopsis grossedentata together with its main constituent, Ampelopsin, were examined on D-galactosamine induced liver injury in rats. The diet containing 50% ethanolic extract (1%) and Ampelopsin (0.1%) markedly suppressed the increase of LDH, ALT, AST, alpha-tocopherol levels and GSG/GSSH caused by GalN treatment.
CONCLUSIONS:
These results suggested that Ampelopsin from Tocha acted to prevent the oxidative stress in vivo that may have been due to active oxygen species formed by a macrophage by the action of GalN.
Carcinogenesis. 2014 Aug;35(8):1847-54.
Ampelopsin suppresses breast carcinogenesis by inhibiting the mTOR signalling pathway.[Pubmed:
24861637
]
The mammalian target of rapamycin (mTOR), which is a master regulator of cellular catabolism and anabolism, plays an important role in tumourigenesis and progression.
METHODS AND RESULTS:
In this study, we report the chemopreventive effect of the dietary compound Ampelopsin (AMP) on breast carcinogenesis in vivo and in vitro, which acts by inhibiting the mTOR signalling pathway. Our study indicates that AMP treatment effectively suppresses 1-methyl-1-nitrosourea (MNU)-induced breast carcinogenesis in rats and inhibits 4-(methylnitrosamino)-1-(3-pyridyl)-1-butanone (NNK) and benzo[a]pyrene (B[a]P)-induced cellular carcinogenesis. Additionally, AMP inhibits the growth of breast cancer cells in vitro and in vivo. The activity of mTOR kinase was found to be significantly increased in a time-dependent manner during chronic breast carcinogenesis, and this increase can be suppressed by AMP co-treatment. AMP also effectively suppresses mTOR activity in breast cancer MDA-MB-231 cells. We also demonstrated that AMP is an effective mTOR inhibitor that binds to one site on the mTOR target in two ways. Further studies confirmed that AMP inhibits the activation of Akt, suppresses the formation of mTOR complexes (mTORC)1/2 by dissociating regulatory-associated protein of mTOR and rapamycin-insensitive companion of mTOR and, consequently, decreases the activation of the downstream targets of mTOR, including ribosomal p70-S6 kinase, ribosomal protein S6, eukaryotic translation initiation factor 4B and eukaryotic translation initiation factor 4E-binding protein 1.
CONCLUSIONS:
These finding suggest that AMP is a bioactive natural chemopreventive agent against breast carcinogenesis and is an effective mTOR inhibitor that may be developed as a useful chemotherapeutic agent in the treatment of breast cancer.
Chinese Pharmacological Bulletin, 2009, 25(11):1502-6.
Ampelopsin induces apoptosis via altering expression of Bcl-2/Bax and activating caspase-3 in human hepatoma cell line Bel-7402.[Reference:
WebLink
]
To investigate the effects of Ampelopsin on induction of apoptosis in human hepatocellular carcinoma Bel-7402 cells.
METHODS AND RESULTS:
Bel-7402 cells were treated with Ampelopsin with different concentrations for 24,48 and 72 h. The cell proliferation was detected by MTT assay. The morphological change of cells was observed through microscope observation by fluorescence staining. DNA fragmentation was visualized by agarose gel electrophoresis. The apoptosis rate was analyzed by flow cytometry. The expressions of caspase-3, Bcl-2 and Bax protein were detected by Western blot. Ampelopsin inhibited the proliferation of Bel7402 cell line in a dose-and time-dependent manner. The IC50 values were 89.6 ± 16.1, 36.2 ± 6.5 and 15.3 ± 3.0 mg·L-1 at 24,48 and 72 h, respectively. The fluorescence microscope showed clearly cell apoptosis with apoptotic body. Agarose gel electrophoresis result showed that Bel-7402 treated with Ampelopsin produced a DNA ladder band. The sub-G1 peak was detected and resulted in dose-and time-dependent increasing of the population of sub-G1 DNA content by flow cytometry. The expression of Bcl-2 protein was down-regulated, while the expression of Bax protein was up-regulated. The pro-caspase-3 protein was down-expressed and activated.
CONCLUSIONS:
Ampelopsin could inhibit Bel-7402 proliferation through inducing cell apoptosis. The mechanism might be that Ampelopsin could directly or indirectly enhance the level of anti-apoptosis protein Bcl-2 and decrease the level of apoptosis protein Bax. The pathway of pro-caspase-3 activated was initiated and effector caspase-3 was sequentially activated.
Phytother Res. 2012 Jul;26(7):988-94.
Ampelopsin inhibits H₂O₂-induced apoptosis by ERK and Akt signaling pathways and up-regulation of heme oxygenase-1.[Pubmed:
22144097
]
Oxidative stress plays an important role in neurodegenerative disorders. Ampelopsin, a flavonoid abundant in Rattan tea (Ampelopsis grossedentata), is a potent antioxidant and its neuroprotective effect against H₂O₂-induced apoptosis in PC12 cells is investigated here for the first time.
METHODS AND RESULTS:
It was found that treatment of cells with Ampelopsin for 1 h significantly reduced the loss of vitality, LDH release and apoptosis and inhibited the formation of reactive oxygen species (ROS). Ampelopsin was able to prevent the activation of p38 induced by H₂O₂. In addition, up-regulation of heme oxygenase-1 (HO-1) expression by Ampelopsin was shown to be both dose- and time-dependent. Mechanically, HO-1 expression induced by Ampelopsin was found to be due to activation of the ERK and Akt signaling pathways, because it was almost completely blocked by the specific inhibitors of ERK and Akt.
CONCLUSIONS:
These results suggest that Ampelopsin increases cellular antioxidant defense through activation of the ERK and Akt signaling pathways, which induces HO-1 expression and thereby protects PC12 cells from H₂O₂-induced apoptosis.
Anticancer Drugs. 2012 Jul;23(6):590-6.
Ampelopsin sodium exhibits antitumor effects against bladder carcinoma in orthotopic xenograft models.[Pubmed:
22241170
]
The aim of this study was to establish xenograft models of tumor in mice bladder and evaluate the antitumor efficacy of Ampelopsin sodium (Amp-Na).
CONCLUSIONS:
A total of 2×10 human bladder carcinoma EJ cells and murine sarcoma 180 cells were instilled into the bladder of BALB/c nu/nu mice and Swiss mice after preconditioning to establish the tumor model. Mice bearing orthotopic tumors were treated with Amp-Na by intravenous, intraperitoneal, or intravesical instillation. In addition, the pharmacokinetics property of Amp-Na was investigated in normal BALB/c mice. Our results showed that Amp-Na was excreted mainly through the urine, where it existed at a high concentration. Amp-Na significantly inhibited the proliferation of EJ and sarcoma 180 cells both in vivo and in vitro and this can be at least partially attributed to the cell cycle arrest induced by Amp-Na.
CONCLUSIONS:
This study suggests that the use of Amp-Na is an attractive chemotherapeutic modality for bladder cancer patients.