Amentoflavone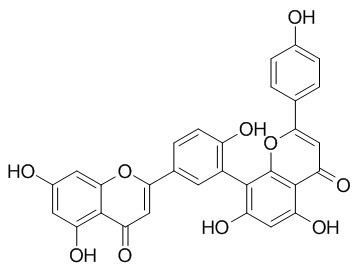 Amentoflavone is a novel natural inhibitor of human Cathepsin B(CatB), which has antifungal , antioxidant, antiviral, antidiabetic, and neuroprotective activities, it stimulates apoptosis in HSFBs and inhibits angiogenesis of endothelial cells, it is a promising molecule that can be used in hypertrophic scar treatment. Amentoflavone regulated β-catenin and caspase-3 expressions, and inhibited NF-κB signal transduction pathways.
Inquire / Order: manager@chemfaces.com
Technical Inquiries: service@chemfaces.com
Tel: +86-27-84237783
Fax: +86-27-84254680

Address:
1 Building, No. 83, CheCheng Rd., Wuhan Economic and Technological Development Zone, Wuhan, Hubei 430056, PRC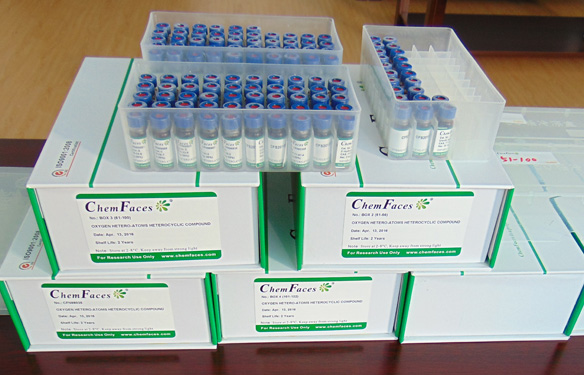 Providing storage is as stated on the product vial and the vial is kept tightly sealed, the product can be stored for up to
24 months(2-8C)
.
Wherever possible, you should prepare and use solutions on the same day. However, if you need to make up stock solutions in advance, we recommend that you store the solution as aliquots in tightly sealed vials at -20C. Generally, these will be useable for up to two weeks. Before use, and prior to opening the vial we recommend that you allow your product to equilibrate to room temperature for at least 1 hour.
Need more advice on solubility, usage and handling? Please email to: service@chemfaces.com
The packaging of the product may have turned upside down during transportation, resulting in the natural compounds adhering to the neck or cap of the vial. take the vial out of its packaging and gently shake to let the compounds fall to the bottom of the vial. for liquid products, centrifuge at 200-500 RPM to gather the liquid at the bottom of the vial. try to avoid loss or contamination during handling.
Molecules.2019, 24(6):E1155
Int J Mol Sci.2018, 19(9):E2528
Phytomedicine.2015, 22(4):498-503
Phytomedicine.2019, 61:152813
APMIS.2019, 127(10):688-695
J Cell Physiol.2020, 10.1002
Mediators Inflamm.2016, 2016:7216912
Pak J Pharm Sci.2018, 31:311-315
Nat Prod Commun.2018, 10.1177
J Nat Med.2017, 71(2):457-462
Phytother Res. 2013 May;27(5):713-20.
Fatty acid synthase inhibition by amentoflavone suppresses HER2/neu (erbB2) oncogene in SKBR3 human breast cancer cells.[Pubmed:
22767439
]
Fatty acid synthase (FASN) is a potential therapeutic target for treatment of cancer and obesity, and is highly elevated in 30% of HER2-overexpressing breast cancers. Considerable interest has developed in searching for novel FASN inhibitors as therapeutic agents in treatment of HER2-overexpressing breast cancers.
METHODS AND RESULTS:
Amentoflavone was found to be effective in suppressing FASN expression in HER2-positive SKBR3 cells. Pharmacological inhibition of FASN by Amentoflavone specifically down-regulated HER2 protein and mRNA, and caused an up-regulation of PEA3, a transcriptional repressor of HER2. In addition, pharmacological blockade of FASN by Amentoflavone preferentially decreased cell viability and induced cell death in SKBR3 cells. Palmitate reduced the cytotoxic effect of Amentoflavone, as the percentage of viable cells was increased after the addition of exogenous palmitate. Amentoflavone-induced FASN inhibition inhibited the translocation of SREBP-1 in SKBR3 cells. Amentoflavone inhibited phosphorylation of AKT, mTOR, and JNK. The use of pharmacological inhibitors revealed that the modulation of AKT, mTOR, and JNK phosphorylation required synergistic Amentoflavone-induced FASN inhibition and HER2 activation in SKBR3 cells.
CONCLUSIONS:
These results suggest that Amentoflavone modulated FASN expression by regulation of HER2-pathways, and induced cell death to enhance chemopreventive or chemotherapeutic activity in HER2-positive breast cancers.
Burns. 2014 Aug;40(5):922-9.
Amentoflavone inhibits angiogenesis of endothelial cells and stimulates apoptosis in hypertrophic scar fibroblasts.[Pubmed:
24280521
]
Amentoflavone (8-[5-(5,7-dihydroxy-4-oxo-chromen-2-yl)-2-hydroxy-phenyl]-5,7-dihydroxy-2-(4-hydroxyphenyl) chromen-4-one; AF) is a biflavonoid derived from the extracts of Selaginella tamariscina. It has been shown that AF has diverse biological effects such as antitumour, etc. It is well known that high cell proliferation, viability, angiogenesis and low apoptosis are key factors in hypertrophic scar formation.
METHODS AND RESULTS:
In this study, we report that AF inhibited viability and stimulated apoptosis in hypertrophic scar fibroblasts (HSFBs). Incubation of HSFBs with AF showed its inhibitory effect on cell viability and the exhibition of a series of cellular changes that were consistent with apoptosis. By Western-blot analysis, our data indicated significant increases in the amounts of cleaved caspases 3, 8, 9 and Bax, several apoptotic promoters and a significant decrease in translationally controlled tumour protein (TCTP), an apoptotic inhibitor, in HSFBs treated with AF. Furthermore, AF showed significant inhibitions on the viability, migration and tube formation of endothelial cells, which are associated with angiogenesis. In conclusion, this study suggests that AF stimulates apoptosis in HSFBs and inhibits angiogenesis of endothelial cells.
CONCLUSIONS:
Therefore, AF is a promising molecule that can be used in hypertrophic scar treatment.
Arch Pharm Res. 2006 Sep;29(9):746-51.
Antifungal effect of amentoflavone derived from Selaginella tamariscina.[Pubmed:
17024847
]
Amentoflavone is a plant bif avonoid that was isolated from an ethyl acetate extract of the whole plant of Selaginella tamariscina (Beauv.) spring. 1D and 2D NMR spectroscopy including DEPT, HMQC, and HMBC were used to determine its structure.
METHODS AND RESULTS:
Amentoflavone exhibited potent antifungal activity against several pathogenic fungal strains but had a very low hemolytic effect on human erythrocytes. In particular, Amentoflavone induced the accumulation of intracellular trehalose on C. albicans as a stress response to the drug, and disrupted the dimorphic transition that forms pseudo-hyphae during pathogenesis.
CONCLUSIONS:
In conclusion, Amentoflavone has great potential to be a lead compound for the development of antifungal agents.
Int Immunopharmacol. 2013 Nov;17(3):907-16.
Amentoflavone inhibits iNOS, COX-2 expression and modulates cytokine profile, NF-κB signal transduction pathways in rats with ulcerative colitis.[Pubmed:
24126114
]
Ulcerative colitis is a chronic inflammatory disorder characterized by oxidative stress, leucocyte infiltration and upregulation of pro-inflammatory cytokines.
METHODS AND RESULTS:
The aim of the present study was to examine the effect of Amentoflavone on a murine model of ulcerative colitis (UC). UC was induced by intracolonic injection of 3% acetic acid in male Wistar rats. Amentoflavone (10 mg/kg·b.wt) or reference drug sulfasalazine (100 mg/kg·b.wt) was administrated intra-peritoneally for 5 consecutive days before induction of colitis with acetic acid. Administration of Amentoflavone was found to reduce the extent of inflammatory colonic injury. This was manifested by a decrease in the score of mucosal injury, by lowered colonic wet weight as well as vascular permeability and diminished lactate dehydrogenase (LDH) and myeloperoxidase (MPO) activity reflecting reduced leukocyte infiltration. Furthermore, the mucosal content of lipid peroxidation (LPO), glutathione (GSH), superoxide dismutase (SOD), nitric oxide (NO) activity confirms that Amentoflavone could significantly inhibit colitis. The treatment also reduced significantly the colonic tumor necrosis factor-alpha (TNF-α), interleukin-1 beta (IL-1β) and IL-6 levels as well as the expression of inducible nitric oxide synthase (iNOS) and cyclooxygenase-2 (COX-2) compared to colitis control group. The histopathological studies also confirm the foregoing findings. Amentoflavone was also able to inhibit the activation and translocation of transcription factors, nuclear factor (NF)-κB subunits (p65/p50).
CONCLUSIONS:
These results suggest that Amentoflavone exhibits protective effect in acetic acid-induced ulcerative colitis which might be due to its modulation of oxidant/anti-oxidant balance, down-regulation of productions and expressions of pro-inflammatory cytokines, inflammatory mediators and inhibition of NF-κB signal transduction pathways.
Bioorg Med Chem. 2005 Oct 15;13(20):5819-25.
Amentoflavone and its derivatives as novel natural inhibitors of human Cathepsin B.[Pubmed:
16084098
]
Cathepsin B (CatB) is a member of the papain superfamily of cysteine proteases and has been implicated in the pathology of numerous diseases, including arthritis and cancer. Amentoflavone is found in a number of plants with medicinal properties, including Ginkgo biloba and Hypericum perforatum (St. John's Wort).
METHODS AND RESULTS:
Herein, we report the structure-activity relationship (SAR) and binding mechanism of three biflavones, Amentoflavone (AMF1), 4'''-methylAmentoflavone (AMF2) and 7'',4'''-dimethylAmentoflavone (AMF3), isolated from Taxodium mucronatum by us as novel natural inhibitors of human CatB with strong inhibitory activities at IC50 values of 1.75, 1.68 and 0.55muM, respectively. Density functional theory (DFT) method was applied to optimize the geometry structures of AMF1, AMF2 and AMF3 at the B3LYP/6-31G* level. FlexX was explored to dock the three biflavones to the binding sites of CatB, and to get a better understanding of vital interactions between these biflavones and CatB. A good correlation between the calculated quantum descriptors and the experimental inhibitory activities suggested that quantum model of these potential inhibitors is reliable. Through geometry and electron structure analysis of AMFs, it was observed that the CH3 substitute at 7'' and 4''' positions could not vary the difference in geometry structure significantly, but increase the electron density of A-ring, HOMO energy, hydrophobic property, and improve inhibitory activity. Structural and energetic analysis of AMFs and AMFs-CatB complexes showed that the electron-donor site is the A-ring, which shows the highest HOMO energy distribution, and the electron-acceptor site is the F-ring, which shows the highest LUMO energy distribution in AMFs, and the pi-pi interaction between A-ring and residue Trp221, two hydrogen bonds (O5 and Trp221; O4 and Gln23 ), hydrophobic interaction between the C-ring and residue Cys29 and CH3 substitutes at 7'' and 4''' might play a crucial role in the inhibition of AMFs on CatB.
CONCLUSIONS:
Results indicated that AMFs are new natural reversible inhibitors that would be useful in developing potent inhibitors of CatB.
Nan Fang Yi Ke Da Xue Xue Bao. 2014 Jun;34(7):1035-8.
[Amentoflavone induces apoptosis in SW480 human colorectal cancer cells via regulating β-catenin and caspase-3 expressions].[Pubmed:
25057079
]
To investigate the role of β-catenin and caspase-3 in Amentoflavone-induced apoptosis of human colorectal cancer SW480 cells.
METHODS AND RESULTS:
MTT assay was used to detect the viability of SW480 cells exposed to Amentoflavone, and flow cytometry was employed to assess the cell apoptosis. Western blotting was performed to determine the protein expressions of β-catenin and caspase-3 in the exposed cells. Amentoflavone dose-dependently inhibited the viability of SW480 cells, and a high concentration of Amentoflavone (150 μmol/L) obviously induced apoptosis of the cells. Amentoflavone exposure caused significantly increased expression of caspase-3 and suppressed β-catenin expression in the cells.
CONCLUSIONS:
Amentoflavone-induced apoptosis in SW480 human colorectal cancer cells is associated with altered expressions of β-catenin and caspase-3.
Biochemistry (Mosc). 2008 Feb;73(2):209-18.
Inhibition of tumor specific angiogenesis by amentoflavone.[Pubmed:
18298378
]
The formation of new capillaries from existing blood vessels is critical for tumor growth and metastasis. In this study we report that Amentoflavone, a biflavonoid from Biophytum sensitivum, could inhibit the process of angiogenesis.
METHODS AND RESULTS:
Amentoflavone at nontoxic concentrations (0.05-0.2 microg/ml) showed significant inhibition in the proliferation, migration, and tube formation of endothelial cells, which are key events in the process of angiogenesis. In vivo studies in C57BL/6 mice using Amentoflavone showed remarkable inhibition (52.9%) of tumor directed capillary formation. Amentoflavone showed inhibitory effect on the production of various endogenous factors such as IL-1beta, IL-6, TNF-alpha, GM-CSF, and VEGF that control the process of angiogenesis. Amentoflavone treatment could increase the production of IL-2 and TIMP-1, which could successfully shift the equilibrium towards an angiostatic condition. The antiangiogenic activity of Amentoflavone was supported by its remarkable suppression in sprouting of microvessels from rat aorta.
METHODS AND RESULTS:
Our results also show that Amentoflavone could inhibit the production of VEGF mRNA in B16-F10 cells. These findings indicate that Amentoflavone inhibits angiogenesis by disrupting the integrity of endothelial cells and by altering the endogenous factors that are required for the process of neovascularization.