Acanthoside B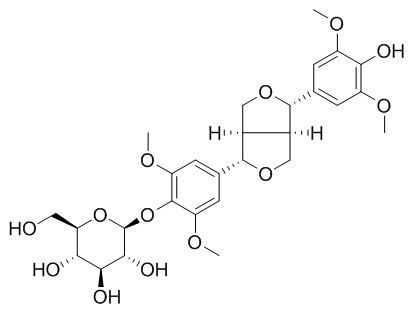 Acanthoside has inhibitory effects on the allergic inflammation.
Inquire / Order: manager@chemfaces.com
Technical Inquiries: service@chemfaces.com
Tel: +86-27-84237783
Fax: +86-27-84254680

Address:
1 Building, No. 83, CheCheng Rd., Wuhan Economic and Technological Development Zone, Wuhan, Hubei 430056, PRC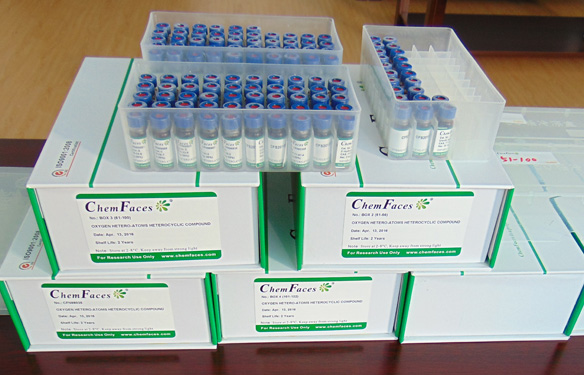 Providing storage is as stated on the product vial and the vial is kept tightly sealed, the product can be stored for up to
24 months(2-8C)
.
Wherever possible, you should prepare and use solutions on the same day. However, if you need to make up stock solutions in advance, we recommend that you store the solution as aliquots in tightly sealed vials at -20C. Generally, these will be useable for up to two weeks. Before use, and prior to opening the vial we recommend that you allow your product to equilibrate to room temperature for at least 1 hour.
Need more advice on solubility, usage and handling? Please email to: service@chemfaces.com
The packaging of the product may have turned upside down during transportation, resulting in the natural compounds adhering to the neck or cap of the vial. take the vial out of its packaging and gently shake to let the compounds fall to the bottom of the vial. for liquid products, centrifuge at 200-500 RPM to gather the liquid at the bottom of the vial. try to avoid loss or contamination during handling.
Vojnosanit Pregl2016, 75(00):391-391
Front Pharmacol.2018, 9:236
Sci Rep. 2017, 12953(7)
Front Plant Sci.2020, 10:1705
FASEB J.2019, 33(2):2026-2036
Exp Biol Med (Maywood).2019, 244(16):1463-1474
J of the Korean Society of Food Science and Nutrition2016, 45(7):1017-1025
Food Funct.2020, 10.1039
Phytother Res.2019, 33(4):1104-1113
Int J Mol Sci.2019, 21(1):E265
Mol.Cell.Toxicol., 2007, 3(4):60-60.
Inhibitory effects of chiisanoside and acanthoside on the allergic inflammation.[Reference:
WebLink
]
Inhibitory effects of chiisanoside and acanthoside on the allergic inflammation.
Nat Prod Commun. 2013 Mar;8(3):333-4.
Andrographidine G, a new flavone glucoside from Andrographis paniculata.[Pubmed:
23678804
]
A new flavone glucoside, andrographidine G (1), was isolated from Andrographis paniculata together with 13 known compounds, including flavonoids, diterpenoids, and iridoids.
METHODS AND RESULTS:
The structure of 1 was established by spectroscopic and spectrometric techniques, including HR-ESI-TOF-MS, 1D and 2D NMR, and chemical methods. The known compounds were identified as andrographidine A (2), (2R)-5-hydroxy-7,8-dimethoxyflavanone-5-O-beta-D-glucopyranoside (3), Acanthoside B (4), neoandrographiside (5), andropanoside (6), andrographiside (7), andrographolide (8), 14-deoxy-11,12-didehydroandrographiside (9), 14-deoxy-11,12-didehydroandrographolide (10), procumbide (11), procumboside (12), 6-epi-8-O-acetylharpagide (13), and curvifloruside F (14).
Arch Pharm Res. 2011 Dec;34(12):2065-71.
Multiple component quantitative analysis for the pattern recognition and quality evaluation of Kalopanacis Cortex using HPLC.[Pubmed:
22210032
]
A quantitative and pattern recognition analyses were conducted for quality evaluation of Kalopanacis Cortex (KC) using HPLC.
METHODS AND RESULTS:
For quantitative analysis, four bioactive compounds, liriodendrin, pinoresinol O-β-D-glucopyranoside, Acanthoside B and kalopanaxin B, were determined. The analysis method was optimized and validated using ODS column with mobile phase of methanol and aqueous phosphoric acid. The validation gave acceptable linearities (r > 0.9995), recoveries (98.4% to 101.9%) and precisions (RSD < 2.20). The limit of detection of compounds ranged from 0.4 to 0.9 μg/mL. Among the four compounds, liriodendrin was recommended as a marker compound for the quality control of KC. The pattern analysis was successfully carried out by analyzing thirty two samples from four species, and the authentic KC samples were completely discriminated from other inauthentic species by linear discriminant analysis.
CONCLUSIONS:
The results indicated that the method was suitable for the quantitative analysis of liriodendrin and the quality evaluation of KC.