7-Ethoxy-4-methylcoumarin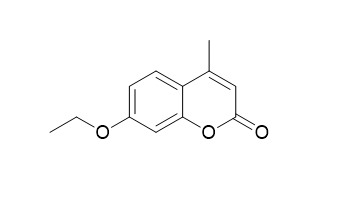 Reference standards.
Inquire / Order: manager@chemfaces.com
Technical Inquiries: service@chemfaces.com
Tel: +86-27-84237783
Fax: +86-27-84254680

Address:
1 Building, No. 83, CheCheng Rd., Wuhan Economic and Technological Development Zone, Wuhan, Hubei 430056, PRC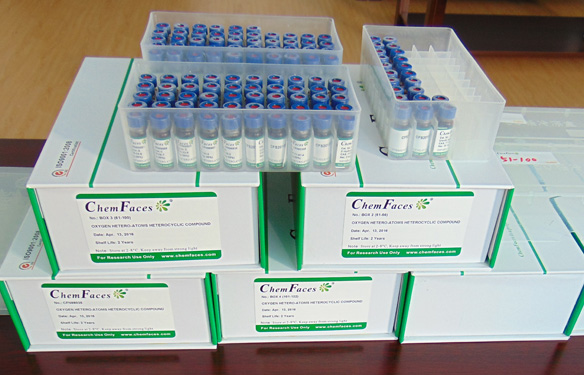 Providing storage is as stated on the product vial and the vial is kept tightly sealed, the product can be stored for up to
24 months(2-8C)
.
Wherever possible, you should prepare and use solutions on the same day. However, if you need to make up stock solutions in advance, we recommend that you store the solution as aliquots in tightly sealed vials at -20C. Generally, these will be useable for up to two weeks. Before use, and prior to opening the vial we recommend that you allow your product to equilibrate to room temperature for at least 1 hour.
Need more advice on solubility, usage and handling? Please email to: service@chemfaces.com
The packaging of the product may have turned upside down during transportation, resulting in the natural compounds adhering to the neck or cap of the vial. take the vial out of its packaging and gently shake to let the compounds fall to the bottom of the vial. for liquid products, centrifuge at 200-500 RPM to gather the liquid at the bottom of the vial. try to avoid loss or contamination during handling.
Molecules.2019, 24(16):E2985
Phytomedicine.2018, 40:37-47
Int J Mol Sci.2019, 20(16):E4015
Korean J of Medicinal Crop Science2018, 220-226
Cancer Manag Res.2019, 11:483-500
Korean J Dent Mater.2018, 45(2):139-146
Food Chem.2019, 290:286-294
BMC Complement Altern Med.2016, 16:213
J. of Agricultural Science2015, 1916-9760
Int J Pharmacol2020, 16:1-9
Journal of Instrumental Analysis, 2016.
Determination of Coumarin Allergen and Its Derivatives in Cosmetics by HPLC and Their Verification by HPLC-MS/MS.[Reference:
WebLink
]

METHODS AND RESULTS:
A high performance liquid chromatographic( HPLC) method was developed for the determination of coumarin allergen and its seven derivatives, including dihydrocoumarin,7-methoxycoumarin,7-methylcoumarin,7-Ethoxy-4-methylcoumarin, cyclocoumarol, dicoumarol and acenocoumarol in cosmetics. Cosmetic samples were ultrasonically extracted with 0. 1 mol / L aqueous sodium hydroxide- acetonitrile( 1∶9). The extract was centrifuged,and filtered by microporous membrane. The chromatographic separation for the analytes was achieved on a ZORBAX SB- C18( 250 mm × 4. 6 mm,5 μm) column. Gradient elution was performed using 0. 05 mol / L aqueous ammonium acetate solution( containing 0. 25% acetic acid) and acetonitrile. The quantification was carried out by the external standard method,and the suspected samples were further verified by high performance liquid chromatography- tandem mass spectrometry( HPLC- MS / MS). The experimental results indicated that good linearities were observed over a certain concentration range with correlation coefficients better than 0. 999 6,and the limits of quantitation( LOQs) were between 8 and 20 mg / kg. The average recoveries for the analytes at three spiked levels ranged from 84. 6% to 100. 7% with relative standard deviations( RSDs) of 0. 8%- 9. 7%.
CONCLUSIONS:
The proposed method is accurate,robust and specific,and could provide scientific basis and a technical support for the inspection and quality control of cosmetics.