6',7'-Dihydroxybergamottin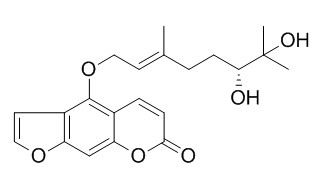 6',7'-Dihydroxybergamottin(DHB), a well-known inhibitor of CYP3A4, the inhibition of CYP3A4 activity by DHB includes the inhibition of POR activity, DHB can inhibit nifedipine oxidation in a concentration-dependent manner.
Inquire / Order: manager@chemfaces.com
Technical Inquiries: service@chemfaces.com
Tel: +86-27-84237783
Fax: +86-27-84254680

Address:
1 Building, No. 83, CheCheng Rd., Wuhan Economic and Technological Development Zone, Wuhan, Hubei 430056, PRC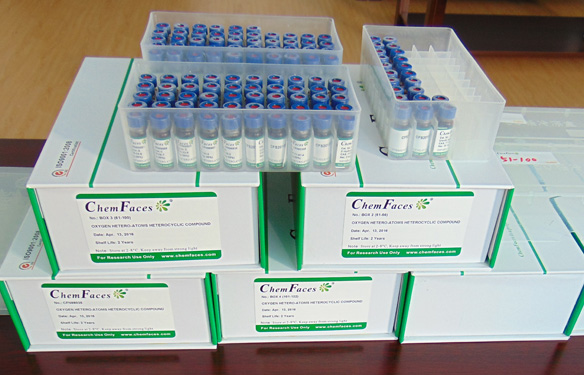 Providing storage is as stated on the product vial and the vial is kept tightly sealed, the product can be stored for up to
24 months(2-8C)
.
Wherever possible, you should prepare and use solutions on the same day. However, if you need to make up stock solutions in advance, we recommend that you store the solution as aliquots in tightly sealed vials at -20C. Generally, these will be useable for up to two weeks. Before use, and prior to opening the vial we recommend that you allow your product to equilibrate to room temperature for at least 1 hour.
Need more advice on solubility, usage and handling? Please email to: service@chemfaces.com
The packaging of the product may have turned upside down during transportation, resulting in the natural compounds adhering to the neck or cap of the vial. take the vial out of its packaging and gently shake to let the compounds fall to the bottom of the vial. for liquid products, centrifuge at 200-500 RPM to gather the liquid at the bottom of the vial. try to avoid loss or contamination during handling.
BMC Complement Altern Med.2014, 14:352
J Chromatogr B Analyt Technol Biomed Life Sci.2019, 1124:323-330
Molecules.2019, 24(4):E709
Biorxiv2019, 10.1101
Hum Exp Toxicol.2017, 36(11):1169-1176
Oncotarget.2017, 9(3):4161-4172
Metabolites.2019, 9(11):E271
Plos One.2019, 15(2):e0220084
Trop J Nat Prod Res.2019, 3(1):6-9
Int J Mol Sci.2019, 20(9):E2244
Food Chem. 2015 Dec 1;188:77-83.
Ethylene degreening modulates health promoting phytochemicals in Rio Red grapefruit.[Pubmed:
26041167
]
In the current study, we examined the effects of postharvest degreening and storage on phytochemicals in Rio Red grapefruit.
METHODS AND RESULTS:
Grapefruits were degreened with 3.5 μl/l of ethylene at 21 °C and 80% relative humidity for 72 h, while non-degreened fruits were used as the control. Furthermore, the grapefruits were stored at 11 °C for 3 weeks and then at 21 °C for 2 weeks. Degreening improved the peel colour of the grapefruit without affecting total soluble solids or acidity of the juice. Degreened fruits had significantly more ascorbic acid after 35 days of storage. Degreening had no significant effect on the levels of carotenoids, limonoids and flavonoids as compared to the non-degreened fruits, after 35 days of storage. However, after 7 days, degreened fruits had more limonin and flavonoids and less furocoumarin, namely 6',7'-Dihydroxybergamottin.
CONCLUSIONS:
Overall, ethylene treatment had a significant effect on the phytochemical contents of Rio Red grapefruit, especially after 7 days of storage.
J Pharm Pharmacol. 2012 Dec;64(12):1715-21.
Inhibition of CYP3A4 by 6',7'-dihydroxybergamottin in human CYP3A4 over-expressed hepG2 cells.[Pubmed:
23146034
]
We previously established HepG2-GS-3A4, a cell line from hepatoblastoma with overexpression of human CYP3A4 and glutamine synthetase (GS). We further reported that these cells can be applied for screening inhibitors of CYP3A4 in vitro.
METHODS AND RESULTS:
The purpose of this study was to determine whether our CYP3A4-overexpresed cell could be applied to evaluate mechanisms of CYP3A4 inhibition by 6',7'-Dihydroxybergamottin (DHB), which is one of the major furanocoumarins in grapefruit juice, by using these cells.Nifedipine oxidation, activity and protein expression of NADPH-cytochrome reductase (POR) of HepG2-GS-3A4 cell were measured. CO-binding spectrumassay in microsomal fraction of the cells was also evaluated.DHB and ketoconazole, a well-known inhibitor of CYP3A4, inhibited nifedipine oxidation in a concentration-dependent manner. DHB at a concentration of 3.0 μm, sufficient to inhibit the nifedipine oxidation, decreased POR activity; however, ketoconazole at a concentration of 0.9 μm, sufficient to inhibit the oxidation, did not affect the activity. The expression of POR protein in HepG2-GS-3A4 cells was not changed by either DHB or ketoconazole. The expression of CYP3A4 mRNA and protein was not changed by the addition of DHB or ketoconazole. DHB also reduced the absorption rate at 450 nm in a CO-binding spectrum assay without alteration of the wavelength of maximum absorption. The mean absorption value at 450 nm slightly decreased with ketoconazole; however, the difference was not significant.
CONCLUSIONS:
We concluded that inhibition of CYP3A4 activity by DHB includes the inhibition of POR activity. HepG2-GS-3A4 might be a good tool to evaluate the mechanisms.