6''-O-Acetylglycitin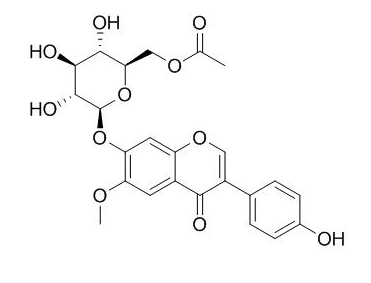 6''-O-Acetylglycitin is a potential nutriceutical, it is also a potent LDH inhibitor.
Inquire / Order: manager@chemfaces.com
Technical Inquiries: service@chemfaces.com
Tel: +86-27-84237783
Fax: +86-27-84254680

Address:
1 Building, No. 83, CheCheng Rd., Wuhan Economic and Technological Development Zone, Wuhan, Hubei 430056, PRC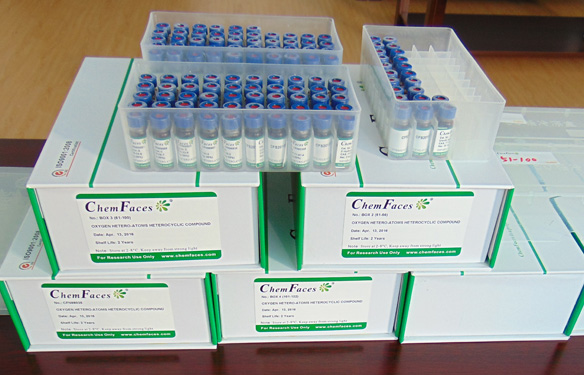 Providing storage is as stated on the product vial and the vial is kept tightly sealed, the product can be stored for up to
24 months(2-8C)
.
Wherever possible, you should prepare and use solutions on the same day. However, if you need to make up stock solutions in advance, we recommend that you store the solution as aliquots in tightly sealed vials at -20C. Generally, these will be useable for up to two weeks. Before use, and prior to opening the vial we recommend that you allow your product to equilibrate to room temperature for at least 1 hour.
Need more advice on solubility, usage and handling? Please email to: service@chemfaces.com
The packaging of the product may have turned upside down during transportation, resulting in the natural compounds adhering to the neck or cap of the vial. take the vial out of its packaging and gently shake to let the compounds fall to the bottom of the vial. for liquid products, centrifuge at 200-500 RPM to gather the liquid at the bottom of the vial. try to avoid loss or contamination during handling.
Int J Mol Sci.2015, 16(1):1232-51
Phytochemistry Letters2015, 243-247
Int J Mol Med.2016, 37(2):501-8
Chemistry of Plant Materials.2016, 33-46
Evid Based Complement Alternat Med.2015, 2015:165457
J Breast Cancer.2015, 18(2):112-118
Biochem Biophys Res Commun.2018, 495(1):1271-1277
Neurochem Int.2020, 133:104629
J Food Sci Technol.2019, 56(5):2712-2720
J Herbmed Pharmacol.2018, 7(4):280-286
Journal of Functional Foods, 2017, 31:295-303.
Extraction and isolation of potential anti-stroke compounds from black soybean (Glycine max L. Merrill) guided by in vitro PC12 cell model.[Reference:
WebLink
]

METHODS AND RESULTS:
A simple and efficient method based on ultrafiltration liquid chromatography–mass spectrometry was applied to rapidly screen and identify ligands for lactate dehydrogenase (LDH) from the extracts of black soybeans (Glycine max L. Merrill), and the compounds were further assessed for ant-stroke activity using a PC12 cell model. Six major isoflavones including daidzin, glycitin, genistin, 6″-O-acetyldaidzin, 6''-O-Acetylglycitin and malonyl genistin were identified as potent LDH inhibitors. A continuous online method consisted of a microwave-assisted extraction, online solvent concentration tank and countercurrent chromatography (MAE-SCT-CCC) was newly developed for scaled up production of these compounds with high purity and efficiency.
CONCLUSIONS:
This novel approach using ultrafiltration LC–MS coupled with MAE-SCT-CCC and a PC12 cell model, provides not only a powerful tool for screening, extracting, and separating lactate dehydrogenase inhibitors from complex samples, but also a useful platform for large scale production of functional food and nutraceutical ingredients.