5,7-Dihydroxy-4-methylcoumarin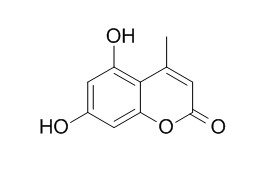 5,7-Dihydroxy-4-methylcoumarin has in vitro platelet antiaggregatory property, it shows inhibition of the cyclooxygenase pathway. It inhibits human neutrophil oxidative metabolism and elastase activity.
Inquire / Order: manager@chemfaces.com
Technical Inquiries: service@chemfaces.com
Tel: +86-27-84237783
Fax: +86-27-84254680

Address:
1 Building, No. 83, CheCheng Rd., Wuhan Economic and Technological Development Zone, Wuhan, Hubei 430056, PRC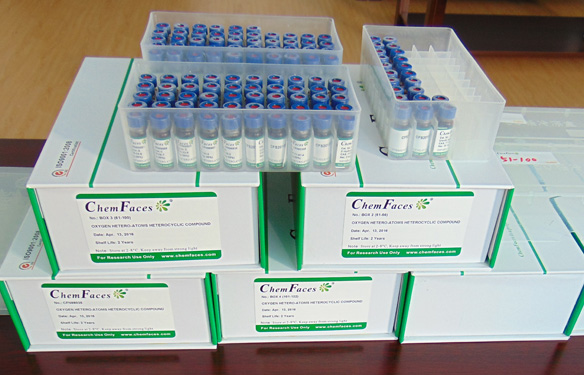 Providing storage is as stated on the product vial and the vial is kept tightly sealed, the product can be stored for up to
24 months(2-8C)
.
Wherever possible, you should prepare and use solutions on the same day. However, if you need to make up stock solutions in advance, we recommend that you store the solution as aliquots in tightly sealed vials at -20C. Generally, these will be useable for up to two weeks. Before use, and prior to opening the vial we recommend that you allow your product to equilibrate to room temperature for at least 1 hour.
Need more advice on solubility, usage and handling? Please email to: service@chemfaces.com
The packaging of the product may have turned upside down during transportation, resulting in the natural compounds adhering to the neck or cap of the vial. take the vial out of its packaging and gently shake to let the compounds fall to the bottom of the vial. for liquid products, centrifuge at 200-500 RPM to gather the liquid at the bottom of the vial. try to avoid loss or contamination during handling.
Analytical methods2019, 11(6)
Aquaculture2019, 510:392-399
Nutrients.2018, 10(12):E1998
Life Sci.2019, 216:259-270
Cell Chem Biol.2019, 26(1):27-34
Korean Journal of Pharmacognosy.2015, 46(4):352-364
BMC Complement Altern Med.2019, 19(1):325
Molecules.2019, 24(24):E4536
Planta Med.2019, 85(4):347-355
Int J Mol Med.2019, 43(6):2516-2522
J Med Food. 2013 Aug;16(8):692-700.
4-methylcoumarin derivatives inhibit human neutrophil oxidative metabolism and elastase activity.[Pubmed:
23905650
]
Increased neutrophil activation significantly contributes to the tissue damage in inflammatory illnesses; this phenomenon has motivated the search for new compounds to modulate their effector functions. Coumarins are natural products that are widely consumed in the human diet. We have evaluated the antioxidant and immunomodulator potential of five 4-methylcoumarin derivatives.
METHODS AND RESULTS:
We found that the 4-methylcoumarin derivatives inhibited the generation of reactive oxygen species by human neutrophils triggered by serum-opsonized zymosan or phorbol-12-myristate-13-acetate; this inhibition occurred in a concentration-dependent manner, as revealed by lucigenin- and luminol-enhanced chemiluminescence assays. Cytotoxicity did not mediate this inhibitory effect. The 7,8-dihydroxy-4-methylcoumarin suppressed the neutrophil oxidative metabolism more effectively than the 6,7- and 5,7-Dihydroxy-4-methylcoumarins, but the 5,7- and 7,8-diacetoxy-4-methylcoumarins were less effective than their hydroxylated counterparts. An analysis of the biochemical pathways suggested that the 6,7- and 7,8-dihydroxy-4-methylcoumarins inhibit the protein kinase C-mediated signaling pathway, but 5,7-Dihydroxy-4-methylcoumarin, as well as 5,7- and 7,8-diacetoxy-4-methylcoumarins do not significantly interfere in this pathway of the activation of the human neutrophil oxidative metabolism. The 4-methylcoumarin derivatives bearing the catechol group suppressed the elastase and myeloperoxidase activity and reduced the 1,1-diphenyl-2-picrylhydrazyl free radical the most strongly. Interestingly, the 5,7-Dihydroxy-4-methylcoumarin scavenged hypochlorous acid more effectively than the o-dihydroxy-substituted 4-methylcoumarin derivatives, and the diacetoxylated 4-methylcoumarin derivatives scavenged hypochlorous acid as effectively as the 7,8-dihydroxy-4-methylcoumarin.
CONCLUSIONS:
The significant influence of small structural modifications in the inhibitory potential of 4-methylcoumarin derivatives on the effector functions of neutrophil makes them interesting candidates to develop new drugs for the treatment of inflammatory diseases mediated by increased neutrophil activation.
Biochimie. 2012 Dec;94(12):2681-6.
In vitro platelet antiaggregatory properties of 4-methylcoumarins.[Pubmed:
22996069
]
Platelets play a crucial role in physiological haemostasis. However, in coronary arteries damaged by atherosclerosis, enhanced platelet aggregation, with subsequent thrombus formation, is a precipitating factor in acute myocardial infarction. Current therapeutic approaches are able to reduce approximately one quarter of cardiovascular events, but they are associated with an increased risk of bleeding and in some resistant patients are not efficient. Some coumarins possess antiplatelet activity and, due to their additional antioxidant effects, may be promising drugs for use in combination with the present therapeutic agents. The aim of this study was to analyse a series of simple 4-methylcoumarins for their antiplatelet activity.
METHODS AND RESULTS:
Human plasma platelet suspensions were treated with different aggregation inducers [arachidonic acid (AA), collagen and ADP] in the presence of the 4-methylcoumarins. Complementary experiments were performed to explain the mechanism of action. 5,7-Dihydroxy-4-methylcoumarins, in particular those containing a lipophilic side chain at C-3, reached the activity of acetylsalicylic acid on AA-induced aggregation. Other tested coumarins were less active. Some of the tested compounds mildly inhibited either collagen- or ADP-induced aggregation. 5,7-Dihydroxy-4-methylcoumarins did not interfere with the function of thromboxane synthase, but were competitive antagonists of thromboxane A(2) receptors and inhibited cyclooxygenase-1 as well.
CONCLUSIONS:
5,7-Dihydroxy-4-methylcoumarins appear to be promising candidates for the extension of the current spectrum of antiplatelet drugs.
Bioorg Chem. 2005 Apr;33(2):67-81.
Inhibitory activity of polyhydroxycarboxylate chelators against recombinant NF-kappaB p50 protein-DNA binding.[Pubmed:
15788163
]
The inhibitory effect of 7,8-dihydroxy-4-methylcoumarin (7,8-DHMC), 5,7-Dihydroxy-4-methylcoumarin (5,7-DHMC), and gallic acid on the DNA binding of recombinant p50 protein and their interaction with zinc ion were studied.
METHODS AND RESULTS:
Electrophoretic mobility shift assay (EMSA) using p50 and biotin labeled DNA has shown that gallic acid is more effective than the dihydroxycoumarins in inhibiting the p50-DNA binding. Molecular modeling studies suggest an explanation for these observations. Effect of the addition of zinc after p50-DNA-binding inhibition by gallic acid was also studied.
CONCLUSIONS:
Chemical speciation and formation constant studies show that gallic acid forms a more stable 1:1 complex with zinc ion in comparison to the dihydroxycoumarins.
Agents Actions. 1994 Aug;42(1-2):44-9.
Inhibitory activity of a series of coumarins on leukocyte eicosanoid generation.[Pubmed:
7847183
]
Sixteen plant-derived or synthetic coumarins with different patterns of substitution were tested for their capacity to modify A23187-induced synthesis of leukotriene B4 and thromboxane B2 via the 5-lipoxygenase and cyclooxygenase pathways of arachidonate metabolism in rat peritoneal exudate leukocytes.
METHODS AND RESULTS:
Five of the 16 coumarins inhibited LTB4 production: all contain orthodihydroxy substitutions (approximate IC50 values 8-100 microM). The mechanism is likely to depend upon a combination of the coumarins' iron-chelating and iron ion-reducing abilities, properties which also confer beneficial activities of these compounds as scavengers of reactive oxygen species (Payá et al., Biochem. Pharmacol. 44, 205-214 (1992)). Inhibition of the cyclooxygenase pathway was only demonstrated by one compound, 5,7-Dihydroxy-4-methylcoumarin, which did not inhibit 5-lipoxygenase, indicating that the cyclooxygenase inhibitory mechanism is different. Similar effects of the active coumarins were obtained using arachidonic acid as substrate for rat leukocyte eicosanoid generation, confirming that they act at the 5-lipoxygenase/cyclooxygenase level. The same profile of activity was also shown when the coumarins were tested against 5-lipoxygenase in human polymorphonuclear neutrophils.
CONCLUSIONS:
Taken together, these antioxidant and anti-eicosanoid properties of coumarins could be exploited for the design of potentially valuable non-toxic anti-inflammatory agents for treating diseases in which eicosanoid generation and the production of reactive oxygen species are involved.