20-Deoxocarnosol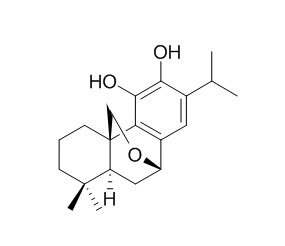 20-Deoxocarnosol has antioxidant activity of measuring the decay of the radical cation diphenyl-picrylhydrazyl (DPPH).It also exhibits non-specific antiprotozoal activity due to high cytotoxicity.
Inquire / Order: manager@chemfaces.com
Technical Inquiries: service@chemfaces.com
Tel: +86-27-84237783
Fax: +86-27-84254680

Address:
1 Building, No. 83, CheCheng Rd., Wuhan Economic and Technological Development Zone, Wuhan, Hubei 430056, PRC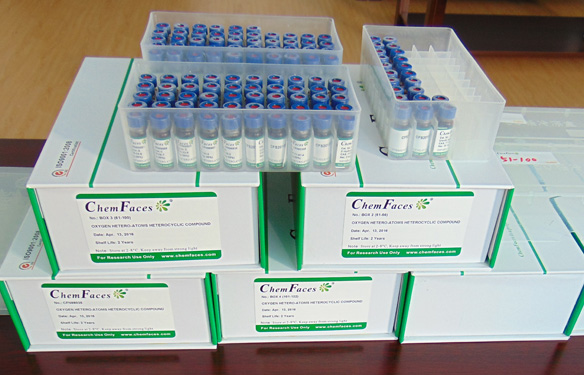 Providing storage is as stated on the product vial and the vial is kept tightly sealed, the product can be stored for up to
24 months(2-8C)
.
Wherever possible, you should prepare and use solutions on the same day. However, if you need to make up stock solutions in advance, we recommend that you store the solution as aliquots in tightly sealed vials at -20C. Generally, these will be useable for up to two weeks. Before use, and prior to opening the vial we recommend that you allow your product to equilibrate to room temperature for at least 1 hour.
Need more advice on solubility, usage and handling? Please email to: service@chemfaces.com
The packaging of the product may have turned upside down during transportation, resulting in the natural compounds adhering to the neck or cap of the vial. take the vial out of its packaging and gently shake to let the compounds fall to the bottom of the vial. for liquid products, centrifuge at 200-500 RPM to gather the liquid at the bottom of the vial. try to avoid loss or contamination during handling.
Industrial Food Engineering2015, 19(4):408-413
Preprints2017, 2017120176
Molecules.2019, 24(16):E2985
Mol Pharm.2017, 14(9):3164-3177
Phytomedicine.2019, 58:152893
Arch Biochem Biophys.2018, 644:93-99
J Nat Prod.2018, 81(4):966-975
J of Physics Conference Series2019, 1349(1)
Neuropharmacology.2018, 131:68-82
International Food Research Journal2018, 25(6):2560-2571
Nat. Prod. Lett., 2002, 16(4):277-81.
Antioxidant capacity of abietanes from Sphacele salviae.[Pubmed:
12168765
]

METHODS AND RESULTS:
Carnosol 1, rosmanol 2, carnosic acid 3 and 20-Deoxocarnosol 4, the main phenolic abietanes present in aerial parts of the Chilean medicinal plant Sphacele salviae were tested for antioxidant activity of measuring the decay of the radical cation diphenyl-picrylhydrazyl (DPPH).
CONCLUSIONS:
All compounds displayed higher antioxidant levels than BHT under the same conditions and carnosic acid was more efficient than vitamin E.
Int. J. Mol. Sci., 2014, 15(5):8360-71.
In vitro antiprotozoal activity of abietane diterpenoids isolated from Plectranthus barbatus Andr.[Pubmed:
24823881
]
Chromatographic separation of the n-hexane extract of the aerial part of Plectranthus barbatus led to the isolation of five abietane-type diterpenes: dehydroabietane (1); 5,6-didehydro-7-hydroxy-taxodone (2); taxodione (3); 20-Deoxocarnosol (4) and 6α,11,12,-trihydroxy-7β,20-epoxy-8,11,13-abietatriene (5).
METHODS AND RESULTS:
The structures were determined using spectroscopic methods including one- and two-dimensional NMR methods. Compounds (1)-(3) and (5) are isolated here for the first time from the genus Plectranthus. The isolated abietane-type diterpenes tested in vitro for their antiprotozoal activity against erythrocytic schizonts of Plasmodium falciparum, intracellular amastigotes of Leishmania infantum and Trypanosoma cruzi and free trypomastigotes of T. brucei. Cytotoxicity was determined against fibroblast cell line MRC-5.
CONCLUSIONS:
Compound (2) 5,6-didehydro-7-hydroxy-taxodone showed remarkable activity with acceptable selectivity against P. falciparum (IC50 9.2 μM, SI 10.4) and T. brucei (IC50 1.9 μM, SI 50.5). Compounds (3)-(5) exhibited non-specific antiprotozoal activity due to high cytotoxicity. Compound (1) dehydroabietane showed no antiprotozoal potential.