Tectoridin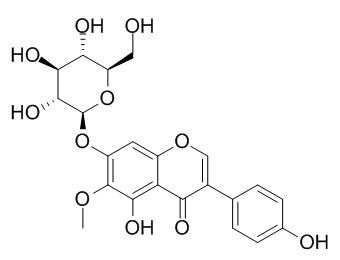 Tectoridin, an lens aldose reductase inhibitor, has several pharmacological effects including hypoglycemic, anti-cancer, anti-inflammatory, antioxidant, and hepatoprotectivy. It possesses a estrogenic and thyroid hormone-like agent by activating estrogen and thyroid hormone receptors, it also has inhibition on prostaglandin E2 production and cyclooxygenase-2 induction.
Inquire / Order: manager@chemfaces.com
Technical Inquiries: service@chemfaces.com
Tel: +86-27-84237783
Fax: +86-27-84254680

Address:
1 Building, No. 83, CheCheng Rd., Wuhan Economic and Technological Development Zone, Wuhan, Hubei 430056, PRC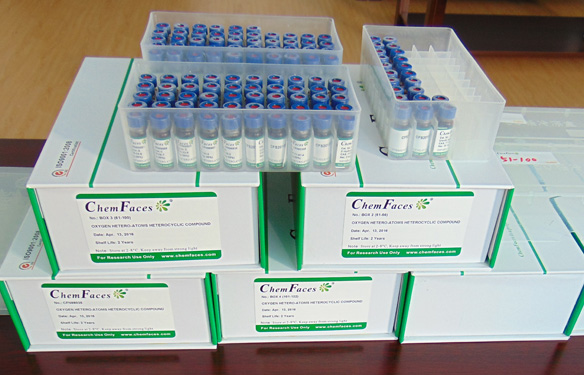 Providing storage is as stated on the product vial and the vial is kept tightly sealed, the product can be stored for up to
24 months(2-8C)
.
Wherever possible, you should prepare and use solutions on the same day. However, if you need to make up stock solutions in advance, we recommend that you store the solution as aliquots in tightly sealed vials at -20C. Generally, these will be useable for up to two weeks. Before use, and prior to opening the vial we recommend that you allow your product to equilibrate to room temperature for at least 1 hour.
Need more advice on solubility, usage and handling? Please email to: service@chemfaces.com
The packaging of the product may have turned upside down during transportation, resulting in the natural compounds adhering to the neck or cap of the vial. take the vial out of its packaging and gently shake to let the compounds fall to the bottom of the vial. for liquid products, centrifuge at 200-500 RPM to gather the liquid at the bottom of the vial. try to avoid loss or contamination during handling.
Molecules2020, 25(4):892
BMC Complement Altern Med.2019, 19(1):339
Biochem Biophys Res Commun.2020, 522(4):1052-1058
New Zealand J. Forestry Sci.2014, 44:17
Pharmacol Rep.2019, 71(2):289-298
Kor. J. Pharmacogn.2016, 47(1):62-72
Korean Journal of Pharmacognosy2018, 49(1):76-83
Molecules.2019, 24(17):E3127
Plant Cell Physiol.2018, 59(1):128-141
Int J Mol Sci.2019, 20(11):E2734
Phytomedicine. 2014 Apr 15;21(5):602-6.
Tectoridin from Maackia amurensis modulates both estrogen and thyroid receptors.[Pubmed:
24252334
]
The stem bark of Maackia amurensis has been used as folk medicine for the treatment of cancer, cholecystitis, arthritis, and hyperthyroidism in females. In this study we examined the effects of the ethyl acetate fraction obtained from the 70% ethanol extract of M. amurensis and Tectoridin, an active constituent isolated from the ethyl acetate fraction on thyroid and estrogen hormone activity.
METHODS AND RESULTS:
The effect of the ethanolic extract of M. amurensis stem bark on thyroid hormone activity was evaluated using thyroid hormone responsive-luciferase assay. We isolated Tectoridin from the ethyl acetate fraction using a recrystallization method. T-screen assays were used to confirm thyroid hormone activity. The estrogenic activity of the ethyl acetate fraction of M. amurensis and Tectoridin was evaluated by estrogen responsive-luciferase assay and estrogen receptor alpha regulation as compared to 17β-estradiol. Both the ethyl acetate fraction and Tectoridin activated thyroid-responsive reporters and increased thyroid hormone-dependent proliferation of rat pituitary GH3 cells, indicating modulation of thyroid hormone receptors. In parallel, the estrogenic activity of the fraction and Tectoridin were characterized in a transient transfection system using estrogen-responsive luciferase plasmids in MCF-7 cells. The ethyl acetate fraction and Tectoridin activated reporter gene expression and decreased the estrogen receptor protein level.
CONCLUSIONS:
These data indicate that Tectoridin acts as a weak phytoestrogen as well as a thyroid hormone-like agent by activating both estrogen and thyroid hormone receptors.
Mol Cells. 2009 Mar 31;27(3):351-7.
Tectoridin, a poor ligand of estrogen receptor alpha, exerts its estrogenic effects via an ERK-dependent pathway.[Pubmed:
19326083
]
Phytoestrogens are the natural compounds isolated from plants, which are structurally similar to animal estrogen, 17beta-estradiol. Tectoridin, a major isoflavone isolated from the rhizome of Belamcanda chinensis. Tectoridin is known as a phytoestrogen, however, the molecular mechanisms underlying its estrogenic effect are remained unclear.
METHODS AND RESULTS:
In this study we investigated the estrogenic signaling triggered by Tectoridin as compared to a famous phytoestrogen, genistein in MCF-7 human breast cancer cells. Tectoridin scarcely binds to ER alpha as compared to 17beta-estradiol and genistein. Despite poor binding to ER alpha, Tectoridin induced potent estrogenic effects, namely recovery of the population of cells in the S-phase after serum starvation, transactivation of the estrogen response element, and induction of MCF-7 cell proliferation. The Tectoridin-induced estrogenic effect was severely abrogated by treatment with U0126, a specific MEK1/2 inhibitor. Tectoridin promoted phosphorylation of ERK1/2, but did not affect phosphorylation of ER alpha at Ser(118). It also increased cellular accumulation of cAMP, a hallmark of GPR30-mediated estrogen signaling.
CONCLUSIONS:
These data imply that Tectoridin exerts its estrogenic effect mainly via the GPR30 and ERK-mediated rapid nongenomic estrogen signaling pathway. This property of Tectoridin sets it aside from genistein where it exerts the estrogenic effects via both an ER-dependent genomic pathway and a GPR30-dependent nongenomic pathway.
J Pharmacol Sci. 2005 Apr;97(4):541-4.
Hepatoprotective effect of tectoridin and tectorigenin on tert-butyl hyperoxide-induced liver injury.[Pubmed:
15821336
]
To clarify the hepatoprotective effects of Tectoridin and tectorigenin from Puerariae Flos, their effects on tert-butyl hyperoxide (t-BHP)-injured HepG2 cells and mice were investigated.
METHODS AND RESULTS:
When tectorigenin at a dose of 50 mg/kg was intraperitoneally administered to mice injured by t-BHP, it significantly inhibited the increase the activities of plasma ALT and AST by 39% and 41%, respectively, in the t-BHP-treated group. The inhibitory effect of tectorigenin is much more potent than that of a commercially available dimethyl diphenyl bicarboxylate. Orally administered Tectoridin showed hepatoprotective activity. However, when Tectoridin was intraperitoneally administrated to mice, no hepatoprotective activity was observed. Tectorigenin also protected against the cytotoxicity of HepG2 cells induced by t-BHP. This protection may have originated from the inhibition of apoptosis.
CONCLUSIONS:
Tectorigenin may be hepatoprotective and Tectoridin should be a prodrug that is transformed to tectorigenin.
Fitoterapia. 2014 Dec;99:99-108.
Excretion of tectoridin metabolites in rat urine and bile orally administrated at different dosages and their inhibitory activity against aldose reductase.[Pubmed:
25256063
]
This study investigated the urinary and biliary excretion of Tectoridin, a major active isoflavonoid found in the flowers of Pueraria thomsonii Benth. and the rhizomes of Belamcanda chinensis (L.) DC.
METHODS AND RESULTS:
Using UHPLC/Q-TOFMS, seven glucuronides and/or sulfated metabolites and four Phase I metabolites were simultaneously quantified in rat urine after oral administration of Tectoridin at 100 and 200 mg/kg. Over a 72-h period, 14.2% and 14.7% of the Tectoridin were excreted as eleven metabolites in urine, among which, two major metabolites tectorigenin-7-O-β-D-glucuronide (Te-7G) and tectorigenin accounted for 5.5-5.5% and 4.3-4.4%. Furthermore, the cumulative excretion of four glucuronides and sulfated metabolites in bile accounted for 7.3% and 3.9% of the dose within 60 h, among which, Te-7G and tectorigenin-7-O-glucuronide-4'-O-sulfate (Te-7G-4'S) accounted for 2.3-3.0% and 1.4-3.9%, respectively.
CONCLUSIONS:
The results indicate that the urine was the primary elimination route, and glucuronidation after deglycosylation at C-7 position was the major metabolic pathway of Tectoridin in vivo. Moreover, the inhibitory activities of Tectoridin and its five metabolites on rat lens aldose reductase were confirmed (IC₅₀: 1.4-15.5 μM), whereas irisolidone-7-O-glucuronide (Ir-7G) and irisolidone showed little activity.
Biochim Biophys Acta. 1999 Jun 10;1438(3):399-407.
Inhibition by tectorigenin and tectoridin of prostaglandin E2 production and cyclooxygenase-2 induction in rat peritoneal macrophages.[Pubmed:
10366782
]

METHODS AND RESULTS:
Tectorigenin and Tectoridin, isolated from the rhizomes of Korean Belamcanda chinensis (Iridaceae) which are used as Chinese traditional medicine for the treatment of inflammation, suppressed prostaglandin E2 production by rat peritoneal macrophages stimulated by the protein kinase C activator, 12-O-tetradecanoylphorbol 13-acetate (TPA), or the endomembrane Ca2+-ATPase inhibitor, thapsigargin. Tectorigenin inhibited prostaglandin E2 production more potently than Tectoridin. Neither compound inhibited the release of radioactivity from [3H]arachidonic acid-labeled macrophages stimulated by TPA or thapsigargin. In addition, activities of isolated cyclooxygenase (COX)-1 and COX-2 were not inhibited by the two compounds. Western blot analysis revealed that the induction of COX-2 by TPA or thapsigargin was inhibited by the two compounds in parallel with the inhibition of prostaglandin E2 production.
CONCLUSIONS:
These findings suggest that one of the mechanisms of the anti-inflammatory activities of the rhizomes of Belamcanda chinensis is the inhibition of prostaglandin E2 production by tectorigenin and Tectoridin due to the inhibition of the induction of COX-2 in the inflammatory cells.
Biol Pharm Bull. 1999 Dec;22(12):1314-8.
Metabolism of 6"-O-xylosyltectoridin and tectoridin by human intestinal bacteria and their hypoglycemic and in vitro cytotoxic activities.[Pubmed:
10746163
]
6"-O-XylosylTectoridin and Tectoridin isolated from the flowers of Pueraria thunbergiana (Leguminosae), are metabolized to tectorigenin by human intestinal bacteria.
METHODS AND RESULTS:
Although Tectoridin is metabolized to tectorigenin by most intestinal bacteria, 6"-O-xylosylTectoridin is metabolized to tectorigenin via Tectoridin by only a few intestinal bacteria, such as Bifidobacterium breve K-110 and Eubacterium A-44. The metabolite, tectorigenin, had more potent hypoglycemic activity as well as in vitro cytotoxic activity against tumor cell lines than 6"-O-xylosylTectoridin and Tectoridin.
CONCLUSIONS:
These results suggest that 6"-O-xylosylTectoridin and Tectoridin are prodrugs which can be transformed to the active agents by human intestinal bacteria.