Protodioscin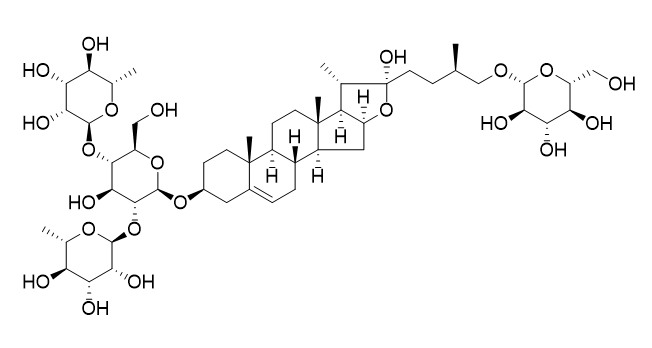 Protodioscin has been shown to exhibit multiple biological actions, such as anti-hyperlipidemia, anti-cancer, sexual effects and cardiovascular properties. It appears to possess aphrodisiac activity probably due to its androgen increasing property, it will be useful in developing health food supplement(s) and/or drug(s) against hyperlipidemia.
Inquire / Order: manager@chemfaces.com
Technical Inquiries: service@chemfaces.com
Tel: +86-27-84237783
Fax: +86-27-84254680

Address:
1 Building, No. 83, CheCheng Rd., Wuhan Economic and Technological Development Zone, Wuhan, Hubei 430056, PRC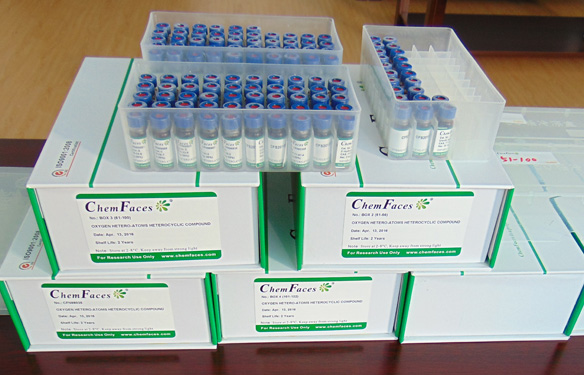 Providing storage is as stated on the product vial and the vial is kept tightly sealed, the product can be stored for up to
24 months(2-8C)
.
Wherever possible, you should prepare and use solutions on the same day. However, if you need to make up stock solutions in advance, we recommend that you store the solution as aliquots in tightly sealed vials at -20C. Generally, these will be useable for up to two weeks. Before use, and prior to opening the vial we recommend that you allow your product to equilibrate to room temperature for at least 1 hour.
Need more advice on solubility, usage and handling? Please email to: service@chemfaces.com
The packaging of the product may have turned upside down during transportation, resulting in the natural compounds adhering to the neck or cap of the vial. take the vial out of its packaging and gently shake to let the compounds fall to the bottom of the vial. for liquid products, centrifuge at 200-500 RPM to gather the liquid at the bottom of the vial. try to avoid loss or contamination during handling.
J Nat Med.2017, 71(2):457-462
Eur J Pharmacol.2018, 832:96-103
Chin J Pharm Anal.2019, 39(7):1217-1228
Evid Based Complement Alternat Med.2016, 2016:1230294
Biochem Biophys Res Commun.2017, 482(4):1095-1101
Food and Fermentation Industries2019, 45(7):45-51
Br J Pharmacol.2016, 173(2):396-410
Cell Physiol Biochem.2019, 52(6):1255-1266
SBRAS2016, 12
Toxicol Res.2019, 35(4):371-387
Planta Med. 2010 Oct;76(15):1642-6.
Antihyperlipidemic effect of protodioscin, an active ingredient isolated from the rhizomes of Dioscorea nipponica.[Pubmed:
20509104
]
Developing drugs against metabolic-related disorders, including obesity and hyperlipidemia, is of importance for human health. Here, a bioactive phytochemical, Protodioscin, isolated from the rhizomes of Dioscorea nipponica (Rhizoma Dioscoreae Nipponicae), was identified for its anti-hyperlipidemic effect. In hyperlipidemic rats, the post-administration of Protodioscin significantly reduced the time of blood coagulation. In addition, the blood levels of triglyceride, cholesterol, low-density and high-density lipoproteins were also changed accordingly. Taken together, this was the first report of an antihyperlipidemic effect of Protodioscin. Its great availability in various vegetables and medicinal plants will be useful in developing health food supplement(s) and/or drug(s) against hyperlipidemia.
Planta Med. 2002 Apr;68(4):297-301.
Protodioscin (NSC-698 796): its spectrum of cytotoxicity against sixty human cancer cell lines in an anticancer drug screen panel.[Pubmed:
11988850
]
Protodioscin (NSC-698 796) is a furostanol saponin isolated from the rhizome of Dioscorea collettii var. hypoglauca (Dioscoreaceae), a Chinese herbal remedy for the treatment of cervical carcinoma, carcinoma of urinary bladder and renal tumor for centuries. To systematically evaluate its potential anticancer activity, Protodioscin was tested for cytotoxicity in vitro against 60 human cancer cell lines in the NCI's (National Cancer Institute, USA) anticancer drug screen. As a result, Protodioscin was cytotoxic against most cell lines from leukemia and solid tumors in the NCI's human cancer panel, especially selectively against one leukemia line (MOLT-4), one NSCLC line (A549/ATCC), two colon cancer lines (HCT-116 and SW-620), one CNS cancer line (SNB-75), one melanoma line (LOX IMVI), and one renal cancer line (786 - 0) with GI50 < or = 2.0 microM. In the general view of mean graphs, leukemia, colon cancer and prostate cancer are the most sensitive subpanels, while ovarian cancer is the least sensitive subpanel. Based on an analysis of COMPARE computer program with Protodioscin as a seed compound, no compounds in the NCI's anticancer drug screen database have cytotoxicity patterns (mean graphs) similar to those of Protodioscin, indicating that a potential novel mechanism of anticancer action is involved.
J Agric Food Chem. 2003 Oct 8;51(21):6132-6.
Quantification of protodioscin and rutin in asparagus shoots by LC/MS and HPLC methods.[Pubmed:
14518934
]
A liquid chromatography/mass spectrometry (LC/MS) method with selected ion monitoring was developed and validated to analyze the contents of Protodioscin and rutin in asparagus. The distribution of rutin and Protodioscin within the shoots was found to vary by location, with the tissue closest to the rhizome found to be a rich source of Protodioscin, at an average level of 0.025% tissue fresh weight in the three tested lines, while the upper youngest shoot tissue contained the highest amount of rutin at levels of 0.03-0.06% tissue fresh weight. The lower portions of the asparagus shoots that are discarded during grading and processing should instead be considered a promising source of a new value-added nutraceutical product.
Phytochem Anal. 2014 Nov-Dec;25(6):514-28.
A comparative tissue-specific metabolite analysis and determination of protodioscin content in Asparagus species used in traditional Chinese medicine and Ayurveda by use of laser microdissection, UHPLC-QTOF/MS and LC-MS/MS.[Pubmed:
24737553
]
To compare tissue-specific metabolites and Protodioscin content of Asparagus cochinchinensis (Lour.) Merr. and Asparagus racemosus Willd. used in China and India. METHODS: Metabolite analysis of laser-dissected tissues was carried out using UHPLC-QTOF/MS and LC-MS/MS. The Protodioscin contents were determined and the method was validated as per the International Conference on Harmonisation of Technical Requirements for Registration of Pharmaceuticals for Human Use guidelines. Although the metabolite profiles were similar, the content of Protodioscin was found to be higher in Chinese than Indian species. CONCLUSION: The study provided a suitable methodology for metabolite profiling and Protodioscin content determination of Asparagus by use of LMD, UHPLC-QTOF/MS and LC-MS/MS. The similarities in metabolite profiles indicate that Asparagus species from India and China can serve as substitute for each other in various therapeutic and pharmaceutical applications.
Life Sci. 2002 Aug 9;71(12):1385-96.
Aphrodisiac properties of Tribulus Terrestris extract (Protodioscin) in normal and castrated rats.[Pubmed:
12127159
]
Tribulus terrestris (TT) has long been used in the traditional Chinese and Indian systems of medicine for the treatment of various ailments and is popularly claimed to improve sexual functions in man. Sexual behaviour and intracavernous pressure (ICP) were studied in both normal and castrated rats to further understand the role of TT containing Protodioscin (PTN) as an aphrodisiac. Adult Sprague-Dawley rats were divided into five groups of 8 each that included distilled water treated (normal and castrated), testosterone treated (normal and castrated, 10 mg/kg body weight, subcutaneously, bi-weekly) and TT treated (castrated, 5 mg/kg body weight, orally once daily). Decreases in body weight, prostate weight and ICP were observed among the castrated groups of rats compared to the intact group. There was an overall reduction in the sexual behaviour parameters in the castrated groups of rats as reflected by decrease in mount and intromission frequencies (MF and IF) and increase in mount, intromission, ejaculation latencies (ML, IL, EL) as well as post-ejaculatory interval (PEI). Compared to the castrated control, treatment of castrated rats (with either testosterone or TT extract) showed increase in prostate weight and ICP that were statistically significant. There was also a mild to moderate improvement of the sexual behaviour parameters as evidenced by increase in MF and IF; decrease in ML, IL and PEI. These results were statistically significant. It is concluded that TT extract appears to possess aphrodisiac activity probably due to androgen increasing property of TT (observed in our earlier study on primates).