Pectolinarin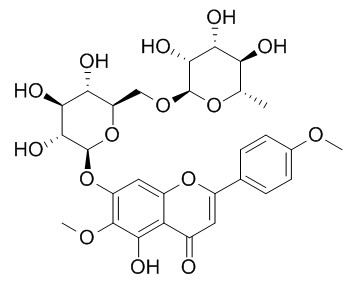 Pectolinarin has antioxidant, antiobesity, analgesic, and hepatoprotective activity, it may inhibit eicosanoid formation in inflammatory lesions.
Inquire / Order: manager@chemfaces.com
Technical Inquiries: service@chemfaces.com
Tel: +86-27-84237783
Fax: +86-27-84254680

Address:
1 Building, No. 83, CheCheng Rd., Wuhan Economic and Technological Development Zone, Wuhan, Hubei 430056, PRC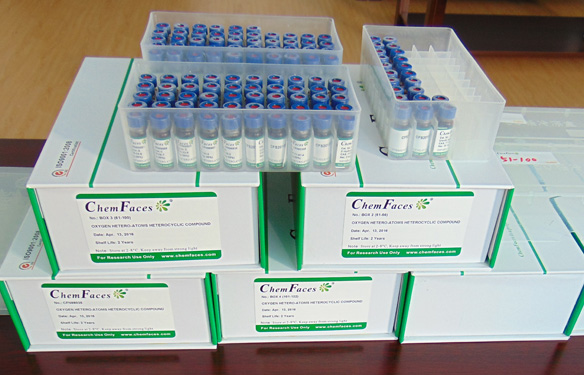 Providing storage is as stated on the product vial and the vial is kept tightly sealed, the product can be stored for up to
24 months(2-8C)
.
Wherever possible, you should prepare and use solutions on the same day. However, if you need to make up stock solutions in advance, we recommend that you store the solution as aliquots in tightly sealed vials at -20C. Generally, these will be useable for up to two weeks. Before use, and prior to opening the vial we recommend that you allow your product to equilibrate to room temperature for at least 1 hour.
Need more advice on solubility, usage and handling? Please email to: service@chemfaces.com
The packaging of the product may have turned upside down during transportation, resulting in the natural compounds adhering to the neck or cap of the vial. take the vial out of its packaging and gently shake to let the compounds fall to the bottom of the vial. for liquid products, centrifuge at 200-500 RPM to gather the liquid at the bottom of the vial. try to avoid loss or contamination during handling.
Tumour Biol.2015, 36(12):9385-93
The Japan Society for Analytical Chemistry2018, 67(4):201-206
Am J Chin Med.2016, 44(6):1255-1271
The Malaysian journal of pathology2019, 41(3):243-251
Food Sci Nutr.2019, 8(1):246-256
Journal of Apiculture2019, 34(2):131-136
J Chromatogr B Analyt Technol Biomed Life Sci.2019, 1124:323-330
Evid Based Complement Alternat Med.2017, 2017:9764843
Korean J Dent Mater.2018, 45(2):139-146
Front Immunol.2018, 9:2655
Food Sci. Biotech., 2015, 24(6):2235-43.
Assessment of the pectolinarin content and the radical scavenging-linked antiobesity activity of Cirsium setidens Nakai extracts.[Reference:
WebLink
]
Cirsium setidens Nakai contains bioactive compounds that exert biological activities.
METHODS AND RESULTS:
Method validation for analysis of the Pectolinarin content in Cirsium setidens extracts (CSE) and radical scavenging-linked antiobesity activities using 3T3-L1 cells and C57BL/6 mice were performed. The Pectolinarin content of CSE was 2.81±0.01 mg/g with a high degree of linearity in calibration curves (R 2=0.9999). CSE exhibited free radical-scavenging activities and a reducing power. CSE and Pectolinarin inhibited lipid accumulation during adipogenesis of 3T3-L1 cells via down-regulation of adipogenic transcription factors. CSE supplementation suppressed body weight in C57BL/6 mice fed a high fat diet and reduced plasma total cholesterol, triglyceride, insulin, and glucose levels.
CONCLUSIONS:
Pectolinarin-enriched CSE can be considered as a good source of natural antioxidants and antiobesity ingredients.
Biol Pharm Bull. 2008 Nov;31(11):2063-7.
Anti-inflammatory activity of pectolinarigenin and pectolinarin isolated from Cirsium chanroenicum.[Pubmed:
18981574
]

METHODS AND RESULTS:
In order to identify the active anti-inflammatory ingredient(s) in Cirsium chanroenicum (Compositae), its methanol extract and several solvent fractions were prepared; the methanol extract and the ethylacetate fraction inhibited cyclooxygenase-2 (COX-2)-mediated prostaglandin E2 (PGE2) and 5-lipoxygenase (5-LOX)-mediated leukotriene (LT) production in lipopolysaccharide-treated RAW 264.7 cells and A23187-treated rat basophilic leukemia (RBL-1) cells, respectively. Further bioactivity-guided fractionation of the ethylacetate fraction using column chromatography led to the isolation of pectolinarigenin (5,7-dihydroxy-4',6-dimethoxyflavone), along with Pectolinarin [pectolinarigenin 7-rhamnosyl-(1-->6)-glucoside]. Pectolinarigenin strongly inhibited COX-2-mediated PGE2 and 5-LOX-mediated LT production at >1 microM, indicating that it is a dual inhibitor of COX-2/5-LOX. However, pectolinarigenin did not affect COX-2 expression or nuclear transcription factor (NF-kappaB) activation. In addition, in vivo studies demonstrated that oral administration of these two compounds at 20-100 mg/kg resulted in similar inhibitory activities against several animal models of inflammation/allergy: arachidonic acid-induced mouse ear edema, carrageenan-induced mouse paw edema and passive cutaneous anaphylaxis.
CONCLUSIONS:
All of these results suggest that pectolinarigenin and Pectolinarin possess anti-inflammatory activity and that they may inhibit eicosanoid formation in inflammatory lesions. These activities certainly contribute to the anti-inflammatory mechanism of C. chanroenicum.
Planta Med. 1998 Mar;64(2):134-7.
A comparative study of the analgesic and anti-inflammatory activities of pectolinarin isolated from Cirsium subcoriaceum and linarin isolated from Buddleia cordata.[Pubmed:
9525105
]

METHODS AND RESULTS:
The dried aqueous extract of aerial parts of Cirsium subcoriaceum (Asteraceae) and its major flavonoid glycoside, Pectolinarin, have been evaluated for analgesic and anti-inflammatory effects in mice and rats, respectively. Both the extract and Pectolinarin exerted significant and dose-dependent analgesic and anti-inflammatory activities. Also, the anti-inflammatory activities of an aqueous extract of Buddleia cordata and its principal glycoside linarin were evaluated.
CONCLUSIONS:
The results of pharmacological testing proved that linarin is a better anti-inflammatory agent than Pectolinarin and indomethacin. On the other hand, Pectolinarin exerted a better analgesic effect than linarin.
Biol Pharm Bull. 2008 Apr;31(4):760-4.
Pectolinarin and Pectolinarigenin of Cirsium setidens Prevent the Hepatic Injury in Rats Caused by D-Galactosamine via an Antioxidant Mechanism.[Pubmed:
18379079
]
To identify the hepatoprotective component from the leaves of Cirsium setidens (Compositae), the methanolic extract was divided into two fractions, chloroform and butanol fractions, and their hepatoprotective efficacy was evaluated in a rat model of hepatic injury caused by D-galactosamine (GalN).
METHODS AND RESULTS:
Hepatoprotective activity was measured by the activity of serum aspartate transaminase (AST), alanine transaminase (ALT), alkaline phosphatase (ALP), and lactate dehydrogenase (LDH). Glutathione metabolism was measured via biochemical parameters such as glutathione (GSH), glutathione reductase (GR), gamma-glutamylcysteine synthetase (GCS), glutathione S-transferase (GST), and superoxide dismutase (SOD) levels. We subjected the butanol fraction, which had higher activity, to column chromatography to yield Pectolinarin, which was further hydrolyzed to yield pectolinarigenin. Administration (10, 20 mg/kg, p.o.) of the main flavonoid glycoside component, Pectolinarin, and its aglycone, pectolinarigenin, for 2 weeks significantly decreased the activity levels of AST, ALT, ALP and LDH, indicating that the two compounds have hepatoprotective activity. Pectolinarin and pectolinarigenin also increased activity levels of GSH, GR, GCS, and GST, as well as SOD. The significant effect was only seen in SOD activity.
CONCLUSIONS:
This suggests that the two components exhibit hepatoprotective activity mainly via SOD antioxidant mechanism.