Coniferin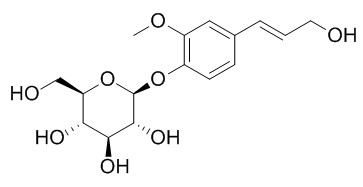 Coniferin has ATP-dependent transport activity; the extracts of the Balanophora involucrate and trans-Coniferin have anti-oxidation effects; the chromogenic coniferin analog show the exclusive presence of beta-glucosidase activity in the differentiating xylem, similar to peroxidase activity.
Inquire / Order: manager@chemfaces.com
Technical Inquiries: service@chemfaces.com
Tel: +86-27-84237783
Fax: +86-27-84254680

Address:
1 Building, No. 83, CheCheng Rd., Wuhan Economic and Technological Development Zone, Wuhan, Hubei 430056, PRC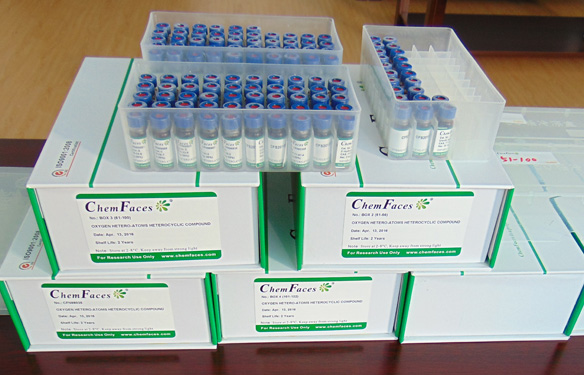 Providing storage is as stated on the product vial and the vial is kept tightly sealed, the product can be stored for up to
24 months(2-8C)
.
Wherever possible, you should prepare and use solutions on the same day. However, if you need to make up stock solutions in advance, we recommend that you store the solution as aliquots in tightly sealed vials at -20C. Generally, these will be useable for up to two weeks. Before use, and prior to opening the vial we recommend that you allow your product to equilibrate to room temperature for at least 1 hour.
Need more advice on solubility, usage and handling? Please email to: service@chemfaces.com
The packaging of the product may have turned upside down during transportation, resulting in the natural compounds adhering to the neck or cap of the vial. take the vial out of its packaging and gently shake to let the compounds fall to the bottom of the vial. for liquid products, centrifuge at 200-500 RPM to gather the liquid at the bottom of the vial. try to avoid loss or contamination during handling.
Natural Product Communications2020, doi: 10.1177.
Molecules.2019, 24(20):3755
Int J Mol Sci.2020, 21(6):2190.
Biomimetics (Basel).2022, 7(4):154.
Molecules.2021, 26(4):1084.
J Cell Biochem.2018, 119(2):2231-2239
University of Guelph2021, 12.
Analytical Letters.2020, doi 10.1008
J Pharm Biomed Anal.2017, 140:274-280
Fitoterapia.2021, 153:104995.
Plant Physiol. 1995 Feb;107(2):331-9.
A beta-glucosidase from lodgepole pine xylem specific for the lignin precursor coniferin.[Pubmed:
7724669
]
Coniferin, the glucoside of the monolignol coniferyl alcohol, accumulates to high levels in gymnosperms during spring-cambial reactivation. A cinnamyl alcohol glucoside/beta-glucosidase system is thought to play a key role in lignification by releasing the monolignol aglycones. Investigation of such an enzyme system in the xylem of Pinus contorta var latifolia Engelm. revealed two major beta-glucosidases.
METHODS AND RESULTS:
One efficiently hydrolyzed the native substrate, Coniferin, and the other was more active against synthetic glucosides. The Coniferin beta-glucosidase was purified to apparent homogeneity using anion exchange, hydrophobic interaction, and size-exclusion chromatography. The apparent native molecular weight was estimated to be 60,000. A dominant 28-kD protein and a minor 24-kD protein were detected in the purified preparation following sodium dodecyl sulfate-polyacrylamide gel electrophoresis. Immunological evidence from polyclonal antibodies directed against the synthetic N-terminal peptide of the 24-kD protein suggested that the native protein is a dimer of 28-kD subunit size.
CONCLUSIONS:
The N-terminal sequence showed that Coniferin beta-glucosidase has high homology to known plant beta-glucosidases. Coniferin, syringin, and a synthetic Coniferin analog were preferred substrates for the Coniferin beta-glucosidase. In situ localization using the chromogenic Coniferin analog showed the exclusive presence of beta-glucosidase activity in the differentiating xylem, similar to peroxidase activity.
Journal of China Three Gorges University, 2009, 31(3):99-101.
Study of Anti-oxidation Effects of Extracts of Balanophora Involucrate and Trans-Coniferin.[Reference:
WebLink
]

METHODS AND RESULTS:
To study the anti-oxidation effect of extracts of Balanophora involucrate and trans-Coniferin,using the methods of DHHP to study the anti-oxidation effect of extracts of Balanophora involucrate and trans-Coniferin.When the concentration of the extracts of Balanophora involucrate is 3 mg/mL,the absorbency is the least;other concentrations can definitly eliminate the DPPH free radical.
CONCLUSIONS:
The conclusion is that both the extracts of the Balanophora involucrate and trans-Coniferin have anti-oxidation effects.
New Phytol . 2014 May;202(3):823-837.
Soluble phenylpropanoids are involved in the defense response of Arabidopsis against Verticillium longisporum[Pubmed:
24483326
]
Abstract Verticillium longisporum is a soil-borne vascular pathogen causing economic loss in rape. Using the model plant Arabidopsis this study analyzed metabolic changes upon fungal infection in order to identify possible defense strategies of Brassicaceae against this fungus. Metabolite fingerprinting identified infection-induced metabolites derived from the phenylpropanoid pathway. Targeted analysis confirmed the accumulation of sinapoyl glucosides, Coniferin, syringin and lignans in leaves from early stages of infection on. At later stages, the amounts of amino acids increased. To test the contribution of the phenylpropanoid pathway, mutants in the pathway were analyzed. The sinapate-deficient mutant fah1-2 showed stronger infection symptoms than wild-type plants, which is most likely due to the lack of sinapoyl esters. Moreover, the Coniferin accumulating transgenic plant UGT72E2-OE was less susceptible. Consistently, sinapoyl glucose, coniferyl alcohol and Coniferin inhibited fungal growth and melanization in vitro, whereas sinapyl alcohol and syringin did not. The amount of lignin was not significantly altered supporting the notion that soluble derivatives of the phenylpropanoid pathway contribute to defense. These data show that soluble phenylpropanoids are important for the defense response of Arabidopsis against V. longisporum and that metabolite fingerprinting is a valuable tool to identify infection-relevant metabolic markers. Keywords: Verticillium sp; coniferyl esters; infection markers; lignin; metabolite fingerprinting; phenylpropanoids; sinapate esters.
Plant Physiol. 2013 Jun;162(2):918-26.
Proton-dependent coniferin transport, a common major transport event in differentiating xylem tissue of woody plants.[Pubmed:
23585651
]
Lignin biosynthesis is an essential physiological activity of vascular plants if they are to survive under various environmental stresses on land. The biosynthesis of lignin proceeds in the cell wall by polymerization of precursors; the initial step of lignin polymerization is the transportation of lignin monomers from the cytosol to the cell wall, which is critical for lignin formation. There has been much debate on the transported form of the lignin precursor, either as free monolignols or their glucosides.
METHODS AND RESULTS:
In this study, we performed biochemical analyses to characterize the membrane transport mechanism of lignin precursors using angiosperms, hybrid poplar (Populus sieboldii × Populus grandidentata) and poplar (Populus sieboldii), as well gymnosperms, Japanese cypress (Chamaecyparis obtusa) and pine (Pinus densiflora). Membrane vesicles prepared from differentiating xylem tissues showed clear ATP-dependent transport activity of Coniferin, whereas less than 4% of the Coniferin transport activity was seen for coniferyl alcohol. Bafilomycin A1 and proton gradient erasers markedly inhibited Coniferin transport in hybrid poplar membrane vesicles; in contrast, vanadate had no effect. Cis-inhibition experiments suggested that this transport activity was specific for Coniferin. Membrane fractionation of hybrid poplar microsomes demonstrated that transport activity was localized to the tonoplast- and endomembrane-rich fraction.
CONCLUSIONS:
Differentiating xylem of Japanese cypress exhibited almost identical transport properties, suggesting the involvement of a common endomembrane-associated proton/Coniferin antiport mechanism in the lignifying tissues of woody plants, both angiosperms and gymnosperms.