Magnoloside D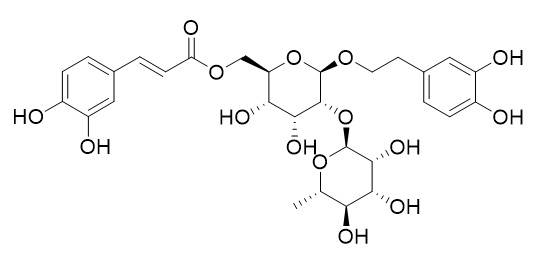 Magnoloside D shows moderate cytotoxicity against MGC-803 and HepG2 cells. Magnoloside D also shows potent antioxidant capacity.
Inquire / Order: manager@chemfaces.com
Technical Inquiries: service@chemfaces.com
Tel: +86-27-84237783
Fax: +86-27-84254680

Address:
1 Building, No. 83, CheCheng Rd., Wuhan Economic and Technological Development Zone, Wuhan, Hubei 430056, PRC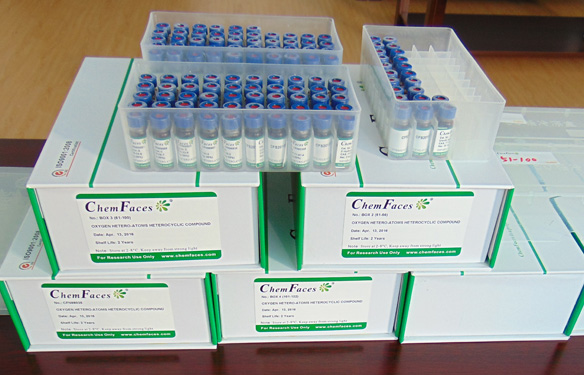 Providing storage is as stated on the product vial and the vial is kept tightly sealed, the product can be stored for up to
24 months(2-8C)
.
Wherever possible, you should prepare and use solutions on the same day. However, if you need to make up stock solutions in advance, we recommend that you store the solution as aliquots in tightly sealed vials at -20C. Generally, these will be useable for up to two weeks. Before use, and prior to opening the vial we recommend that you allow your product to equilibrate to room temperature for at least 1 hour.
Need more advice on solubility, usage and handling? Please email to: service@chemfaces.com
The packaging of the product may have turned upside down during transportation, resulting in the natural compounds adhering to the neck or cap of the vial. take the vial out of its packaging and gently shake to let the compounds fall to the bottom of the vial. for liquid products, centrifuge at 200-500 RPM to gather the liquid at the bottom of the vial. try to avoid loss or contamination during handling.
Journal of Apiculture2019, 34(2):131-136
J Nat Prod.2019, 82(4):1002-1008
Microchemical Journal2018, 137:168-173
Phytother Res.2019, 33(3):676-689
Front Aging Neurosci.2018, 10:269
Research on Crops.2017, 18(2)
Universidade Estadual Paulista2017, 42785
Arch Toxicol.2017, 91(10):3225-3245
J. of The Korean Society of Food Culture2017, 144-149
Nutrients.2018, 10(7)
Phytochemistry. 2016 Jul;127:50-62.
Phenylethanoid glycosides and phenolic glycosides from stem bark of Magnolia officinalis.[Pubmed:
27086163
]
An investigation of the hydrophilic constituents of the stem bark of Magnolia officinalis was performed and which led to isolation and identification of twenty-one previously unreported glycosides.
METHODS AND RESULTS:
These included eleven phenylethanoid glycosides, magnolosides F-P, and ten phenolic glycosides, magnolosides Q-Z, along with eight known compounds. Their structures were elucidated on the basis of extensive spectroscopic analyses and chemical hydrolysis methods, as well as by comparison with literature data. Most of the phenylethanoid glycosides contained an allopyranose moiety, which is rare in the plant kingdom. Magnolosides I and K as well as 2-(3,4-dihydroxyphenyl) ethanol 1-O-[4-O-caffeoyl-2-O-α-l-rhamnopyranosyl-3-O-α-l-rhamnopyranosyl-6-O-β-d-glucopyranosyl]-β-d-glucopyranoside showed more potent α-glucosidase inhibitory effects (IC50 values of 0.13, 0.27, and 0.29mM, respectively) than the positive control, acarbose (IC50 value of 1.09mM) in vitro.
CONCLUSIONS:
Magnoloside H,Magnoloside E and Magnoloside D also showed moderate cytotoxicity against MGC-803 and HepG2 cells with IC50 values of 13.59-17.16μM and 29.53-32.46μM, respectively.
Fitoterapia. 2012 Mar;83(2):356-61.
Bioactive polar compounds from stem bark of Magnolia officinalis.[Pubmed:
22155594
]
Two new phenylethanoid glycosides Magnoloside D (1) and E (2), together with nine known compounds, were isolated from the polar part of methanol extract of the stem bark of Magnolia officinalis.
METHODS AND RESULTS:
The structures of the new compounds were established on the basis of spectral analysis. Anti-spasmodic activity of four major constituents (3, 4, 9 and 11) was tested in isolated colon of rat, compounds 3, 4, and 9 showed inhibition against acetylcholine, with the effect similar to that of magnolol and honokiol. At the same time, antioxidant activity of the isolated compounds was investigated using a DPPH and an ORAC assay.
CONCLUSIONS:
All of the compounds, except compound 8 showed potent antioxidant capacity in the ORAC assay, while compounds 1-5 and 11 exhibited potent antioxidant activity in the DPPH assay.